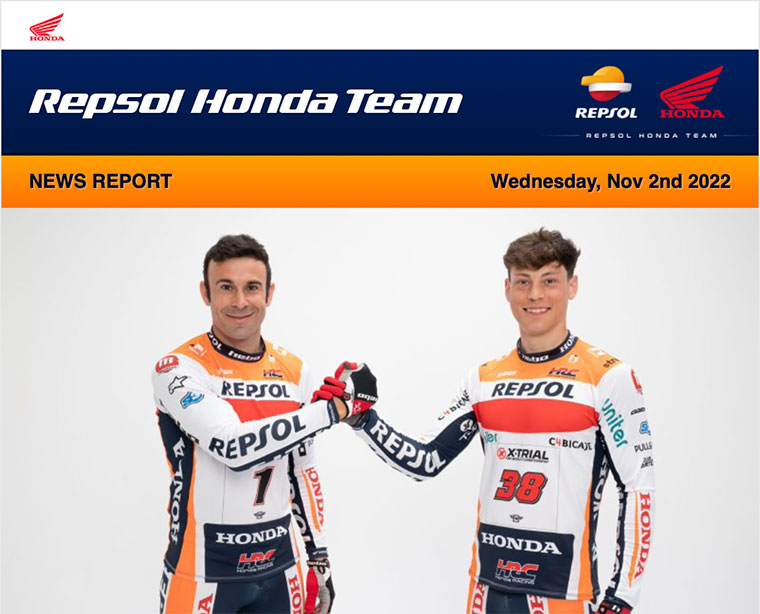 After winning both World Championships this season, as well as the Constructors' Championship, the Repsol Honda Trial Team is working to improve on next season's results even further.
The Repsol Honda Trial Team, the most successful team in the history of the Trial World Championships, is already busy preparing for the 2023 season. After winning both the TrialGP and X-Trial World Championships thanks to Toni Bou, and with new rider Gabriel Marcelli taking fifth place in both competitions, the team is now setting its sights on the highest goal, both for the riders and for the brand.
The Repsol Honda Trial Team line-up will remain unchanged for 2023. The team has confirmed Toni Bou and Gabriel Marcelli as the two official team riders for the new season starting next year.
Toni Bou, with 32 world titles to his credit, is all set to face the new challenges ahead of him: that of improving himself as he goes in search, for yet another season, of the two titles at stake. Gabriel Marcelli, meanwhile, will be aiming for regular podium finishes at the highest level of competition.
Takahisa Fujinami
Team Manager
2022 was a great season, but we are going to try to make 2023 even better. The team has worked hard and very well throughout the year, not just the winter, because if there is one thing our team has, it is that we constantly strive for perfection.
Toni has had a spectacular year, winning both world titles, as we are used to, with really good trials, leaving the title practically in the bag before the final trial in Italy, after never having finished off the podium. Gabriel, in his first year as a team rider, has improved a bit on previous seasons, but it is also true that I had expected a bit more. I am confident that next year he will be one of the regular podium finishers and will improve even further on this season's final ranking, in both the outdoor and indoor competitions.