On Sunday 22nd January, Richmond Motor Club held a small trial with just over 50 riders at Parkgate Farm, Wensleydale to test out the new ACU Sport 80 online entry system.
Hard frost overnight on Saturday meant the 11 sections were frozen and polished, only getting more challenging over the course of 3 laps.
A couple of sections were in the quarry, including section 4 where Ken Wallis was observing, and took a fair few marks on the Hard Course. On the Clubman Course, section 8's hillclimb was the toughest, with only a handful of riders managing to clean it.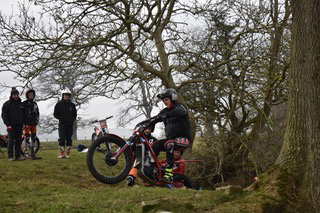 On the Hard Course, Dan Thorpe (GASGAS) came in the top spot, losing only 5 marks. Richard Sadler (Vertigo) was second, dropping 26 marks, and Tom Middleton (Vertigo) was third overall, with 41 marks lost. Josh McParland (Beta) did well to come in fourth overall and first place on the A Class Hard Course, dropping 58 marks. Callum Fowler (Beta) and Jamie Rowntree (Beta) competed for second and third, losing 86 and 120 marks respectively.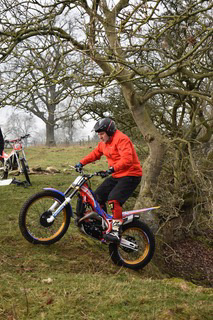 The Clubman A (Green) Course was won by Roger Williams (Beta) on 17 marks, followed by Allan Richardson (TRRS) on 36 marks. Katy Sunter (GASGAS) rounded off the top three with 52 marks lost. On the Youth Green Course, Jack Vasey (Beta) dropped 84 marks, leaving Charlie Astwood (Sherco) in second place on 97 marks.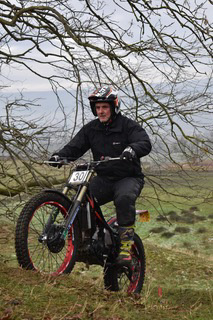 Paul Sadler (Vertigo) had a great ride on 9 marks lost, coming in top of the Clubman B Class. Paul Wearmouth (Montesa) was second with 20 marks lost, and Chris Laws (Scorpa) third, losing 40 marks.
Kevin Chapman was the only finisher in the Twinshock Class on 52 marks lost, and Bobbie Pulman (Beta) did really well to finish as the only Youth A Class rider, losing 93 marks.
Well done to everyone, there were some exceptional rides across all classes considering the condition of the sections. A huge thank you to the observers for braving the cold, and to the landowners, Clerk of Course and helpers, Secretary and everybody else involved in the running of the event.
Hard Course (Overall):
Dan Thorpe (GASGAS) 5, 2. Richard Sadler (Vertigo) 26, 3. Tom Middleton (Vertigo) 41
Hard Course – Experts:
Dan Thorpe (GASGAS) 5, 2. Richard Sadler (Vertigo) 26, 3. Elliott Laws (Scorpa) 81
Hard Course – Intermediates:
Tom Middleton (Vertigo) 41, 2. Scott Aitkin (Vertigo) 73
Hard Course – Novice:
Josh Brown (Beta) 99, 2. Elliot Cock (Vertigo) 100, 3. Harry Mugridge (GASGAS) 134
A Class Hard:
Josh McParland (Beta) 58, 2. Callum Fowler (Beta) 86, 3. Jamie Rowntree (Beta) 120
Clubman A (Green):
Roger Williams (Beta) 17, 2. Allan Richardson (TRRS) 36, 3. Katy Sunter (GASGAS) 52
Youth Green:
Jack Vasey (Beta) 84, 2. Charlie Astwood (Sherco) 97
Clubman B (Overall):
Paul Sadler (Vertigo) 9, 2. Paul Wearmouth (Montesa) 20, 3. Chris Laws (Scorpa) 40
Clubman B
Paul Wearmouth (Montesa) 20, 2. Chris Laws (Scorpa) 40, 3. Shaun Lightfoot (Vertigo) 40
Clubman B – Over 40
Paul Sadler (Vertigo) 9, 2. Adrian Harrison (Vertigo) 45, 3. Tony Holmes (Beta) 45
Clubman B – Twinshock
Kevin Chapman 52
Youth A Class:
Bobbie Pulman (Beta) 93
Report: Charlotte Brown
Photos: Josh Dent / Chloe Fowler
Charlotte Brown
Richmond Motor Club Social Media Editor & Media Reporter