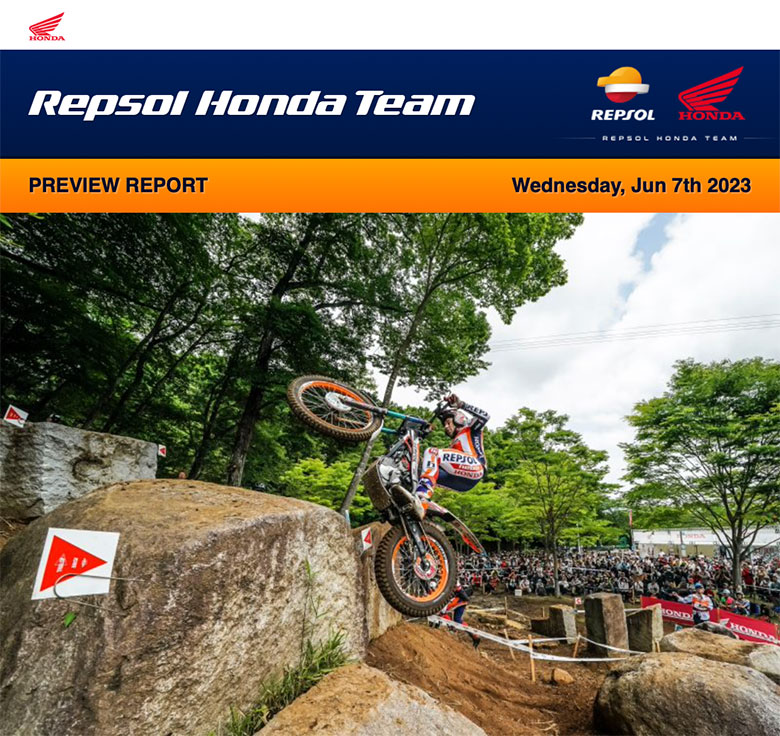 The Repsol Honda Trial Team riders come into the Outdoor Championship event at the top of the overall standings.
The fourth round of the TrialGP World Championship season will be held this weekend in San Marino, which returns to the calendar after 12 years of absence. The series standings are very close, with both Repsol Honda Trial Team riders tied on points with their respective rivals after the double round held in Japan.
Toni Bou arrives in San Marino joint top in the championship, tied at 111 points with Jaime Busto. The Repsol Honda Trial Team rider earned victory and a second place in the two events held at the home of Honda. Bou will seek to become outright leader in the series with strong results this weekend.
Tied on 84 points in joint third place, Gabriel Marcelli finished in fourth place in the two rounds held at the Japanese event, after a difficult weekend. In San Marino, Marcelli will aim to repeat his podium successes in Gouveia (Portugal) and Arteixo (Spain) and fight for his first victory in the outdoor discipline.
Technical and administrative checks will be carried out on Friday, as well as visits to areas and practice. The round will get underway on Saturday at 9am
Toni Bou 1
CHAMPIONSHIP: 2ND
"After six races we are still tied on points with Jaime, so this year the championship is very tight and exciting. We have to try to continue in the same way and not make mistakes. We have a very clear objective, so we will continue working like before and keep up our great enthusiasm. We haven't been to San Marino for many years and I remember areas with white stone that was quite slippery, we'll see how everything goes. Races in San Marino always have a very passionate crowd and we are looking forward to it. I think the key is not to make mistakes, keep calm and find a good rhythm on the bike."
Gabriel Marcelli 38
CHAMPIONSHIP: 4TH
"In San Marino we will continue looking to improve. This year the World Championship is very close, so it is important to be at the top in every race. In Japan we made some mistakes from which I have learned a lot, so the goal will be to get back on the podium. For the race in San Marino I hope that the surface is dry, with areas that have difficult steps, because I think that is something that favours my riding style. We have worked hard and we continue with the same motivation, so we are going to give everything in the two races in San Marino to get the best results."
Takahisa Fujinami
Team Manager
"The championship is very tight, with Toni and Gabri tied on points with their rivals. This is something that gives excitement to the championship and that trial fans enjoy. For us it is important to have both riders at the top of the standings and both arrive in San Marino well prepared. The team are ready and we are going to give it our best this weekend. The most important thing this season is to be very focused on every zone and give everything in each race. We haven't competed in San Marino for a long time and I'm sure the fans will cheer us on a lot, which always means extra motivation for us."