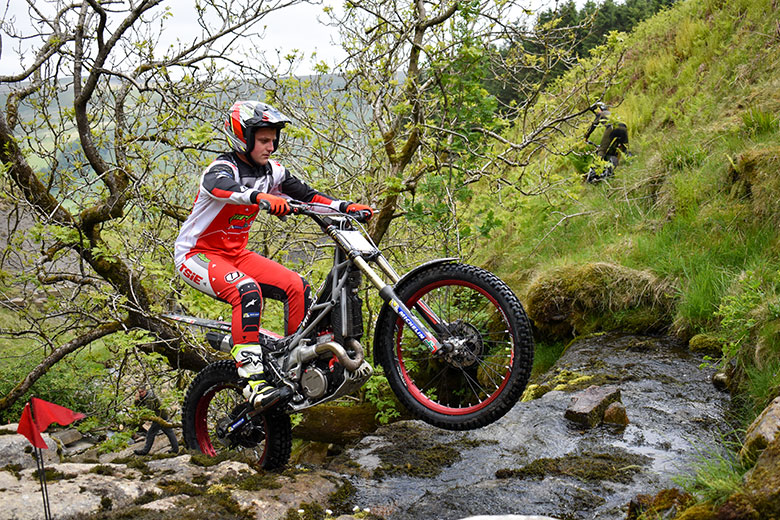 On Sunday 4th June, Richmond Motor Club held a trial at Kidstones, Bishopdale and welcomed some new faces as well as lots of regular riders. The dry day saw competitors face 2 laps of 20 traditional sections, with one section being for the Hard Course only. Section 7 proved to be a difficult one, with only Richard and Paul Sadler cleaning the section on the first lap and showing off the family talent.
The trial was won by Richard Sadler (Vertigo) on a convincing 10 marks lost, followed by Dan Thorpe (GASGAS) on 22, and Jack Stones (Vertigo) on 30 marks lost. Josh McParland (Beta) took the lead on the Youth A Class Hard Route, finishing with 44 marks lost and in 5th place overall. Callum Fowler (Beta) was second in the class, dropping 63 marks.
On the Clubman A (Green) Course, Andrew Lishman (Montesa) led the way, dropping 25 marks, closely followed by John Bannister (Vertigo) on 27 marks lost. Andrew Payne (Vertigo) rounded off the top three, losing 34 marks. Jack Vasey (Beta) won the Youth Green Class on 49 marks lost, with Charlie Astwood (Sherco) and George Hird (Sherco) coming in second and third on 55 and 64 marks respectively.
The Clubman B course was won by Paul Sadler (Vertigo) on 18 marks, followed by Paul Wearmouth (Montesa) on 20 marks lost. Paul Dennis (BSA) came in third overall on 25 marks lost, a fair achievement on a Pre '65 machine.
In the Youth A Class, Joe Younghusband (Beta) took the lead on 61 marks lost, followed by Luke Blackley (Beta) on 131 marks. The Youth B Class was won by Josh Dent (Beta) on 79 marks, with Louie Mcgee (GASGAS) and Jamie Graeme (Beta) finishing off the top three on 100 and 105 marks respectively.
Richmond Motor Club would like to thank the landowners, observers, Clerk of Course and assistants, Secretary, caterers and everybody else involved in the running of the trial.
The Club has had a busy few weeks with back-to-back trials and will be running an easy Clubman trial at Crabtree Farm (Gilling West) this weekend (Sunday 11th June) before a few weeks off.
Results:
Hard Course:
Overall: 1. Richard Sadler (Vertigo) 10, 2. Dan Thorpe (GASGAS) 22, 3. Jack Stones (Vertigo) 30
Expert: 1. Richard Sadler (Vertigo) 10, 2. Dan Thorpe (GASGAS) 22, 3. Rob Waite (Beta) 32
Intermediate: 1. Jack Stones (Vertigo) 30, 2. Tom Middleton (Vertigo) 49
Novice: 1. Ryan Brown (Beta) 56, 2. Tim Weatherill (Beta) 69, 3. Harry Mugridge (GASGAS) 70
Youth A Class: 1. Josh McParland (Beta) 44, 2. Callum Fowler (Beta) 63
Clubman A (Green) Course:
Green: 1. Andrew Lishman (Montesa) 25, 2. John Bannister (Vertigo) 27, 3. Andrew Payne (Vertigo) 34
Youth Green: 1. Jack Vasey (Beta) 49, 2. Charlie Astwood (Sherco) 55, 3. George Hird (Sherco) 64
Clubman B:
Overall: 1. Paul Sadler (Vertigo) 18, 2. Paul Wearmouth (Montesa) 20, 3. Paul Dennis (BSA) 25
CM: 1. Paul Wearmouth (Montesa) 20, 2. Adrian Harrison (TRRS) 33, 2. Will Handley (Beta) 38
Over 40: 1. Paul Sadler (Vertigo) 18, 2. Tony Wild (Beta) 25, 3. Tim McParland (Beta) 44
Twinshock: 1. Paul Dennis (BSA) 25, 2. Robin Luscombe (BSA) 41, 3. Gary Younghusband (Bultaco) 48
Youth A: 1. Joe Younghusband (Beta) 61, 2. Luke Blackley (Beta) 131
Youth B: 1. Josh Dent (Beta) 79, 2. Louie Mcgee (GASGAS) 100, 3. Jamie Graeme (Beta) 105
Photo: Chloe Fowler
Report: Charlotte Brown