Second place for Toni Bou as the TrialGP World Championship kicks off in Spain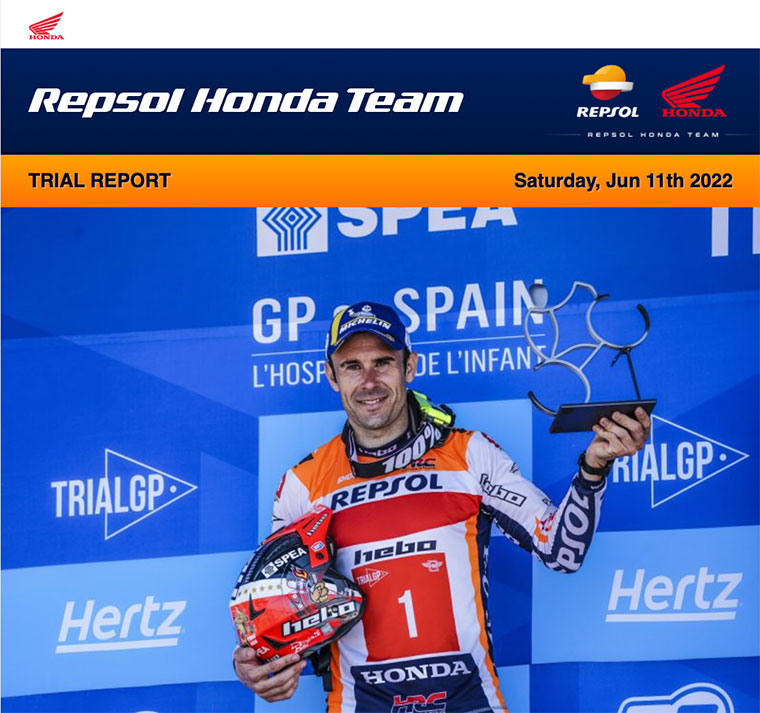 Repsol Honda Trial Team rider Toni Bou finished runner-up on the first day of the opening round of the TrialGP World Championship, held in l'Hospitalet de l'Infant. Team-mate Gabriel Marcelli, posted sixth.
High temperatures and demanding sections marked the 2022 TrialGP World Championship season opener. The Repsol Honda Trial Team riders struggled against the day's tough race conditions.
Reigning world champion Toni Bou began his title defence with a hard-fought second place as the TrialGP World Championship got underway today in l'Hospitalet de l'Infant, Tarragona. On the first lap, the Repsol Honda Trial Team rider's performance was hampered by the heat and the hardness of the sections. By the second lap, Bou had begun to improve on the sensations, rectifying some of the errors committed on lap one to eventually climb the order to second place.
In his debut with the Repsol Honda Trial Team in the TrialGP World Championship, Gabriel Marcelli finished sixth on the day's final score-sheets, although the task was far from easy. On the first lap, the Galician rider made several mistakes, notching as many as seven marks for time penalties, thwarting any chances of a more favourable position. Despite this, Marcelli managed to pull back on the second lap to climb to sixth place.
Tomorrow sees day two of the Spanish TrialGP in l'Hospitalet de l'Infant, with the proceedings getting underway from 09:00 onwards.
Toni Bou 1
TRIAL: 2ND
STANDINGS: 2ND
It's always better to start the TrialGP Championship winning, but, as far as the trial went, second position is not bad. I started the event pretty badly, but then I was able to recover. It was a tough trial, with a lot of heat and some very demanding sections. It was easy to make mistakes, in fact, I made a lot of errors and, physically, I wasn't at 100% either. So, after such a difficult day, I think that a second place today is a good result for the beginning of the championship. Besides, the rivals were very tight today and it's going to be a complicated championship. For tomorrow, the idea is to start stronger, to see if I can get my riding together and see if things go better for me. Today I was tired and it was difficult to pull back after making so many mistakes.
Gabriel Marcelli 38
TRIAL: 6TH
STANDINGS: 6TH
I didn't get the first lap off to the most energetic start – I think I lacked a little bit of spark, I was being passed by riders in front of me and, in the end, I got penalized a lot for the time. Almost all the riders had time penalties too, although I was hit the worst and that weighed on me quite a bit. I wasn't particularly nervous, although it's true that I made some mistakes, probably more than I should have. On the second lap, I was able to recover and regain some positions, although not as many as I would have liked. To be honest, sixth position is not enough; we wanted more, so tomorrow we will have to give it more gas and correct the mistakes, especially to avoid more time penalties.
Takahisa Fujinami
Team Manager
In such a high-level championship, there is no room for errors. Toni Bou made a mistake in the first section, which weighed on him and meant that he had to ride against the tide for the whole race. From then on, he had to take risks to try to recover points in the sections in which he could have taken advantage, although in sections 6 and 8 he took more risks than normal and was penalised again. In the second lap he rode much better than the first, recovering quite a few positions, although he had another fiasco in section 8 which made it easier for Jaime to win. In the end, starting the championship in second position isn't so bad at all. It's true that everyone likes to get off to a winning start and, besides, the fans are used to seeing Toni win. But, seeing how badly he started the first lap, Toni was able to recover very well in the second and showed that he is capable of coming back. I'm sure that tomorrow, if he goes out at his best, everything will return to normal.
As for Gabri, he finished the first lap ninth, but then, in the second lap, he was able to recover quite a few positions. I was waiting a litte bit more from him, because he is at a top 3 level, although today was a difficult day in general. Now we will study the sections to correct the mistakes and hopefully tomorrow both riders can finish even higher.