Spanish men and British women on top at 2023 FIM Trial des Nations

Spain swept to a conclusive nineteenth consecutive men's victory at the 2023 FIM Trial des Nations (TdN), but their hopes of doubling up in the women's category were thwarted thanks to a polished performance by the British ladies who regained the title they last won in 2018.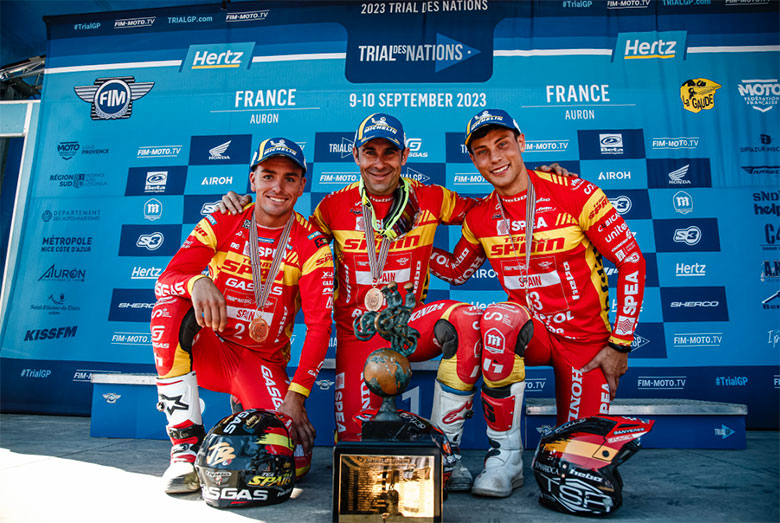 Spanish trio of Toni Bou, Jaime Busto and Gabriel Marcelli dominate men's class at thirty-ninth Trial des Nations
Emma Bristow, Alice Minta and Kaytlyn Adshead dethrone Spanish ladies
Japan's Tomoyuki Ogawa, Seiya Ujikawa and Tsuyoshi Ogawa take victory in International class
Staged high up in the French Alps at the ski resort of Auron, the event also saw the Japanese team claim a hugely popular win in the FIM International Trophy and Norway come out on top in the FIM Challenge des Nations.

With imposing rocks and steep, loose climbs challenging the field over two laps of fifteen sections, the heat and altitude – Auron is seventeen-hundred metres above sea level – combined to test the skill and physical fitness of the best riders on the planet.

The Spanish men's victory hardly came as a surprise. The dominant force since 2004 in the annual competition to decide the world's leading Trial nation, this year Spain fielded Toni Bou (Montesa), Jaime Busto (GASGAS) and event newcomer Gabriel Marcelli (Montesa) – the top three riders in the premier TrialGP class of the 2023 Hertz FIM Trial World Championship – and the hugely-talented trio did not disappoint.

With a team's best two scores in each section counting, Spain's biggest test on the opening lap came on the huge rock steps of section nine where they collected a ten-mark maximum, but every other nation also failed to reach the ends cards here so it did not affect positions.

At the halfway mark Spain led on a total of twelve from the host nation on thirty and Italy on thirty-one before a sizeable gap back to Great Britain and Norway.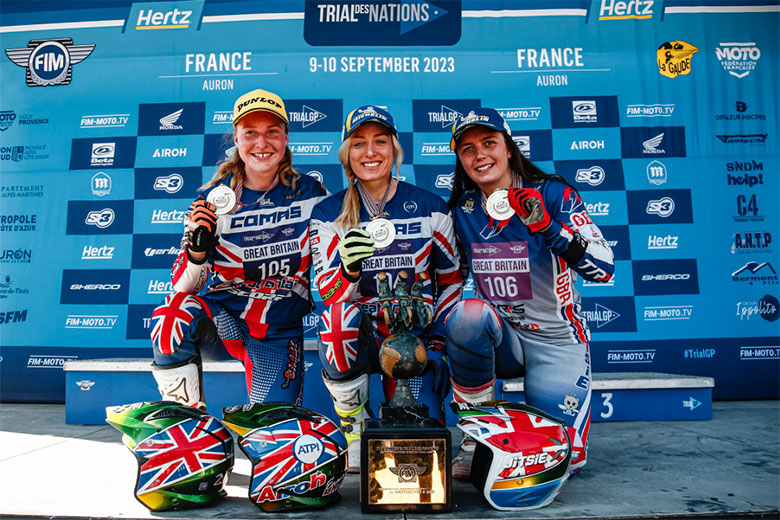 On lap two focus shifted to the battle between the French trio of Benoît Bincaz (Sherco), Hugo Dufrese (GASGAS) and Téo Colairo (Beta) and the Italian team of Matteo Grattarola (Beta), Luca Petrella (GASGAS) and Gianluca Tournour (Sherco).

The two teams were incredibly evenly matched and while Spain cruised to victory on a total of twenty-three, France and Italy went head to head on the second lap and with the final result still in doubt until the last section of the Trial, the host nation's score of fifty-one gave them second by two marks.

"To be honest it is a super-good feeling," said Marcelli. "It is my first TdN, but with such a good team things are easy. I enjoyed the whole race from the beginning to the end and I think we put in a pretty good performance."

Great Britain was the last nation to defeat Spain in a TdN, but Toby Martyn (Montesa), Billy Green (Scorpa) and Jack Peace (Sherco) were never really in contention for a podium finish and their score of eighty-four placed them fourth, eight ahead of Norway's Sondre Haga (GASGAS), Mats Nilsen (TRRS) and Jarand-matias vold Gunvaldsen (TRRS).

It was much, much tighter in the women's category where with a team unchanged from last year, Spain's Berta Abellan (Scorpa), Alba Villegas (Scorpa) and Sandra Gomez (TRRS) were looking to make it four TdN wins in a row.

Britain's Emma Bristow (Sherco), Alice Minta (Scorpa) and Kaytlyn Adshead (TRRS) had other ideas though and they got off to a perfect start with a clean opening lap giving them a two-mark advantage over Spain at the halfway stage.

Gradually easing clear, the British women then threw Spain a late lifeline with three marks lost on section eleven, but their rivals were unable to capitalise and also incurred three marks here and Britain's eventual total of five gave them victory by a slender four points.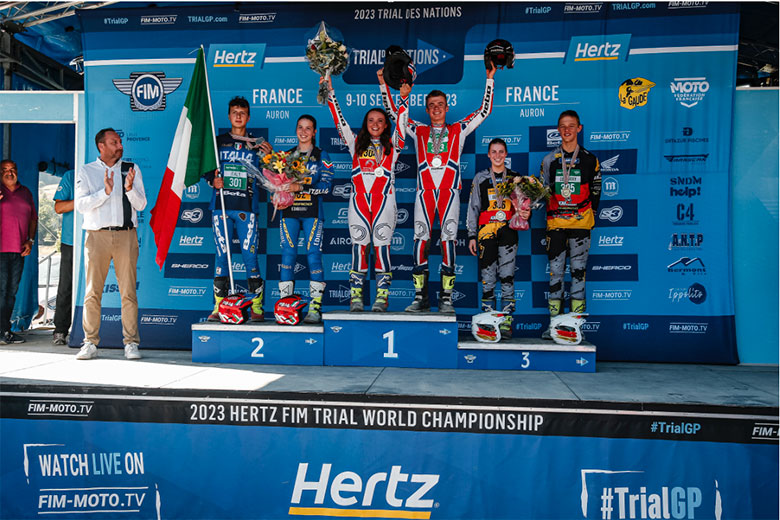 "We knew it was going to be low-scoring so the aim was to keep our feet up and we performed well on the harder sections to keep the lead throughout the day," said Bristow. "It was a great team effort – we had been training together all week and I think it showed."

The podium was competed by Norway's Mette Fidje (Sherco), Huldeborg Barkved (TRRS) and Seline Meling (Beta) whose score of thirty-three edged out the home team of Naomi Monnier (GASGAS), Alycia Soyer (TRRS) and Marine Aurieres (GASGAS) by two marks.

In a low-scoring FIM International Trophy competition, the Japanese trio of Tomoyuki Ogawa (Honda), Seiya Ujikawa (Honda) and Tsuyoshi Ogawa (Beta) triumphed over the seventeen other nations contesting the second-tier category.

Tied on clean following the first lap with Germany's Rodney Bereiter (Beta), Franz Kadlec (TRRS) and Paul Reumschussel (TRRS), Japan added just a single mark to their total on lap two to end the day six clear.

"We are very, very happy," said Tsuyoshi Ogawa. "It is a great feeling to win for Japan."

Starting the day as defending champions, the Czech team of Martin Kroustek (TRRS), Martin Matejicek (GASGAS) and David Fabian (Beta) could not replicate last year's form and they had to settle for third on twenty-five.

Introduced last season, the FIM Challenge des Nations is for two-rider, mixed-gender teams and it was Norway with Jone Sandvik (Sherco) and Ingeborg aurora Bergersen (Sherco) who took the win on seventeen, sixteen clear of defending champions Italy represented by Mirko Pedretti (Beta) and Martina Brandani (Sherco).

"We had a very good day," said Bergersen. "The sections were not easy, but they were perfect for us."

The TdN concludes top-flight outdoor Trial competition for another year, but for regular news check out our social media platforms on Facebook, Twitter and Instagram.