He didn't win today's battle but Toni Bou (Montesa) most definitely won the war with second on the first day of the final round of the 2022 Hertz FIM Trial World Championship – the TrialGP of Italy – easily good enough to secure the superstar Spaniard a 16th-straight title.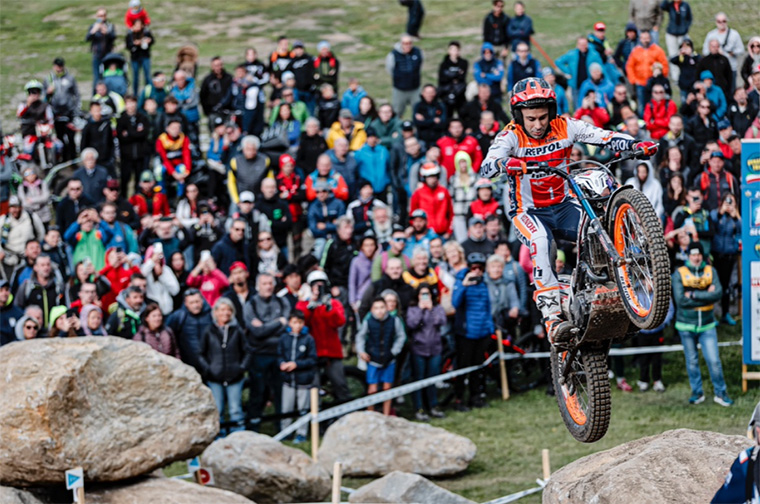 While Bou was busy setting a new all-time record in the premier TrialGP class, Emma Bristow (Sherco) extended her lead in TrialGP Women, Sondre Haga (Beta) maintained control of Trial2 despite his worst finish of the season and talented teenager Denisa Pechackova (Beta) took charge in Trial2 Women.
With snow shimmering on the Alps' picturesque peaks, the temperature at Ponte di Legno was the lowest the riders have experienced all season and overnight rain added to the severity of the natural sections set in a riverbed and on super-steep, rock-strewn wooded bankings before the final man-made hazard.
Competing on home turf, Matteo Grattarola (Beta) led at the halfway stage on 19 with Adam Raga (TRRS) another two marks behind on observation plus an additional time penalty in second with Miquel Gelabert (GASGAS) third on 26.
Sections seven and eight – near vertical climbs over massive rocks – provided back-to-back challenges and claimed maximums from the entire TrialGP entry on the opening lap.
Tied for fourth with fellow countryman Jaime Busto (Vertigo) on 28 after an expensive first lap, Bou showed his class on lap two by dropping his score to 13 and demonstrating his brilliance with a one-mark ride on section eight where the rest of the field failed to make it to the end.
Grattarola, however, matched him almost mark for mark and his final total of 33 earned him a career-first TrialGP win by eight marks from Bou with Raga dropping a place to third on 45 – four ahead of Gabriel Marcelli (Montesa) – with Jorge Casales (Scorpa) claiming fifth by a mark from Gelabert.
"It's really, really important for me to get this win," said Grattarola. "It's next to my house so it's perfect – I couldn't hope for more. Today I had a really good feeling on the bike but I wasn't expecting to get the win so I'm very happy and tomorrow I hope to do the same."