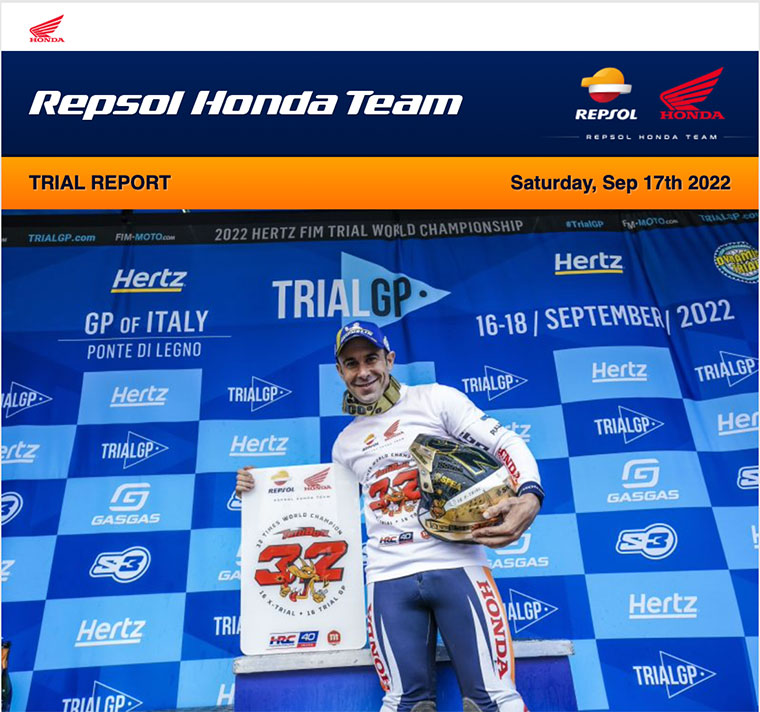 The 2022 TrialGP World Championship crown has a new owner – none other than Toni Bou. The Repsol Honda Trial Team rider, second in today's trial in Ponte di Legno, now possesses 32 world trial titles, with a tally of 16 consecutive titles in TrialGP and another 16 in X-Trial.
The debut of the Alpine town of Ponte di Legno as a TrialGP World Championship venue could not have been any more positive for Toni Bou and the entire Repsol Honda Trial Team, although the trail itself proved far from easy. The riders had to face a tricky, easy-to-fail trial, with natural high mountains and densely wooded areas. The route was full of rivers and slippery rocks that made grip difficult.
Toni Bou came out gunning from the get-go. On the first lap, the Repsol Honda Trial Team rider was able to overcome some of the most difficult sections of the course, making some uncharacteristic mistakes that ended up dragging him down to fifth place. Bou headed off on lap two determined to make up for the dropped marks and rectified many of the errors from the previous lap. In the end, the Repsol Honda Trial Team rider took a hard-earned runner-up spot, which was enough to clinch a 16th consecutive TrialGP World Championship. With today's outdoor title in Italy Toni Bou's record now totals a stratospheric 32 world trial titles including the 16th X-Trial title that the Catalan rider won a fortnight ago.
Today's trial in Ponte di Legno also proved positive for Gabriel Marcelli. The Galician Repsol Honda Trial Team rider rode from strength to strength, which once again saw him in the battle for the podium positions right through until the final sections of the course, eventually having to settle for fourth place. After today's event in Italy, Marcelli is sixth in the overall standings on 98 points and is only 2 points ahead.
The action continues tomorrow from 09:00 with the second day of the Trial GP of Italy, the final round of the TrialGP 2022 World Championship.
Toni Bou 1
TRIAL: 2ND
STANDINGS: 1ST (2022 TRIALGP WORLD CHAMPION)
It's always special to win a world title. When you have a good points lead, the race in which the title is at stake is always a bit strange, because you don't want to make mistakes and it's hard to concentrate. On the first lap I made two big mistakes and that's where the victory slipped away from me. On the second lap I was able to get into the fight for the win at a certain point, but in the end it wasn't to be. The trial was really beautiful, in the Alps and with a dedicated Italian crowd.

In terms of the season, consistency has been key. It has been a very good year, very regular and we have always been on the podium. We fought until the end and, finally, we were able to clinch this new outdoor title. I am very grateful to the team.
Gabriel Marcelli 38
TRIAL: 4TH
STANDINGS: 6TH
This is the third trial in a row in which I have finished fourth. The podium is very close. Race after race I feel better and more consistent. It's great to finish the season with good sensations, but there is still one more trial tomorrow and so I'm going to go for it. I will try to correct some of the mistakes made today and I will fight hard to make it onto the podium.

I wish to congratulate my team-mate Toni Bou, who has had a magnificent season since the first race. He has shown clear superiority throughout the season and I think that today he didn't win because he wanted to keep in good physical shape and finish the trial with a bang. He is definitely from another planet.
Takahisa Fujinami
Team Manager
Even though Toni Bou already has 32 world titles, I think he was a bit nervous today, but that's normal. Whenever you have a new title at stake there are always nerves, but Toni managed to finish the trial well to end up winning a new title – a historic milestone. Both Toni and Gabri had a good trial, both were fighting for podium positions, which were really tight. Toni will be able to start tomorrow's final race more relaxed and we will try to support Gabri as much as possible to achieve his long-awaited podium. We also hope to win another constructors' title for Montesa tomorrow.

The whole team, from Montesa to HRC, has worked hard all season long. I want to congratulate all of them, from the first to the last. Also, this has been my first year as team manager, I have learned a lot and all the members of the team have helped me to continue to evolve. And I have also won my first two titles as team manager. I am very happy!