Toni Bou kicks off the 2022 season with a 70th X-Trial World Championship win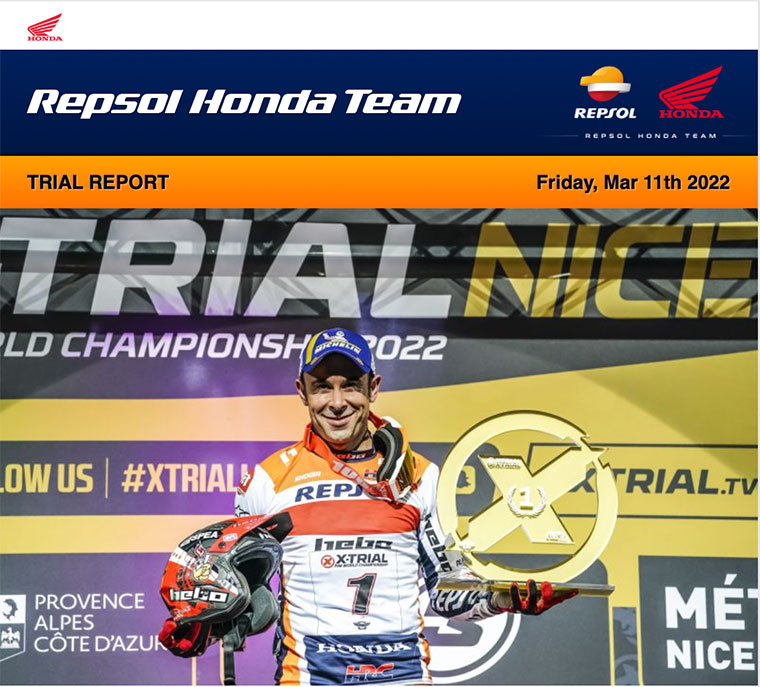 The Repsol Honda Trial Team rider got his title defence underway with a noteworthy win in the X-Trial in Nice, the opening round of the 2022 World Championship.
The Palais Nikaïa in Nice, France, raised the curtain on the new X-Trial World Championship season, with Toni Bou achieving a 70th indoor category victory. Beginning his championship defence, the Repsol Honda Trial Team rider opened the campaign in the same way that he had finished last season's: on top of the podium.
In the first qualifying phase of the new competition format, Toni Bou dominated his heat comfortably and came out of the first round on top, having accrued just one penalty mark. In the second qualifying round, the Honda Repsol Trial Team rider once again gave a fine display of technical prowess and domination, again notching up just a single penalty mark. In the final, Bou turned out another excellent showing, picking up a mere two marks compared to the thirteen of the nearest second-placed rider. The result proved more than enough to secure the top honours in Nice ahead of rivals Adam Raga and Matteo Grattarola.
The 70th indoor win in the fifth edition of the X-Trial in Nice sees Toni Bou holding the leadership in the overall FIM X-trial World Championship. The Repsol Honda Trial Team rider currently holds a total tally of 22 points in the overall standings, after claiming the two bonus points awarded to the winner of the first two laps.
The forthcoming round of the X-Trial World Championship will take place on March 25 at Le Colisée de Chalon-sur-Saône (France). The second round of the championship will feature the full Repsol Honda Trial Team line-up, including Gabriel Marcelli making his debut with the team.
Toni Bou 1
RACE: 1ST
STANDINGS: 1ST
I'm very happy with the way things have gone. With the new rules, we knew that we could lose points and in the six-section final, anything could have happened. So to start the year winning the two extra points from the first and second round, and to win the final is just great. Also, I felt really good on the bike. I want to thank the team for all their hard work over the winter because without them none of this would have been possible. I feel very motivated and I hope to continue along this line
Takahisa Fujinami
Team Manager
Before coming here, I had already said that I felt Toni was stronger than ever and he proved it in the first two rounds and also in the final. This year there is an extra point in the first and second round and it is very important to get them here as now Toni has a seven-point advantage in the overall standings over the second-placed rider. I am very happy for all the work Toni and the team have done. Some people think that Toni wins because he is at a different level, but the reality is that if you don't work hard, you can't achieve victories like today's