FRENCHMAN MARKS GASGAS DEBUT WITH FIFTH-PLACE RESULT AT HOME ROUND
Competing on home soil while also making his international GASGAS Factory Racing debut, Benoit Bincaz has finished a strong fifth at the opening round of the 2022 X-Trial World Championship! Competing inside the Palais Nikaia in Nice, Bincaz maintained his composure to make a positive start to the new season despite riding with a minor knee injury, which he picked up during the night's opening heat.
Benoit Bincaz makes positive first outing for GASGAS
Frenchman finishes fifth at opening X-Trial event
X-Trial now rolls on to Chalon-Sur-Saone, France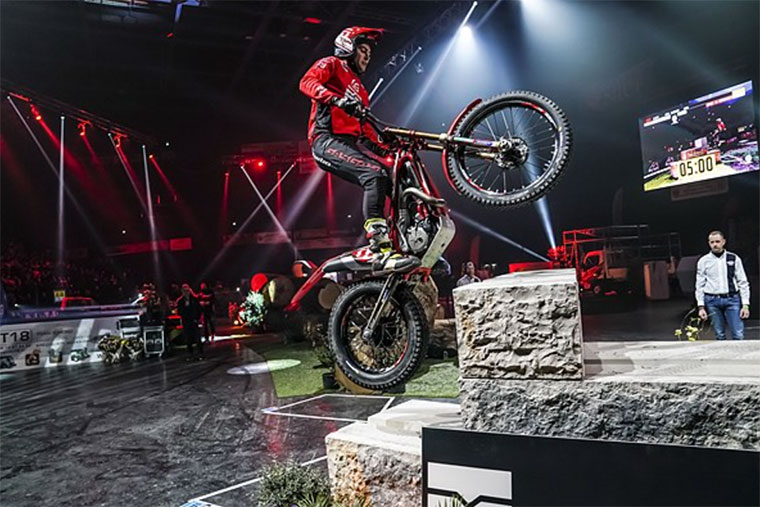 Benoit Bincaz: "Tonight was a very good night for me, I'm happy with the way I rode. To make my first race with GASGAS and to start the new X-Trial season, it feels great. I wanted to manage my riding and enjoy returning to competition, but knowing there is a long season ahead, not take any big risks. I hurt my knee a little in the first lap, so it wasn't so easy to come back and warm up and be ready for the second lap, but I'm happy. Racing in front of my home crowd was very special, and it really helped me give my best."
Competing in heat one of the night's first round against Frenchman Teo Colairo and Norway's Sondre Haga, Bincaz fived the opening section before remaining clean on the next three and then again scoring the maximum five mark on the fifth and final section. Despite his two fives, the Frenchman topped the heat on 10 marks dropped – good enough to sit fourth at the end of the first round.
Round two saw Bincaz compete in the opening heat, this time against Britain's Toby Martin and Spain's Jaime Busto. Riding with a painful knee, it was a heat of highs and lows for the Frenchman. Following a positive opening section in which he dropped just one mark, a costly five in section two was then followed by a good third section before frustratingly a second five, this time in section four, which saw his hopes of a possible top-three overall result come undone. Dropping one mark in the fifth and final section, Benoit scored a total of 13 marks, one more than each of the two riders he was competing against and ended his night in fifth overall.
Benoit Bincaz and the GASGAS Factory Racing team will next be in action in the 2022 X-Trial World Championship at the second round of the series, X-Trial Chalon-Sur-Saone, France on March 25.
Results: X-Trial Nice 2022
1. Toni Bou (Montesa) 2 – Final
2. Adam Raga (TRRS) 13 – Final
3. Matteo Grattarola (Beta) 16 – Final
5. Benoit Bincaz (GASGAS) 13 – Round 2
Championship Standings: X-Trial World Championship 2022 (after round one)
1. Toni Bou (Montesa)
2. Adam Raga (TRRS)
3. Matteo Grattarola (Beta)
5. Benoit Bincaz (GASGAS)