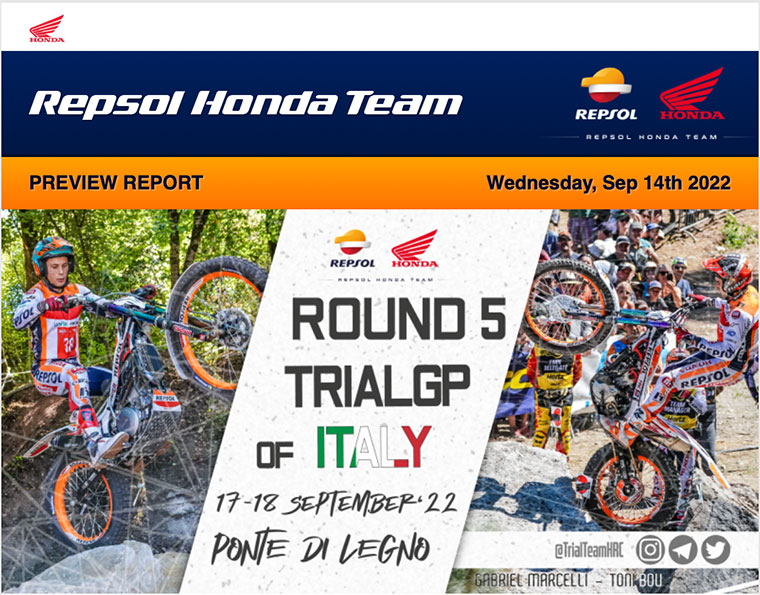 The Repsol Honda Trial Team rider heads to Italy, the final round of the calendar, looking to secure a new TrialGP world title. Team-mate Gabriel Marcelli will be on the hunt for a best season finish.
The final round of the 2022 TrialGP World Championship will be held this weekend in Ponte di Legno, Italy. The Alpine setting will wrap up a season dominated throughout by Toni Bou. The Repsol Honda Team ace has won six of the eight trials contested so far and has the title within his grasp. The Montesa Cota 4RT rider could even start celebrating what would be a 16th outdoor title on Saturday.
A fortnight ago Toni Bou clinched a new indoor World X-Trial title, his 16th, after an outstanding season, winning all the trials held so far in the calendar; a straight flush of triumphs that he hopes to add to in the final round of the season in Andorra, to be held in early October.
Italy, final round of the TrialGP calendar
Ponte di Legno is a town in the Brescia region of the Italian Alps whose ski resort will host a TrialGP World Championship event for the first time. The competition is organised by the Dynamic Trial association in conjunction with the Italian Motorcycling Federation. The competition takes place over two days on a 7.5-kilometre course, close to the village, and will feature 12 sections to be tackled over two laps. The prize-giving podium is scheduled to take place from 15:30.
Toni Bou has 15 wins to his name in Italy and has previously been crowned champion at four other Italian TrialGP venues: Foppolo in 2010, Sto Stefano d'Aveto in 2012, Valchiampo in 2016 and most recently, Lazzate in 2020.
What does Toni Bou need to become champion?
Bou hopes to settle the championship as early as possible. To achieve this, merely finishing the trial would be enough. If on Saturday's opening day of competition Bou finishes the Ponte di Legno trial in 12th place or above, he will automatically become champion. With his current 36-point advantage, Bou needs to score just 4 points – if Saturday's event is won by Jaime Busto – the only rider able to hold off the Montesa Cota 4RT rider's victory.
Team-mate Gabriel Marcelli will take part in these two final world championship trials aiming to demonstrate his high level and fulfil the season's objective: to make it onto the podium with a top three finish. Repsol Honda Trial Team's Galician rider will also be hoping to improve on his current sixth position in the championship standings.
Toni Bou 1
STANDINGS:
1ST
I'm very happy with the season we've had, which has always been very full, with consistency in the forefront. We are going to Italy to try to finish off the job, very focused on the trial and eager to win the title. We will try to go out and be as competitive as always, bearing in mind that a serious mistake could ruin everything so I will try not to let that happen, by taking no unnecessary risks. We are going to secure the points that will give us the world championship.
Gabriel Marcelli 38
STANDINGS:
6TH
I am very motivated ahead of this final round of the calendar. The most recent trials have gone pretty well, both in the Spanish Championship and the World Championship. We are on an upward trajectory and I am in a good moment to try to get on the podium no matter what. We have two chances and mustn't waste them. I will try to be up there on the podium.