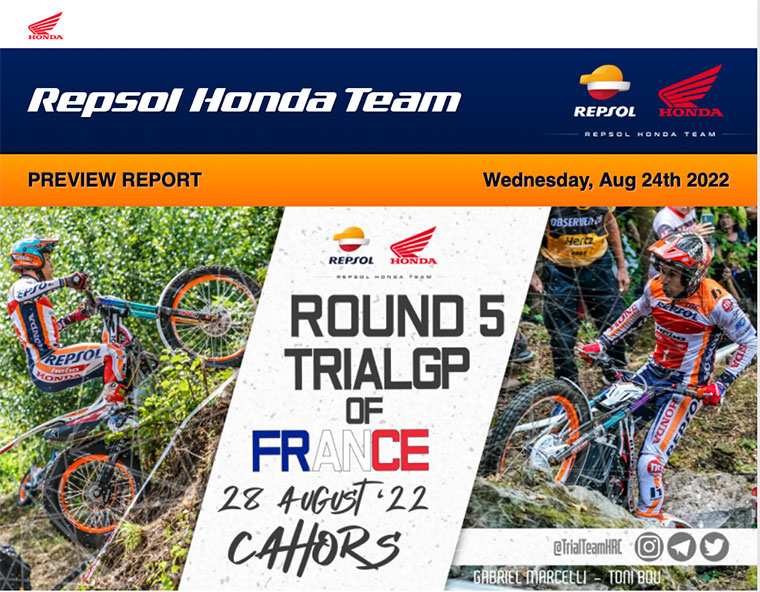 After a fifth season win clinched last weekend in Belgium, the TrialGP World Championship moves straight on to the eighth date of the season set to take place this coming Sunday. Bou edges ever closer to the title and Marcelli to the podium.
The monumental city of Cahors in the Lot region of France, will be the setting for the latest round of the TrialGP World Championship this Sunday. After Toni Bou's noteworthy trial last Sunday in Belgium, the Repsol Honda Trial Team rider will go into the next round aiming to virtually seal the championship title. With a 26-point advantage over the nearest second-placed rider, and with three trials still to run, Bou clearly understands the need to consolidate the overall lead with a good result in France and wait until Italy to celebrate the new world title crown. Bou had previously won in Cahors in 2021.
Meanwhile, Bou's Repsol Honda Trial Team sidekick, Galician Gabriel Marcelli, made a noticeable improvement at last weekend's event and, having recovered physically from earlier nagging injuries, believes he will finally be able to aim for the podium in France.
The Lot will get a firsthand glimpse of the riders' performances, with the course located along the two banks of the river which flows through the town. The area between the town's two main bridges: the Pont de Valentré and the bridge at the entrance to Cahors, will feature some sections established on the Acacias "beach". The trial will include two laps of the semi-urban circuit made up of twelve sections. The competition is expected to conclude at approximately 15:30.
Toni Bou 1
PROVISIONAL:
1ST
We are very much on the right track and very positive, but nothing can be taken for granted yet and we have it all to play for, once again, so we will have to stay very focused as this trial is very important towards the title. The team is working really hard and I feel great. We hope to have a good trial without making any mistakes.
Gabriel Marcelli 38
PROVISIONAL:
7TH
In Belgium I felt much better than in the trials at the beginning of the season and I was able to ride a bit more at ease. It was fairly noticeable because I was just a step away from the podium, which is something that I would like to achieve in the French trial. We'll have to see how it goes, but we are working hard to get the results.