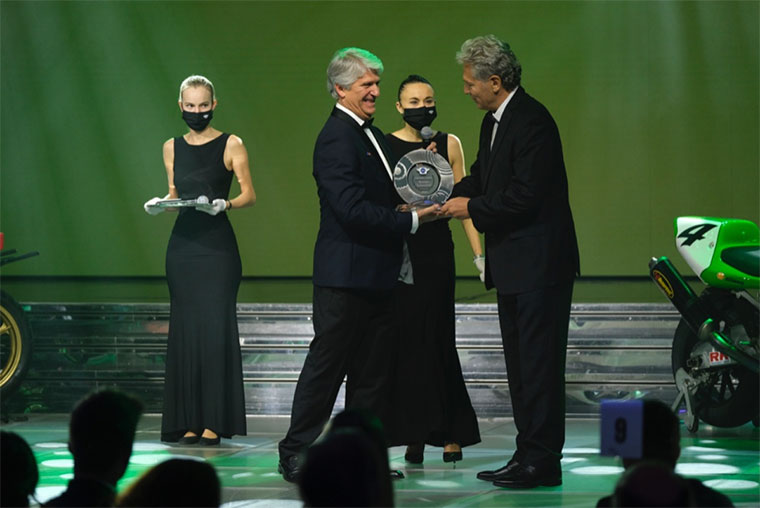 Still the one and only American rider to win an FIM Trial World Championship title, Bernie Schreiber was honoured last Saturday night when the FIM family came together at the Salle des Etoiles of the Monte-Carlo Sporting complex in Monaco for an extra special awards ceremony.
Celebrating the achievements over the last two seasons of the greatest motorcycle sporting stars on the planet, the evening saw Schreiber receive a 'Legends' award alongside road racing hero Franco Uncini, rallying heavyweight Cyril Despres and speedway superstar Greg Hancock.
"It's fantastic," said Schreiber. "The FIM contacted me about a month ago and asked me to come down. I was surprised after all these years – it was out of the blue – but it's great. In the beginning I was thinking 'do I go down?' and my wife said 'I don't know if you're going but I'm going!' so that was it.
"It was a really nice event – there were some amazing people there and I really enjoyed it. It puts you on the map and underlines where you were and who you were in the trial world. It's something nice to have from the FIM, it's like the AMA Hall of Fame."
Schreiber – who now calls Switzerland home – has joined an exclusive club of FIM Legends from the sport of trial including Yrjo Vesterinen, Dougie Lampkin and Sammy Miller.
The 62-year-old Californian made his TrialGP debut – although at the time it was still classified as a European Championship – at Saddleback Park in 1974 but was too young to be officially classified in the results and three years later he crossed the Atlantic and embarked on his first full World Championship campaign.
He won the TrialGP title in 1979 and went on to finish as vice-champion on three occasions and won 12 more TrialGP rounds before retiring from top-flight competition in 1987.
"It was fabulous to meet Greg [Hancock]," added Schreiber. "We sat at the same table and we didn't even know each other. He just came in from Los Angeles and we got a chance to spend some time together.
"I didn't know Jorge [Viegas – the FIM President] but he used to write articles years ago so it was nice to meet with him and I saw a lot of people who I haven't seen for years."
For regular updates check out our social media platforms on Facebook, Twitter and Instagram – just search for TrialGP.