Twin wins in Germany as Toni Bou becomes undisputed world championship leader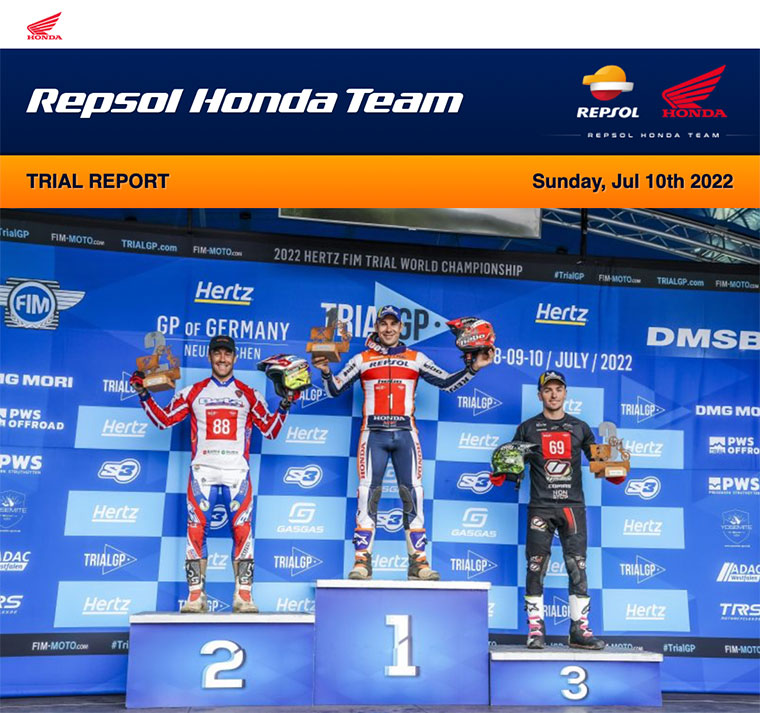 Repsol Honda Trial Team rider Toni Bou concluded day two of the German TrialGP with a tight but hard-fought triumph. Gabriel Marcelli finished the day in sixth position, after a tough battle to get into the top five.
The demanding wooded and natural areas of Neunkirchen once again characterised the second day of the TrialGP World Championship in Germany. With yesterday's reference points noted and a minor storm after the podium celebration, Toni Bou came out guns blazing from the get-go this morning. The highlight of the day was, however, the brawl for the top-spot between Jaime Busto, Matteo Grattarola and Toni Bou himself. The Repsol Honda Trial Team rider finished the first lap in second position and managed to minimise the mistakes on lap two to claim a close win that was not decided until the final two sections. Bou's twin victories in Neunkirchen means the Catalan rider takes his tally to five consecutive wins in Germany, after a victory in 2011 and two wins in 2016 in Gefrees. Furthermore, Toni Bou continues to strengthen his overall lead in the general standings, with a total of 114 points, 23 points ahead of the nearest second-placed rider.
For Gabriel Marcelli, the second day of the TrialGP of Germany proved equally positive. Despite physical aggravations in his injured left leg, the Galician rider from the Repsol Honda Trial Team managed to find the right feelings today and remained in the fight for fifth place until the final sections of the course, although he would eventually post sixth. In the overall standings, Gabriel Marcelli continues to occupy seventh position, with a total of 59 points.
Having passed the halfway point in the 2022 season, the TrialGP World Championship now takes a five-week summer break. The action will return on the weekend of August 20 and 21, with a one-day race in Comblain-au-Pont (Belgium).
Toni Bou 1
TRIAL: 1ST
STANDINGS: 1ST
I am very satisfied with the weekend here in Germany. For us it was a complicated and uncomfortable trial, both yesterday and today. We knew we couldn't make mistakes on the second day. It's true that we made two serious mistakes on the first lap, although we were lucky that everyone made a few mistakes too. Looking ahead to the second lap, we knew that the rider who didn't make a mistake would be the winner, so I tried my hardest. We made a small mistake in section six, but I also wanted to play it safe, because a five there could have meant losing the competition. Finally, in the last two sections were where we had to attack and do well. Fortunately, everything went well and we won the trial in section 11. In terms of the championship, it has been a very good weekend and it has been something exceptional because of everything that has happened. Now Jaime Busto is second, 23 points behind, and the truth is that being so many points ahead after only six rounds is really positive, although there is still a long way to go in the championship
Gabriel Marcelli 38
TRIAL: 6TH
STANDINGS: 7TH
Today I started the race more motivated. Yesterday I saw that, in the end, the leg problem was not so serious and I was able to ride at a good level. Today I felt good throughout the whole race. I'm quite happy with how the day went, except for a couple of sections that I came up against which ended up compromising my final result. In the end we were sixth, not a bad result, but still, we wanted a little more.
Takahisa Fujinami
Team Manager
Before coming to Germany we were already clearly ahead on points, but over these two days in Germany we managed to increase that gap even more. To be 23 points ahead of the second-placed rider after only six races is incredible and Toni will be able to go on vacation feeling more relaxed. In addition, on the second lap today it was very tight with Jaime Busto and Matteo Grattarola, but Toni was able to withstand the pressure to end up winning. This result is very good for the championship and we are very happy with his results.

As for Gabriel, he was sixth today, with a much better ride than yesterday. Today he was fighting for fourth and fifth place until the end, but in the end he posted sixth. Even so, we are pleased with him, after two weeks off the bike and not being 100% fit.

All in all, I think it was a good weekend for the Repsol Honda Trial Team.