Widely regarded as a future superstar of the Hertz FIM Trial World Championship, Spain's Gabriel Marcelli (Montesa) had a huge impact on the premier TrialGP class during his rookie season in 2020.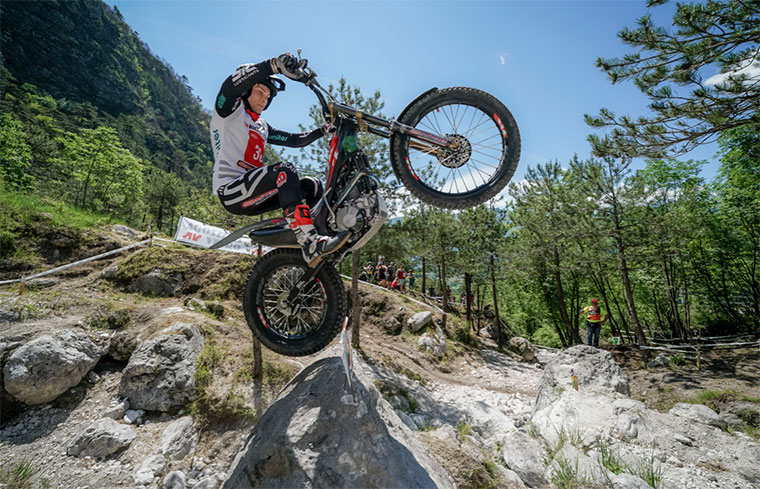 The rider from O Rosal just north of the Portuguese border came into last year's series on the back of a title-winning Trial2 campaign in 2019 and quickly made waves. A podium finish at his fourth attempt on day two in Spain was an incredible result and he backed this up with three fourth-placed finishes on his way to a #6 world ranking.
It's been a tough start to the season so far for the 21-year-old who lies eighth in the points table but he's currently holding down third in the Spanish championship and is aiming to replicate this form on the world stage.
We caught up with Gabriel to find out a little bit more about what makes him tick…
TrialGP: Hey Gabriel, how are you feeling at the moment with the first two rounds finished and a small wait until Andorra? What will you be doing until then?
Gabriel: "I feel a little dissatisfied with the results. In the Spanish championship I feel strong so it's time to turn the story around and start making good results in the world championship. I have taken the opportunity to disconnect a little to recharge the batteries and return to 100 per cent."
TrialGP: You had a podium last year in your first season in TrialGP. That must have felt amazing…
Gabriel: "The truth is that last season was very positive. To be honest getting on the podium was not in the plans but as the season progressed I felt stronger and able to fight for the top positions."
TrialGP: This year it has been a bit tougher – are you disappointed that your best result in 2021 so far has been a sixth?
Gabriel: "I am not happy with my riding in these first three trials. I think I could have done a lot better but my rivals have a very high level – everyone is fighting for the podium and in the end someone has to be behind in the standings. I hope these events ahead of us go better."
TrialGP: Toby Martyn once described you to us as 'an animal' on a bike – he obviously meant that as a compliment. Can you tell us about your riding style?
Gabriel: "Toby and I have a good relationship – we are rivals but friends like most of the riders I compete against. I think I am a pretty effective rider. I am very calculating and I like to have everything under control – every line, every stone, every movement of the bike. I tend to be calm but it's true that when I'm under pressure and stress I bring out a hidden anger that gives me a plus in my riding."
TrialGP: What are your goals for the rest of the season?
Gabriel: "My goals are to get into the top five of the overall world championship and make at least one podium."
TrialGP: It's a tough question but please tell us where you see yourself in five years' time?
Gabriel: "I would like to be fighting for the top three places in the world championship. The current riders in the championship have a very high level but I think that in a few years I can consolidate and earn a place in the top three."
TrialGP: Thank you for answering our questions. Is there anything else you'd like to add?
Gabriel: "I would like to thank my sponsors, all the people who have been supporting me over the years and you for giving me a voice with this interview. Every person who contributes their grain of sand to the world of trial is to be thanked!"
Round three of the 2021 Hertz FIM Trial World Championship – the Andorran TrialGP – takes place high in the Pyrenees around the scenic town of Sant Julià on August 20-22.
For regular updates and live results check out our social media platforms on Facebook, Twitter and Instagram – just search for TrialGP.
For more information go to www.trialgp.com