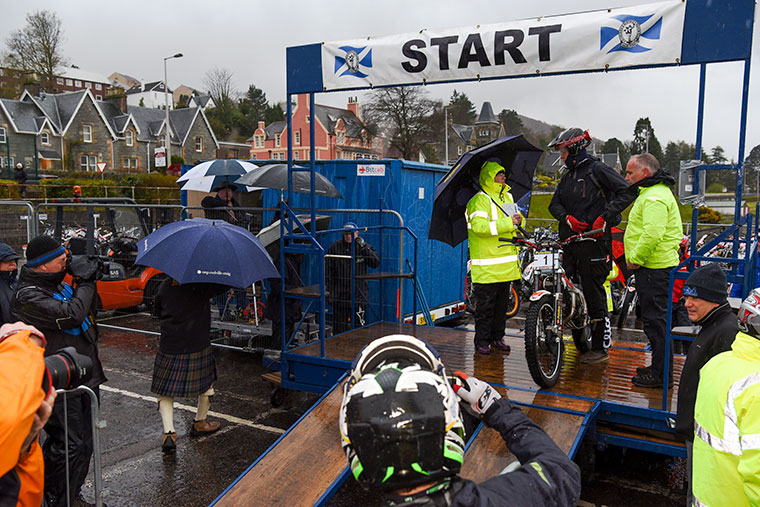 LISTEN LIVE
Listen Live, once again your official SSDT Radio Station, Nevis Radio, the station local to Fort William and Lochaber, will broadcasting live from the Scottish Six Days Trial event's 'Parc Ferme' located at the West End Car Park from Monday the 2nd May until Saturday the 7th May 2022. The outside broadcast team this year once again consists of John 'Big John' Weller, Simon Abberley and the guest presenter Trials Guru's very own John Moffat. As well as radio broadcasting the station will be 'on air' with live video streaming and additional recorded coverage during the day when team will be out at sections with the Nevis Radio's 'roving mic.' The daily broadcasts are on from 07:00 – 11:00 on 96.6 102.3 & 102.4 MHz. The sponsors of the station once again will be Michelin Tyres in association with Trial Magazine, a relationship that goes back to 2009.
Article: Trials Media – Nevis Radio
Simon Abberley: "Nevis Radio would like to thank Michelin and Trial Magazine for their continued support over the many years of sponsorship. As a registered charity, every penny we get counts towards our continued service and helps us broadcast across Lochaber. In recent years we have expanded into the world of live video streaming on the internet. Without the support from Michelin and Trial Magazine we wouldn't have had the funds available to offer this service. Being mostly volunteer based with one staff member involved it takes a great deal of resources to achieve our Scottish Six Days Trial coverage but every year we are driven by the feedback we get and always try and push a little harder the next time round; it's a way of evolving and improving what we do as much as we can. In my time at Nevis, we have introduced live video, starting with a simple web cam to what we have planned for this year, this includes a multi camera setup and a remote camera in HD alongside our FM feed. The audio and video should be available on our Nevis radio app for iOS and android or our website www.nevisradio.co.uk Video will be available on youtube.com/nevisradioofficial or audio on 3rd party radio apps such as Tune In as well as our own portal and smart speakers"
"After taking the management role at Nevis Radio, I have taken more of a lead in the technical development of our broadcast and use the SSDT as a showcase of what our community radio station can achieve. I admit I don't know much about the sport itself but I enjoy finding out a little more each year and also providing a platform for Trials fans in the UK and abroad to see and be involved in each year's event. The support from Michelin and Trial Magazine, even during the Covid-19 pandemic has been not just welcomed but essential in our operations. Without the support of our sponsors for this event, we wouldn't have had the financial means needed to help in developing new ideas and methods to bring the SSDT event to the listener/viewer. We are extremely excited for the 2022 live coverage I would also like to take this opportunity to thank once again Michelin and Trial Magazine for their efforts and for putting faith in us and our abilities and look forward to seeing everyone in May"
Nevis Community Radio Station
Nevis Community Radio Station is based in Fort William and has been broadcasting to Lochaber and beyond, providing both entertainment and information since 1992.
Nevis Radio is totally independent from other stations and broadcasts 24 hours a day, 365 days a year. The majority of the air time is hosted by 40 amazing volunteer presenters, and two staff who are responsible for the day-to-day running of the station. From their base in Fort William they broadcast throughout the Lochaber region, these areas including Skye, Fort Augustus, Mallaig, Kinlochleven and all parts of the Western Highlands. There may be pockets of signal disruption within these areas but they are continually trying to resolve this and keep them to a minimum. Due to the geography of the area they have multiple transmitters around Lochaber, which allows them to reach the remote small communities that help make up the wider spectrum of the listeners. The broadcast is aimed at the Lochaber community with the information and advertising targeted towards their broadcasting range but they are very proud to have both local and international listeners. You can listen to Nevis Radio when you're out of signal online or via the Tune In app. Just press play on our home screen.
A Brief History
The radio station was launched back in 1992 in co-operation with Ski FM from the Nevis Range ski resort, to provide a stream of information about the conditions on Aonach Mor to the skiers. Back then they broadcast three to four minutes of information two or three times every hour each morning and two or three hours of music each evening throughout the winter. In the summer of 1992 they went on air as Holiday FM, which was licensed for eight weeks. The following winter another Ski FM was broadcast for four months through the 1993/94 season. This was very successful and the demand for a permanent broadcast for Lochaber became apparent. The Nevis Community Radio Action Group was then formed to raise funds and make a local radio station possible. In 1994 Nevis Radio was awarded a full-time license back and has been on the air ever since. Quite rightly so they are incredibly proud of their history in helping develop the snow sports industry that makes up such a big part of Lochaber's culture and business industry. All these years on they are very grateful to still have the positive working relationship with Nevis Range that they do, and during the winter season still provide avalanche reports and information on the weather conditions for the skiers. They broadcast as a commercial radio station until 2013 when they changed status and became a community radio station and also a registered charity. This change has enabled them to look at alternative ideas in terms of running the station. Nevis Radio still broadcasts around the clock daily and is very proud to be able to work with the community closer than before to provide all the relevant content that is desired.
Team Nevis Radio SSDT 1996 – 2022
1996 – 2005 Willie Cameron/Malcolm Brown
2006 – 2007 Willie Cameron/David Ogg/John Moffat
2007 – 2009 David Ogg/John Moffat
2009 – 2016 David Ogg/John Weller/John Moffat/Simon Abberley
2016 – 2022 John Weller/John Moffat/Simon Abberley + Crew
Nevis Radio Frequencies
FM: 102.3 MHz. – RDS name: Nevis_FM (Skye & Mallaig)
FM: 102.4 MHz. – RDS name: Nevis_FM (Loch Leven)
FM: 96.6 MHz. – RDS name: Nevis_FM (Fort William)
FM: 97.0 MHz. – RDS name: Nevis_FM (Glencoe)
John Moffat 2006 – 2022
John Moffat has, since an early age, had an interest in the SSDT. He rode in 1977, his father rode twice 1953 and 1954 and his two sons have nine SSDTs under their belts, John was also SSDT Secretary 2001 – 2002.
John Moffat: "Being involved with the outside broadcasts with Nevis Radio added a new dimension to my SSDT involvement, that of media. I have thoroughly enjoyed the six in the morning rises, missing breakfast on many occasions to bring like-minded enthusiasts information, facts, figures and anecdotes on the annual 'Sporting Holiday in the Highlands.' I worked out that each year, I spend 24 hours each event standing on the West End car park tarmac, and that is quite hard on the feet and legs. It's the variety of people that I have got to know over the years, during these broadcasts that is so interesting, not just riders but all associated with the event. In fact, we had a new neighbour buy the house behind us a couple of years ago, when I spoke with him, he said: 'I know your voice, you are the voice of the Scottish Six Days Trial aren't you?' I hadn't at that point told him my name!"