BERKO brings back the British Youth Championship. 
OSET report.
What a Youth National! The Berkhamsted Motorcycle Club put on a fantastic weekend, with good, hard, National level sections to take marks from the best youth riders in the Country. 
From an OSET point of view, it was a big weekend, with lots to talk about amongst all classes.
Ride of the weekend was a toss-up between two riders at different ends of the age spectrum. 8 year old Sam LeFevre has been on the radar for quite some time in the D class. He's a phenomenal rider who appears to be the whole package. Talented, hard-working, gutsy, and usually smiling – a likely star in the making. In a very tough couple of days at the National, where only 3 riders on Saturday lost less than 100, and 5 on Sunday… Sam went round for a miserly 23 on Saturday, and 22 on Sunday on his 20.0R. A truly great performance.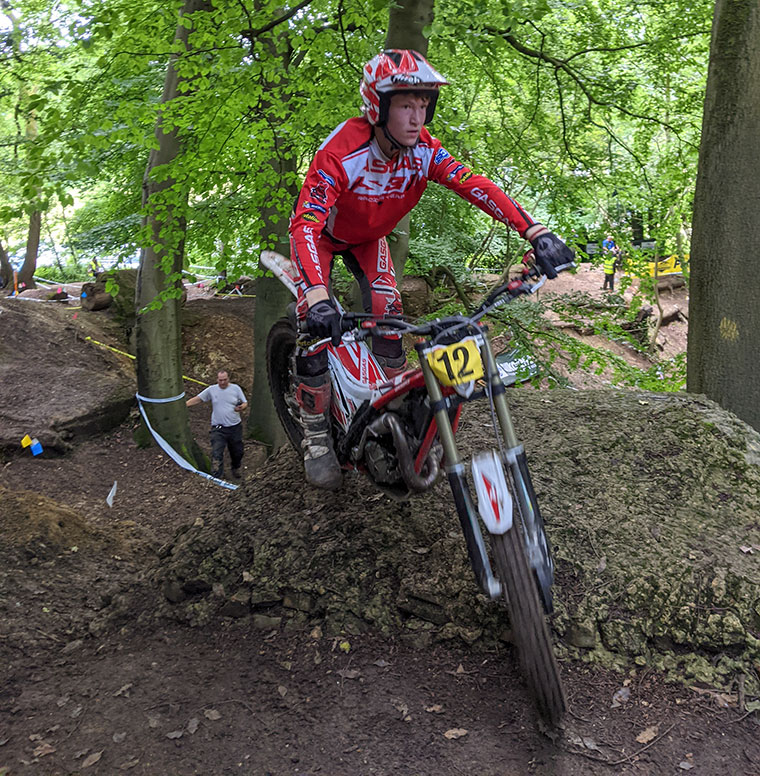 At the other end of the age spectrum, ex-OSET rider Daniel DaBreo took his GasGas 125 to a victory in the packed B class on day 1, and a second on day 2. The remarkable thing was that this was Daniels first National, and he didn't even feel like he rode that well!! Daniel and his Dad Steve have been great friends of OSET since Daniel was very small. Dan was always amazing on his OSET, pulling all sorts of tricks at MotoGP and other demo's. Those tricks have turned into solid skills, and his performance against the best 13-15 year olds in the country was great to see. Well done Dan!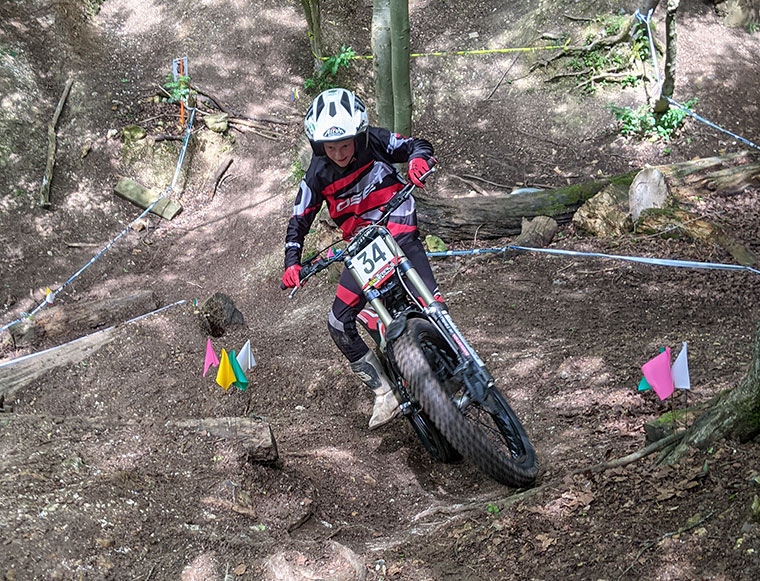 Class by class… the D small wheel class had an entry of 17 riders. The sections were hard but safe for the little ones, and the riding standard was very good. Some very smooth riders did very well, especially on Sunday when the overnight rain made the sections treacherously slippery. Sam LeFevre did his domination act at the sharp end, with Oliver Wilson 2nd both days, and Cameron Batty 3rd both days. William Blackwell was impressively smooth on his 20.0R, taking a 4th and a 5th. 
Next up, the 'D medium' class had 6 starters. It's difficult for these little ones to handle the petrol machines that many chose, so it was bound to be a tough day. Koby Smith won both days on 146 and 115 marks respectively, with Carter Cubbon not far behind in 2nd. Jack Rich on his 24.0R took third both days. All riders found this very hard, but hopefully will take positives from the experience.
It was a similar story in the C medium class, where the three entries were faced with two tough days. Edward Mowat and Fin Penny on their 24.0R's both seemed to be finding great grip on the slippery climbs. Edward took the win on both days, with Fin getting a second and third. William Sparks traded with Fin, with a third and second.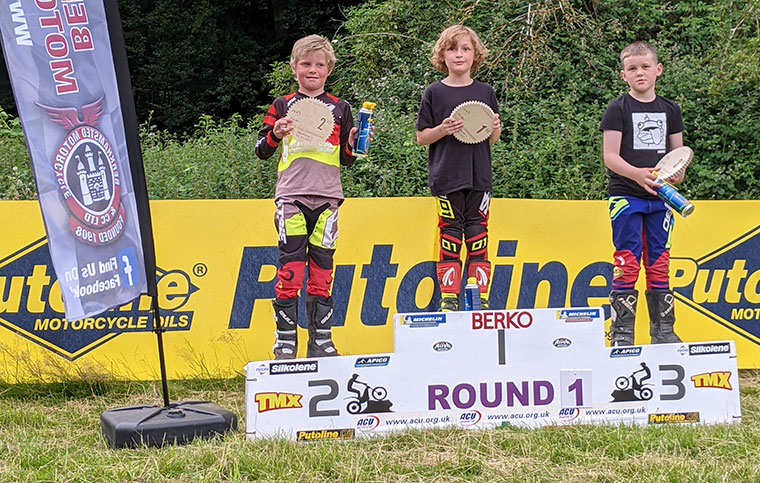 Up into the C big wheel (full size) class, pretty much the entire field had come from an OSET background. 15 riders were on the entry, and having not competed Nationally for so long, it was anyone's guess who would be strong. On Saturday, Max Golla pulled out a dominant win, losing just 23 through the day. With only one '5', Max kept his marks to a minimum. Congratulations! Taking second was Max Dance on 31, again keeping it cheap with just one 5. Third was OSET's own Elliot Smith on 40. Elliot showed some great style, but with four '5's he couldn't quite touch the 'Max's'. On day two, with harder sections thanks to the rain, it was a great battle. Max Dance was on fire and looking very sharp. Max took the win on 34, taking just a single '5' on the way. Elliot jumped to second on 45, but his 3x '5's left him a way off Max. Scotland's Archie Bremner had a stronger day on Sunday, finishing third on 63, while Saturday winner Max Golla may have had some extra nerves after his victory, and slipped to fourth on 74.
The B Class, as mentioned, saw Daniel DaBreo take a stellar 1st and 2nd. Sunday's winner was the IOM's Corey Peters – another ex-OSET rider showing some great form. Finlay Rule had a great weekend with a 2nd and 3rd. The scores were very tight, especially on Sunday, with only 4 marks separating the top four. The youngest in the group deserve a mention, with Jasper Fox, Harrison Skelton, Euan Sim and Jake Chalice all tantalisingly close to the top positions. Jaspers 3rd and 4th were the best of the 'freshers' to the class, but he'll certainly be aiming for the top step next time out.
So, a great weekend, with OSET and ex-OSET riders very strong across all classes. Starting and competing at a young age clearly lights a fire, which is great for the sport. Well done to all!