Current Issue – Classic Trial Magazine
CLASSIC TRIAL MAGAZINE ISSUE 27 – TIME FOR A BREW!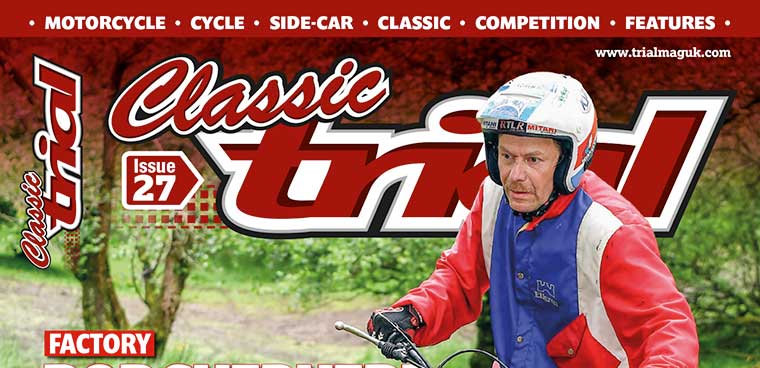 It's that time again for all the subscribers to Classic Trial Magazine, Issue 27 should be dropping through your letterbox early this week and inside you will find all your Classic Trials News, Action, Events, Tests and so much more for you Classic – Retro addicted trials enthusiasts. It's time for a brew a beer or maybe a wine for the ladies so park your feet up sit back and enjoy the read!
Inside and full of action you will find:
Inside and full of action you will find:
Factory Special: Restoration of the Ex-Rob Shepherd Honda 360.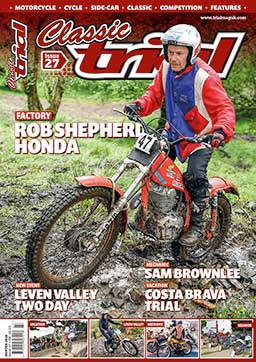 New Event: The Leven Valley Two Day in Scotland proved a winner for everyone involved including Classic Trial Magazine.          
Mechanic: Find out about the Mick Andrews apprentice Sam Brownlee.
Flashback North: It was a cold and wet 1968 Bemrose Trophy Trial.
Conversion: One man's passion for the Honda TLR 250.                                                                                                            
International: It's on the 'Bucket' list, the Robregordo Trial in Spain.
Vacation: Attracting nearly 500 riders the Costa Brava Two Day Trial was the place to be despite the rain in Spain.
Reunion: A gathering to reflect on the Perce Simon Trial.
Flashback: Ice and cold came to the 1968 Cotswold Cup.
Product Feature: Wrapping is a fast and effective protection, find out more.
Sport: Once again the Kia Championship has proved a huge success.
Classic Trial Magazine in Print – We are proud to be in print and using new material and many unseen images from the very best photographers in the world.
Remember Classic Trial Magazine is only available on subscription.
Looking for a back issue? – Go to www.trialmaguk.com
Subscribe On-Line – Its Easy – It's so easy to subscribe just go to www.trialmaguk.com and yes it's an all English website.
Classic Trial Magazine on the Internet – Yes it's available across all platforms including Issuu and Pressreader.
International Readers – Subscribe On-Line – Its Easy – Just go to: www.trialmaguk.com
Make sure you don't miss out and get yourself a subscription by contacting Classic Trial Magazine: Mail: lisa@trialmag.com – england@trialmag.com or telephone on Monday or Friday: 01663 – 744766(Between: 10 – 3 O'clock) Please be patient when calling.
If you are looking for a perfect Christmas gift look no further than a 12 month subscription to Classic Trial Magazine at: www.trialmaguk.com
Copyright: All pictures – Classic Trial Magazine
Why not take a subscription and enjoy four issues per year : http://www.trialmaguk.com/subscriptions/
Remember it's only Trials!!
CJ Publishing – Proud to be Independent
Make sure you don't miss out and get yourself a subscription by contacting Warners: Mail: subscriptions@warnersgroup.co.uk  or telephone: 01778 392479
The best 'Gift Idea' – Why not go online and subscribe: www.trialmaguk.com .. Subscriptions make an ideal gift that lasts longer than one day!
CJ Publishing Ltd are both the Data Controller and processor for some of your subscriber data.  We also use Warners Group Publications plc (processor) who provide Subscription management services and hold our all our subscribers data for Trial Magazine.  In this instance, Warners Group Publications plc are the processor and will process all orders on our behalf.  CJ Publishing are the processor for Classic Trial Magazine and hold all the subscribers data for Classic Trial Magazine. In relation to all orders, we will only use your personal data when the law allows us to in line with the General Data Protection Regulation 2018 (GDPR).