Defending champions Toni Bou (Repsol Honda) and Emma Bristow (Sherco) dominated the premier TrialGP and TrialGP Women classes at round two of the 2021 Hertz FIM Trial World Championship while Jack Peace (Sherco) and Andrea Sofia Rabino (Beta) broke the stalemate in the Trial2 and Trial2 Women classes as Gael Chatagno (Electric Motion) got his Trial-E campaign off to a winning start.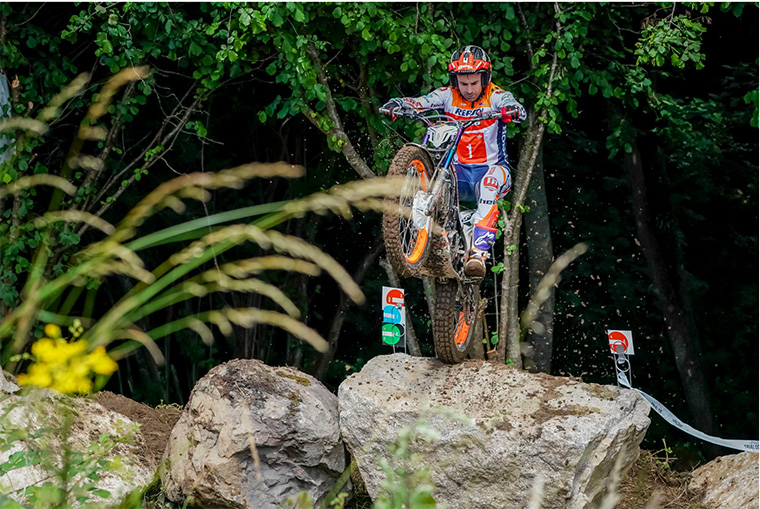 Heavy rain over the weekend ensured that conditions were treacherous at Charade for the first French TrialGP of the season with mud getting dragged onto the imposing rocks that formed the predominantly man-made sections.
The opening lap of 12 sections proved to be expensive for 14-time champion Bou but the sublime Spaniard still led at the halfway mark – despite a maximum on the super-tough, natural section seven on the face of a cliff – on a total of 19, two clear of Italy's Matteo Grattarola (Beta) and a comfortable 21 marks ahead of his compatriot Adam Raga (TRRS).
Both Spanish riders upped their game on lap two to part with a miserly five marks apiece as Bou increased his championship lead and Raga hunted down Grattarola only to lose out on a tie-break to the 2020 Trial2 champion.
"This victory is very important," said Bou. "My feeling today on the second lap was incredible and it's great to now be 10 points ahead of Adam. It's been a very good weekend for me."
The rejuvenated Japanese veteran Takahisa Fujinami (Repsol Honda) – winner last time out in Italy – was just four marks adrift in fourth as Miquel Gelabert (GASGAS) completed the top five.
After trading wins with returning trial legend Laia Sanz (GASGAS) at the opening round in Italy last month, Bristow had a point to prove in France and the British rider – who's lining up her eighth-straight TrialGP Women title this season – came out swinging.
Seven clear of the 13-time champion after lap one, Bristow rode with her head on the second circuit to end the day with a six-mark advantage as Sanz overtook her fellow Spaniard Berta Abellan (Vertigo) to claim second with Spain's Sandra Gomez (TRRS) and Norway's Ingveig Hakonsen (TRRS) finishing a distant fourth and fifth.
"It's been really slippery in places so I've had to be very careful," said Bristow, "but I had some good rides and had a great feeling with the bike. A win is 20 points in the bag which is brilliant."
Trial2 once again proved to be a battle of the Brits. Locked together on points following the Italian TrialGP, Peace and Toby Martyn (TRRS) picked up where they left off with Peace stealing the win by a single mark. After two rounds and three points-scoring days, Peace has parted with just two marks less than Martyn over 72 sections. It really is that close.
"I was really pleased with the day," said Peace. "It didn't start so well and on the first few sections I was a bit shaky but I got into my riding, rode well on the second lap and I was very happy to win."
Completing a British 1-2-3, Billy Green (Scorpa) – who was a long way off the pace in Italy – fired back into contention with a rock-solid third ahead of the Beta pairing of Aniol Gelabert from Spain and Norway's Sondre Haga.
It was all-square in Trial2 Women between Italian riders Sara Trentini (Vertigo) and Andrea Sofia Rabino (Beta) heading into France with the pair exchanging wins and second-placed finishes but Rabino broke free in Charade.
Just two marks ahead after lap one, Rabino asserted her dominance and her second-lap total of 16 saw her come home seven clear of Trentini.
"Today I'm very happy," said Rabino. "The sections were very difficult but I was riding well and I'll keep working hard."
Britain's Kaytlyn Adshead (TRRS) was just one mark adrift in third with her compatriot Alicia Robinson (Beta) a further five behind but still comfortably clear of German rider Sophia Ter Jung (TRRS).
The three-round Trial-E series kicked off in France and with two-time champion Albert Cabestany absent, 2020 runner-up Chatagno came out on top on a total of 25, a healthy 17 marks clear of his fellow French rider Julian Perret with Spain's Martin Riobo (Electric Motion) – the Trial125 vice-champion in 2018 – filling the third step of the podium.
"I made some mistakes on the second lap but we still got the win today," said Chatagno. "I need to improve in the mud but the bike was good and I just need to keep training and focus on the second round in Andorra."
The action now resumes with the Andorran TrialGP on August 20-22. For regular updates and live results check out our social media platforms on Facebook, Twitter and Instagram – just search for TrialGP.
For more information go to www.trialgp.com