Toni Bou achieves a 120th Trial World Championship win after a superb race in France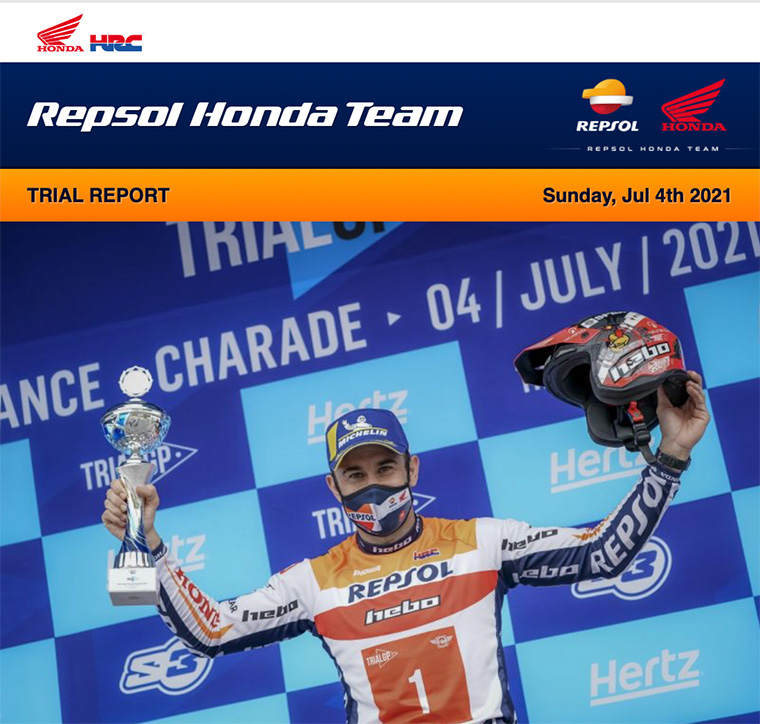 Repsol Honda Team rider Toni Bou triumphed with a great ride at the French Charade circuit in round three of the TrialGP World Championship. Team-mate Takahisa Fujinami finished the trial in a fine fourth position.
The third round of the top-flight trial competition proved tough and technical after heavy rain both yesterday, and again this morning just prior to the TrialGP start. Riders had to contend with muddy, slippery terrain throughout both laps of the full twelve-section course.
Repsol Honda Team rider Toni Bou gradually improved over the course of the trial, keeping the field in check at all times, before going on to claim the top step of the podium. With 19 marks on the first lap, Toni was already the leader, a position that he consolidated further, collecting just 5 points on lap two, to deliver a 13th victory on French soil. With this triumph, Toni Bou takes his tally of wins to 120 in trial world championship competitions and stretches his lead in the general standings of the TrialGP World Championship to a ten-point advantage over the nearest second-place rival.
Team-mate, Japanese rider Takahisa Fujinami, also had a positive day and despite several mistakes, managed to pull back on the second lap to post fourth place overall. The result leaves "Fujigas" holding fourth position in the world championship general rankings.
The Repsol Honda Team will now get to enjoy a summer break before tackling the fourth trial of the TrialGP World Championship in Andorra on August 20, 21 and 22.
Toni Bou  1
TRIAL: 1ST 
OVERALL: 1ST
Today I am really happy. After making a mistake on the first lap, the second turned out incredible. I picked up a five in an unusual way, but more importantly than just the points, it was a really great round because I felt some very good sensations. Overall, it has been a super weekend for us, I felt very competitive after the changes to the bike: we adjusted it for the altitude of the trial and it really worked for us. I want to congratulate the whole team for their work. Now we can go on vacation very satisfied with ourselves and recover very well. Andorra is always difficult for me but it gives me that extra motivation.
Takahisa Fujinami  7
TRIAL: 4TH 
OVERALL: 4TH
The first lap today was quite difficult, I broke through the tape a couple of times and I fell hard as well. But despite the bad lap, I was able to recover well and improve on the second lap. Today I felt pretty calm and I enjoyed the trial quite a bit. After achieving the win in Italy, I would have liked to have been on the podium, but a fourth place is still very good, I am very happy.
Miquel Cirera
Team Manager
Toni Bou doesn't need to prove anything to us and today we saw that he is back in shape and much better recovered after the injury. Today the trial looked easy but the rain made it tough and Toni Bou did really well. I want to congratulate him and, once again, all the people who have helped get him back into shape. I think he's already at 100% .
On the other hand, today Fujinami started the trial well, which was not easy and he achieved a very respectable fourth position. There is currently such equality, which makes Fujinami's results all the more of an achievement. Now we will have a few weeks holiday and we will return to Andorra to continue giving it our best.