LAIA SANZ FINISHES ON THE PODIUM AS MIQUEL GELABERT AND JORGE CASALES PLACE 5-6 IN TRIALGP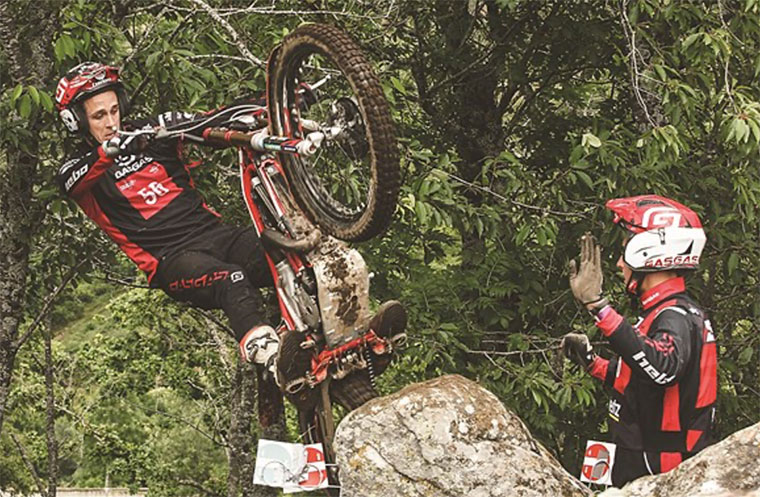 Bouncing back from the unusual set of circumstances that effected Jorge Casales at the opening round of the 2021 TrialGP World Championship, GASGAS Factory Racing ended the one-day TrialGP of Charade in France with a positive set of results. Battling for the top step of the women's podium once again, Laia Sanz wrapped up a wet and slippery event second in class while TrialGP duo Miquel Gelabert and Jorge Casales finished fifth and sixth respectively.
Laia Sanz places second in Women's TrialGP class
Rain in France ensures a slippery one-day event
Miquel Gelabert finishes best in TrialGP just six marks from the podium
Ending his day fifth overall, Miquel Gelabert delivered a hugely impressive performance in France, riding consistently during each of the two laps. Despite rain making lap one slippery and certain sections incredibly challenging, Miquel had a great first lap and was knocking on the door of a podium finish. Continuing to ride well during lap two, a pair of costly fives during sections two and three prevented him from securing a top-three finish.  Nevertheless, Gelabert placed an encouraging fifth overall, just six marks from the podium.
For Jorge Casales the TrialGP of Charade saw the Spaniard get back to world championship competition having been forced to withdraw from the series opener in Italy following a positive PCR test. Looking to use the event to boost his confidence, despite being disadvantaged as the first TrialGP rider into each section, Jorge rode well throughout each of the two laps. Skilfully managing the slippery conditions, he ended the one-day event well within site of the podium and in an eventual sixth position.
Switching back to trial competition following her recent EnduroGP outing, Laia Sanz had an unfortunate start to the event in Charade as the Spaniard was awarded five marks for forgetting to fit the engine kill safety device to her bike. Putting Laia on the back foot a little, she nevertheless put in a strong opening lap. The best rider through the 12 sections on lap two, Laia ended the day second overall, just six marks behind winner Emma Bristow. Laia now sits a close second in the class standings.
Miquel Gelabert: "I had a great first lap here in France. I was able to manage the sections well – they were very difficult because of the rain we had. I was very pleased with my riding and felt good. Unfortunately, I made two big mistakes on the second lap, during the first three sections. I was pushing hard to finish the lap with as few points lost as possible but, well, we ended up in fifth. We were looking for the podium today, but that wasn't quite possible. I know my riding is good at the moment, so we will try again at the next event."
Jorge Casales: "Not being able to compete at the first race in Italy after my Covid test, it was a little like starting the championship again for me. I can say it was a difficult day with the mud. Also, as the first rider into the sections it's never easy. But I'm pleased with my riding, even if the result is not what we hoped for. At the end of the day things were very close between myself, Gelabert and Fujinami, with just four marks separating us. We have a small break now before the next world championship trial so I will keep working hard for that."
Laia Sanz: "I'm pleased with the way I rode today, in some sections I felt really, really good in these tricky conditions. But forgetting to fit the security devise to my bike at the start of the day gave Emma a big present, it cost me five marks, which changed things. I wasn't as relaxed at the start of the day after that. I still rode well, but it was enough to put me on the back foot a little. Anyway, overall, it's been a good day. Things are still very close in the championship between myself and Emma, so there's a lot still to fight for."