After slipping to a shock defeat on the first day of the opening round of the 2022 Hertz FIM Trial World Championship, defending champion Toni Bou (Montesa) fired straight back to reclaim the top spot today – but the victory hung in the balance until the very last section of the final lap.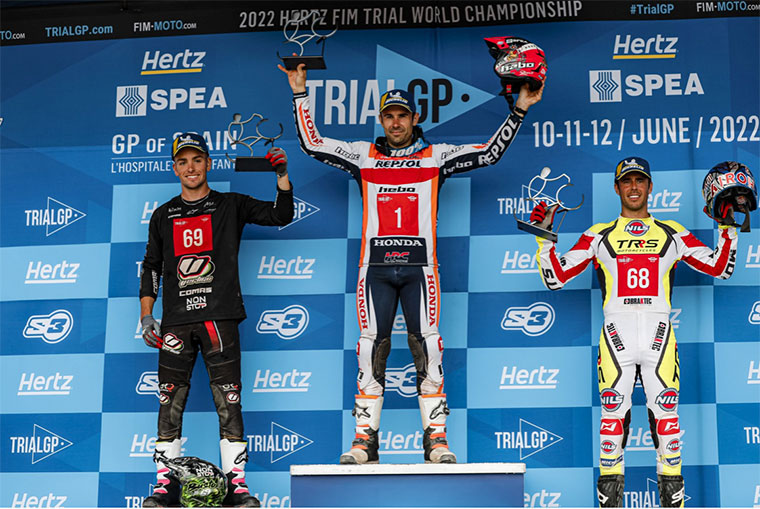 The rider who pushed him all the way to the end of day two of the TrialGP of Spain at L'Hospitalet de L'Infant was yesterday's winner Jaime Busto (Vertigo) who has started the season in the best form of his career.
In the TrialGP Women and Trial2 categories Emma Bristow (Sherco) and Pablo Suarez (Montesa) completed double weekend wins while David Fabien (Beta) came out top in Trial3.
With three sections made harder for all classes following yesterday's event and the blazing Spanish sun beaming down all day, fitness and finesse were called for in equal measure.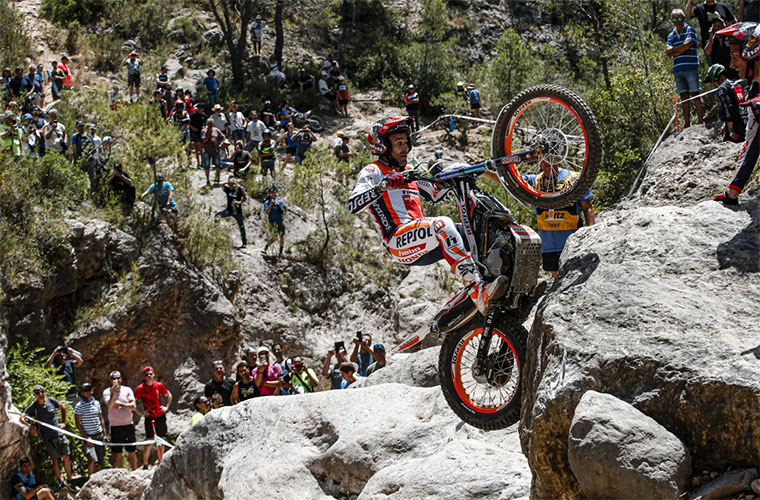 At the age of 35, Bou is 11 years older than his fellow Spaniard and he needed to draw on all the experience of 15 years at the top to beat a rival who is displaying incredible maturity and the ability to soak up pressure – and there was no shortage of pressure today with just one mark separating the winning pair after the full 24 sections.
Bou led Busto by one mark following the opening lap on a total of three but an early maximum on section two on the second lap when he momentarily stopped between two huge steps handed the younger man a four-point advantage which he briefly held before he incurred a five of his own on the rocky, near vertical banks of section four.
The pair then slugged it out at the front through a super-tense final eight section with both adding a couple more marks to their totals with Bou ending on 10 to Busto's 11.
"I didn't start the season with the best day yesterday," said Bou, "but today I was riding well. I made a mistake and stopped at section two on the second lap but it's amazing to start with a second and first place here in Tarragona."
Just to underline their dominance, former champion Adam Raga (TRRS) was third on 32 and the veteran was 11 clear of fourth-placed Jorge Casales (Scorpa) and 17 ahead of Gabriel Marcelli (Montesa) who completed the all-Spanish top five.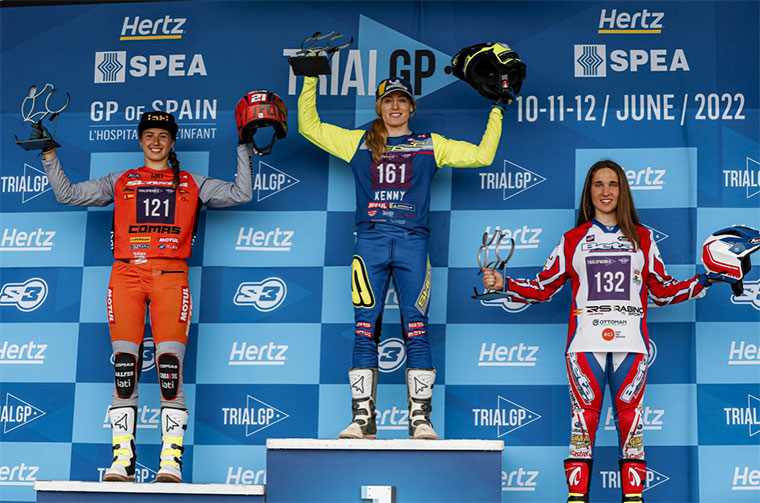 British lioness Bristow made it a dazzling double today in TrialGP Women with a dominant performance as once again Berta Abellan (Scorpa) emerged as her main competition – although the Spaniard was soundly beaten.
Bristow, who lost her world title last year after seven consecutive crowns, parted with two marks on the opening lap to lead Abellan by two before moving up a gear on the second lap and staying clean as her rival added an additional 12 to her total.
"I felt like I was riding well today and didn't really make many mistakes," said Emma. "I had a good feeling with the bike and two out of two is a dream start to the championship."
A close fourth yesterday, Italy's Andrea Sofia Rabino (Beta) completed the podium with her total of 31 good enough to finish two marks ahead of yesterday's third-placed finisher Naomi Monnier (GASGAS) from France before a sizeable gap back to German rider Vivian Wachs (TRRS) and Norwegian Huldeborg Barkved (GASGAS).
That's six different nationalities on five different marques in the top six – well they do say variety is the spice of life!
There was another dynamite double in the Trial2 class where Suarez made it two wins on the trot – but Britain's Jack Peace (Sherco) made him fight for it every inch of the way.
A phenomenal opening lap of just one gave the Spaniard a seven-mark advantage over Peace – last year's Trial2 runner-up – and Norway's Sondre Haga (Beta) at the halfway stage but it was almost all-change at the top on lap two.
On his second circuit Suarez appeared to tighten up and a couple of maximums and a three contributed to his final trial total of 17 and he only took the victory on a tie-break after rock-solid Peace added just an extra nine to his score.
"It has been an amazing weekend for me," said Suarez. "The second lap today was not so good but I managed to keep the lead. I'm so happy."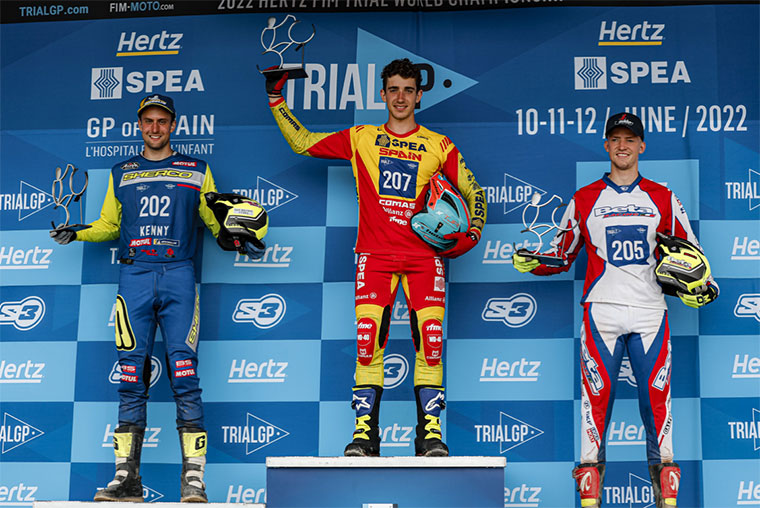 Haga also suffered a dip in form and he was lucky to make the podium for the second time over the weekend with his final total of 24 only one better than Britain's Billy Green (Scorpa) who took fourth on a tie-break from Hugo Dufrese (Vertigo).
Even riders at this level suffer from first-day nerves and Czech teenager David Fabien (Beta) saw his hopes of victory yesterday in Trial3 evaporate on the opening lap. However, he secured third on Saturday with a sensational second lap and carried this momentum into today.
Tied with Saturday's winner Harry Hemingway (Beta) on two marks after a close and competitive opening lap, Fabien stayed cool and collected on lap two and added another couple to his total to claim a career-first win at this level as the British rider racked up a further 13.
"It's my first win so it feels great," said Fabien. "Today was very good for me – it was super-hot and the sections were very hard so I'm super-happy with my riding."
Following the disappointment of narrowly missing out on a podium on his series debut, Jamie Galloway (TRRS) bounced back to make it two British riders on the box with a total of 28 to take third from Harry's younger brother George (Beta) who finished on 35 after dropping 11 marks in the final three sections.
The best trial riders on the planet now have just a few days to regroup before round two is staged on June 17-19 with the TrialGP of Andorra, held high in the Pyrenees around the scenic town of Sant Julià.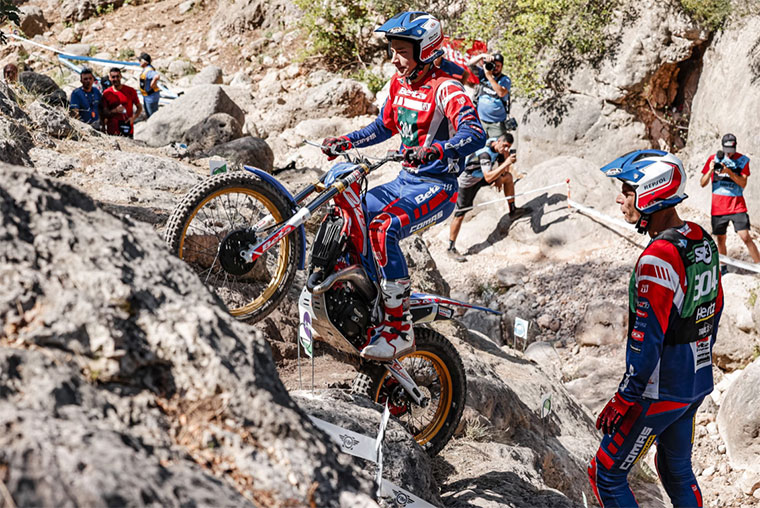 For regular updates check out our social media platforms on Facebook,
Twitter and Instagram – just search for TrialGP.