MIQUEL GELABERT KICKS THINGS OFF IN STYLE WITH THIRD-PLACE RESULT ON DAY ONE IN SPAIN
Tough, technical, and super memorable! Showing exactly what he's capable of on the new GASGAS prototype trial bike, Miquel Gelabert delivered the goods at the opening round of the 2022 FIM TrialGP World Championship to secure a solid third-place finish on day one. Gelabert again rode well on day two to place sixth, with team-mate Benoit Bincaz also making a positive start to the series with a pair of ninth-place results.
Miquel Gelabert delivers GASGAS third-place TrialGP result on day one in Spain
New prototype bike performs faultlessly throughout two-day TrialGP round one
Reigning 125cc world champ Jack Dance finishing sixth in Trial2 on day two
For Gelabert, the TrialGP of Spain was certainly a positive one. Focused solely on regular podium results in 2022, the Spaniard did exactly that on day one by placing behind countrymen Jamie Busto and Toni Bou to earn a well-deserved third-place result first time out.
Completing the opening lap with a score of 22 marks dropped, Miquel was very much in the fight for the win. Frustratingly, a number of fives prevented him from battling for the top step of the podium. But with 23 marks lost on lap two for a total of 45 for the day, he opened his season with a solid third-place result.
Again riding incredibly well for most of day two, Miquel placed sixth, earning more valuable world championship points and ensuring the new GASGAS prototype enjoyed a super-positive first TrialGP outing of 2022.
Successfully completing the Spanish event despite a heavy fall in the opening section on day two, Gelabert's team-mate Benoit Bincaz delivered two top-10 results. Completing day one with a total score of 64, the Frenchman finished ninth, just 19 marks behind third-placed Gelabert. Again placing ninth on day two, Bincaz again rode well despite being among the first riders onto all sections throughout the event.
Making his debut in the ultra-competitive Trial2 class, reigning 125cc world champion Jack Dance overcame a frustrating opening day to finish a strong sixth on day two, just six marks from a place on the podium.
Miquel Gelabert: "I can say it's been a very good weekend for me here at the first round of the TrialGP championship. Day one was very good, it was great to finish third and have such a positive start. Everything worked super well – I was riding well and everything I wanted to do in the sections I was able to do. A lot of hard work went into preparing for this championship, so to give the team, and the prototype bike a podium result, it was great. Again, on day two I was fighting for the same result. I could see I was able to get a podium result, but I made some mistakes, which put me in sixth. I wasn't far from third, but I know I can do it, so I will push hard to get two top three results next weekend on Andorra."
Benoit Bincaz: "Overall, I can say that it was a positive weekend for the team, with Miquel finishing third on Saturday on the new prototype bike, it was great. Despite some mistakes on both days I was close to the top six. My goal was to be in the top five, so I know I can get the results I want. I had quite a good first lap on Saturday, not so far from the top guys, then I made some mistakes on the second lap. I had a big crash early on day two, so that was quite painful during all of the day. Despite that, overall I'm pleased and I'm looking forward to Andorra next weekend."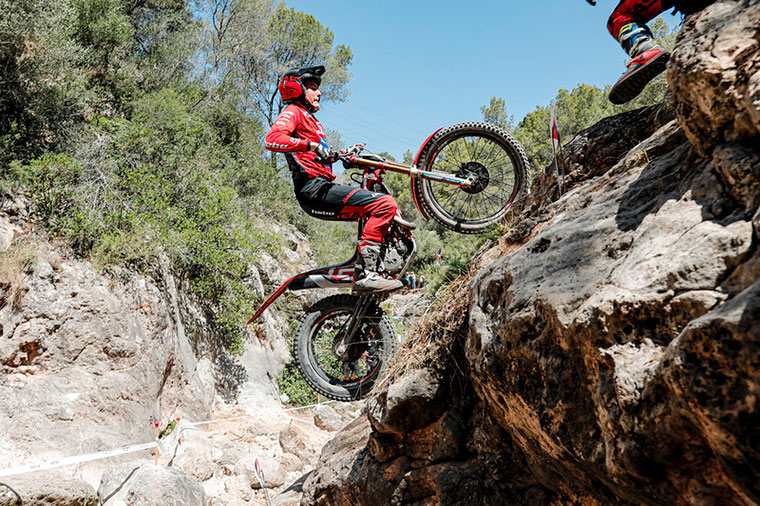 Albert Cabestany, GASGAS Factory Racing Trial Team Manager: "Overall, I am very, very happy with the team and the way the new prototype bike has performed. With a new bike you never truly know how it will be until you compete on it at the highest level. So, to come away from this opening GP with a podium result, it's great. It was certainly a tough, tough weekend, so for Miquel to finish third on day one and again challenge for the top positions on day two, it was very encouraging. Also, Benoit, who started closer to the front of the trial and therefore he had less references in each section, improved throughout the trial. Also, Jack Dance in Trial2, he rode really well to finish sixth on day two. There are 16-17 riders in that class so for him to do so well first time out, it's a super good result. We head to Andorra very happy with how the season has started."