Jaime Busto made history for Vertigo by winning day 1 of the Spanish GP and giving the brand its maiden victory in the premier class. On Sunday he finished second just 1 point shy from the top step of the box.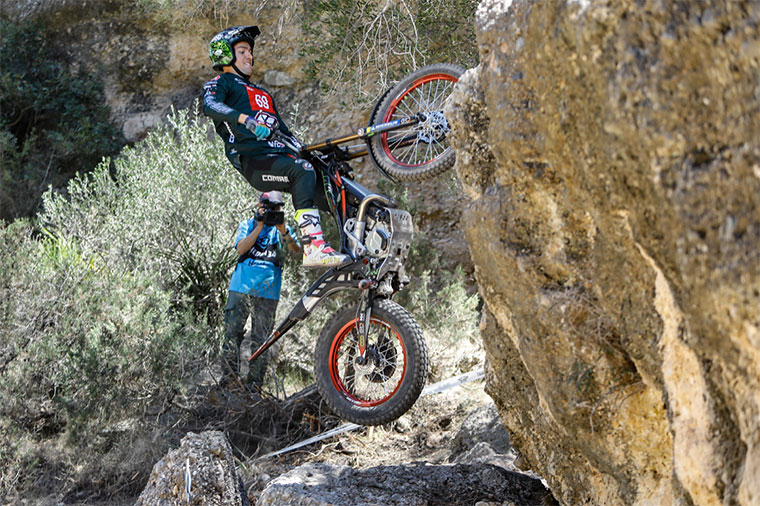 Fantastic start to the TrialGP season for the Vertigo Factory team, that saw Jaime Busto claim an impressive win on day 1 of the Spanish GP after delivering a superb performance to bring the JB-R Nitro to the top step of the box.
This is an historic achievement that comes just one month after Vertigo became yet again the main protagonist of the SSDT, where Dougie Lampkin clinched manufacturer's 5th victory. If you add the TR1 Spanish Championship wrapped-up by Jaime Busto in 2021, the combo exalts the Nitro as one of the most competitive bikes in the history of trials by having won in every single condition, terrain and event format since its inception.
The extreme hot conditions in Hospitalet de l'Infant put riders and machines to the test in what were two highly demanding point-paying days of competition. On the opening day, the battle for the win was intense between several riders with continuous changes in the leaderboard and really tight punctuations. After lap 1 through the 12 sections, Busto was sitting in 3rd place in standings that only had 2 marks separating 1st from 4th. It was on lap 2 when Busto really put on a charge that no one else was able to match, delivering a great show to the fans with his unique style and technique. He ended up with just 5 marks and a final score of 29, 6 less than Toni Bou and 16 ahead from M.Gelabert.
Sunday delivered yet another close quest for the number 1 position, on this occasion it was something between Busto and Bou, both quickly settling themselves as the only two contenders. Busto finished lap 1 with 4 against the 3 of Bou, being the start of lap two the key of the trial. The native from Górliz got into the lead after a fiasco from Bou in section 2, but then, things would return to where they were as Busto took a maximum on section 4. The two would finish the second lap with 7, which meant Busto would end in 11 and just one mark shy from earning the victory on day 2.
Vertigo experienced more success in the Trial2 class with 3 Top10 results. While Pau Martínez was 9th on Saturday ahead of Italian Mattia Spreafico, on Sunday Hugo Dufrese stormed to 5th on what was a superlative performance from the Frenchman. In Trial3, Alfie Lampkin recorded a career-best result on Saturday by finishing in a phenomenal 8th place.
No time to rest with round two of the Championship taking place this coming weekend in Andorra.