Defending champion Toni Bou (Montesa) was back to his dominant, brilliant best on the opening day of action at the TrialGP of Germany – round three of the 2022 Hertz FIM Trial World Championship – staged at Neunkirchen today.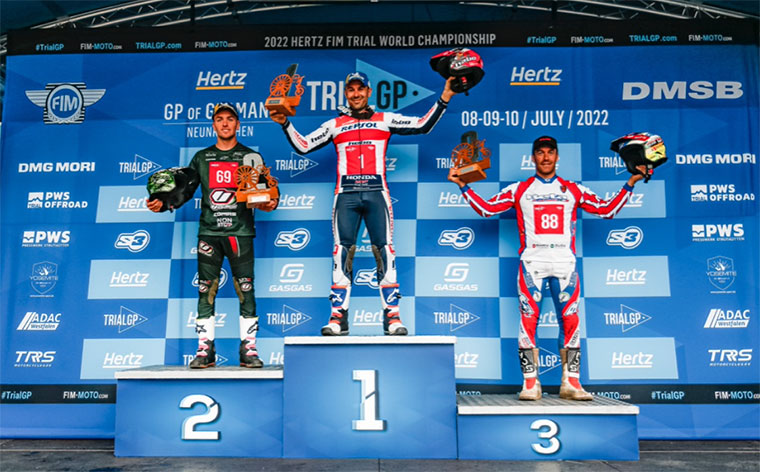 The sublime Spaniard hasn't had it all his own way so far this season and has been beaten twice but there was no doubting who was in charge as the series visited the country for the first time since 2016.
The TrialGP Women class was topped by series leader Emma Bristow (Sherco) after a tense, high-pressure day in the saddle while Pablo Suarez (Montesa) extended his advantage in Trial2 and Sophia Ter Jung (TRRS) took the win on home turf as the Trial2 Women championship kicked off.
Slick organisation and a big turn-out of fans made for a great atmosphere as the best trial riders on the planet went to work. With a 50-50 split between indoor-style sections in the paddock and hazards plotted on a super-steep wooded hillside, massive rocks were the order of the day.
Bou led from the get-go with his compatriot Jeroni Fajardo (Sherco) exerting early pressure on the 15-time TrialGP champ. Despite three maximums, after the opening lap Bou led on 16 with Fajardo four behind and Italy's Matteo Grattarola (Beta) next-best on 25.
Time and time again we've seen the 35-year-old up his game when it really matters and Bou was untouchable over the first 10 sections of lap two, parting with just three marks as he moved into an unassailable lead. In fact he was so far ahead he could afford the luxury of maximums on the final two sections of the trial and still win by 10 marks with a final score of 29.
"I'm super-happy," said Bou. "It's great to be back in Germany and this result is very important for the championship. My feeling was very good today."
Winner of the opening day of the series in Spain, Jaime Busto (Vertigo) matched Bou's second-lap total to jump into the runner-up position on 39, five ahead of Grattarola who recorded his best finish of the season in third.
Fajardo was unable to maintain his form from earlier in the day and slipped to fourth on 45 including a single time penalty with Spain's Miquel Gelabert (GASGAS) completing the top five on 47.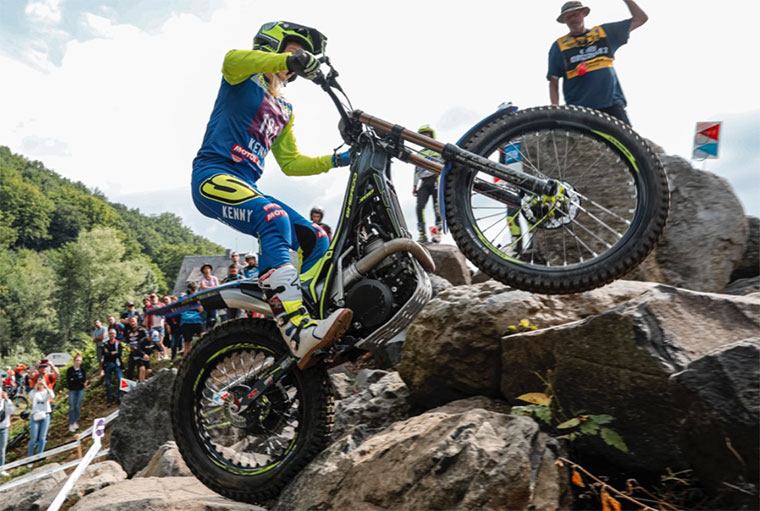 It was tight at the top in TrialGP Women with Bristow just one mark ahead of Spain's Berta Abellan (Scorpa) at the halfway stage.
The 22-year-old from Barcelona has emerged as Bristow's main challenger this year and won on the first day of competition in Andorra but after completing the first lap on 13 – one behind the British lioness – her challenge fell away.
Instead, Bristow turned up the heat as we've come to expect from the seven-time champion and halved her score on lap two to finish on 18 marks, six ahead of Abellan.
"It was a tight day but I felt like I was riding well," said Bristow. "I had a very unlucky five on the first lap which was annoying but it didn't affect how I rode for the rest of the day. The sections were good and there is a really great atmosphere here too."
Last season's Trial2 Women champion Andrea Sofia Rabino (Beta) from Italy made her second visit to the podium in 2022 with third on 42, one ahead of French rider Naomi Monnier (GASGAS) and 11 clear of fifth-placed Huldeborg Barkved (GASGAS) from Norway.
Britain's Alicia Robinson (Beta) deserves a special mention. The 20-year-old missed the opening two rounds through illness but finally made her class debut today and was a solid sixth on 62.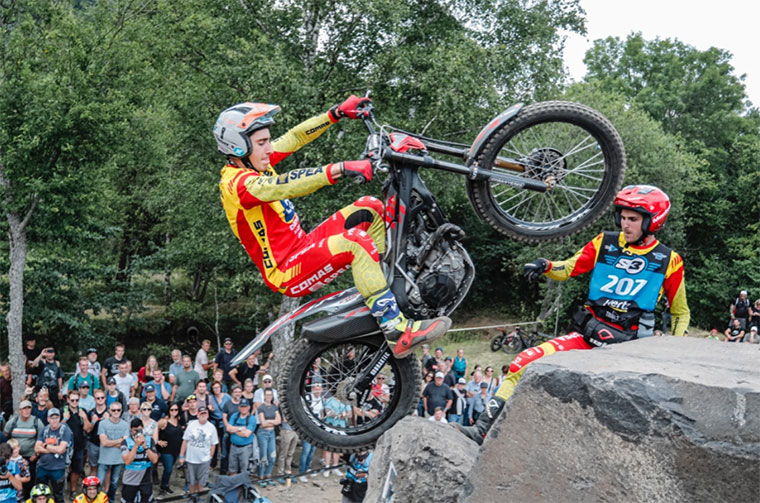 With 42 entrants, Trial2 is the best-supported class in the championship and today it was the most dramatic after series leader Suarez, who had tailed Sondre Haga (Beta) for most of the day, came out on top when his Norwegian rival scored maximums on the final two sections of the second lap.
After the opening lap Haga led on 12, one better than 2017 Trial3 champion Lorenzo Gandola (Beta) from Italy and nine ahead of Suarez.
On lap two Haga remained consistent but Suarez rode out of his skin to add just an additional two to his score. He still looked likely to end the day in second but Haga fived the final two sections and handed victory to the Spaniard by three marks.
"The first lap was not very good but on the second lap we did an amazing job," said Suarez. "Last week I sprained my ankle and broke a ligament in my left foot so I was quite worried but it's been an amazing day for me."
Spain's Arnau Farre (Sherco) finished one mark behind Haga to claim his third podium of the season on 27 with Gandola fourth on 32, one mark ahead of British rider Dan Peace (Sherco).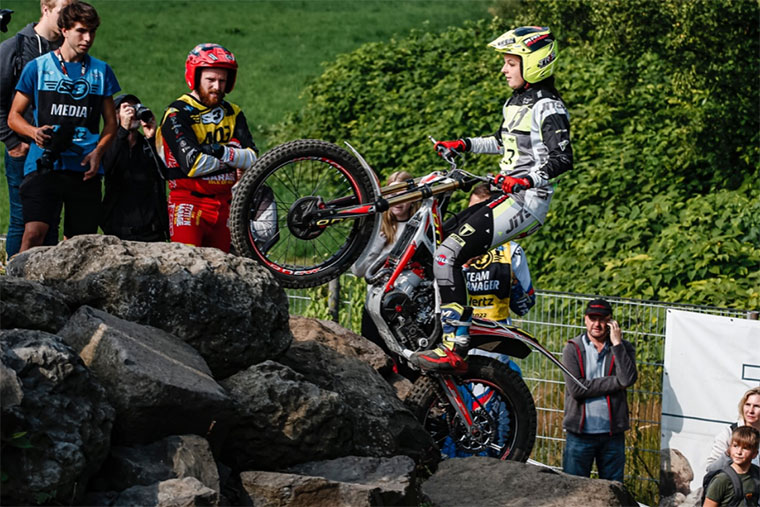 The Trial2 Women riders got their season under way at Neunkirchen and there was a hugely-popular home winner with Ter Jung dropping a total of 13 marks to run out ahead by seven from the Czech Republic's Denisa Pechackova (Beta) with another German rider – Theresa Bauml (Vertigo) – a further one mark adrift in third.
After the opening lap there was a three-way tie for the lead with Ter Jung, Bauml and Keity Meier (TRRS) from Estonia all locked together on nine before Ter Jung – who finished fourth last season – parted with a paltry four on lap two to seal the deal.
"It feels great to win at home and I like the sections," said Ter Jung. "I'm really happy and tomorrow I will give my best and try to do it again."
Pechackova, who was 10th in 2021, also upped her game and added an extra five to her first-lap total of 15 while Bauml picked up an additional 12.
Highly-fancied Sara Trentini (Vertigo) from Italy – who finished as runner-up last year – suffered a stuttering start to the series and ended the day in seventh on a total of 32.
The action resumes tomorrow with the first rider away at 9am.
For regular updates check out our social media platforms on Facebook,
Twitter and Instagram – just search for TrialGP.