Busto, who fought for podium positions throughout the day, had to settle for 6th after picking-up two costly fives in the last two sections. Hugo Dufrese finished in a solid 8th place in front of his home crowd.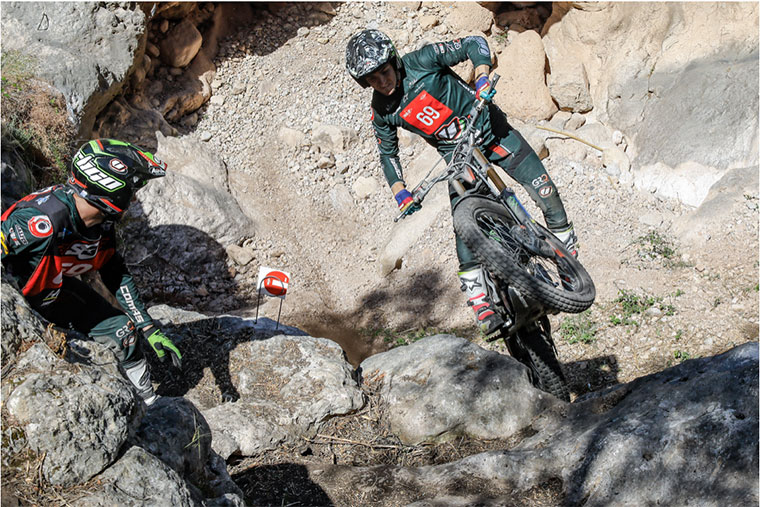 Cahors, France, hosted the penultimate TrialGP event of the 2022 campaign following the same race format than the Belgian GP from last week, which featured Sunday as the only day of competition. Jaime Busto had to settle for 6th after holding a race-long battle for the podium until the latest stages of the trial.
Jaime Busto and the JB-R Nitro delivered yet another strong showing at the opening lap presenting a 15 marks score, enough to see the Spaniard enter lap 2 in 2nd place. Closely followed by several riders, the second run through the 12 sections was expected to leave some great battles for the podium positions, and that is what just happened, although Busto managed to even better his performance from lap 1 with 1 mark less up until section 10, two consecutive fiascos in the last two sections, eventually dropped him back to 6th. Despite failing to continue his podium tally, Busto still manages a comfortable 17 point gap over 3rd in the Championship with only two point-paying days remaining.
In the Trial2 class, Hugo Dufrese made the home fans proud by finishing in 8th place. The Frenchman, who has only missed the Top 10 once this season, currently sits in 8th place of the general standings. Mattia Spreafico was another Vertigo rider picking-up points in France as the Italian rode to a positive 15th place.
France acted as the Trial3 Championship showdown with Alfie Lampkin finishing 12th on the day and 11th in the general standings, only 4 points off the Top 10.
The next and last round of the TrialGP campaign will take place in Ponte di Legno, Italy, from the 16th to the 18th of September.