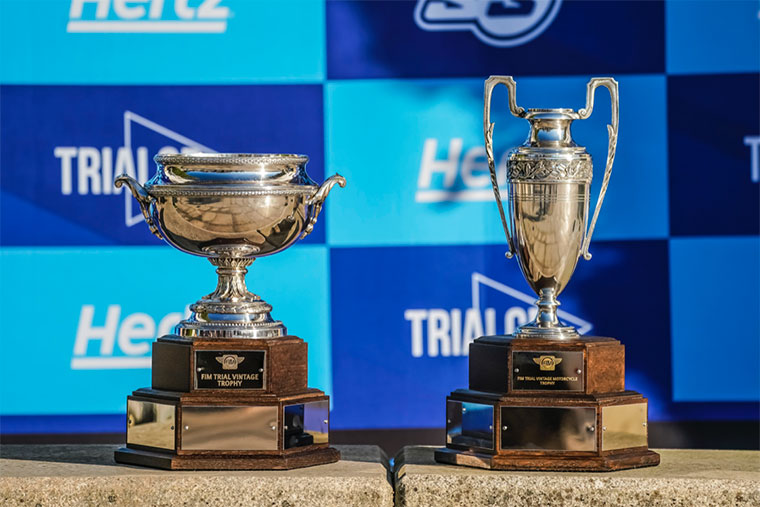 Trial legend Bernie Schreiber will be the master of ceremonies when the FIM launches its first-ever FIM Trial Vintage Trophy at Monza in Italy on Saturday, September 24.
Sharing the iconic venue just north of Milan with the FIM Trial des Nations that will be held the following day, this major new event will showcase everything that's beloved about vintage trial with an emphasis on retro riders and their period machines with a trophy for the most authentic motorcycle.
Schreiber was the FIM Trial World Champion in 1979 and remains the only American to achieve this incredible feat. When he first burst onto the world stage in 1974 his unique style helped to revolutionise the sport and techniques he developed can be traced all the way through to today's superstars.
The Californian is a regular face at vintage events and is highly-respected for his insight into trial. He will be heavily involved before and during the event, conducting interviews with former top stars and some of the main movers and shakers on the vintage scene.
"It's an honour and a pleasure to have been chosen by the FIM to actively participate in this first edition," said Schreiber. "It's a real challenge because launching such an event in such a short time is difficult but the idea of bringing together, over the same weekend, two 'worlds' of trial that are far too distant in my opinion particularly excites me.
"It is true that I had an important period in my career with an Italian manufacturer near Milan and even competed within the confines of the Monza circuit. Bringing together friends and riders who have helped write the history of the sport and organising activities around a beautiful FIM event – which also welcomes the Trial des Nations – is extraordinary."
CTR Director Thierry Michaud was also a rider back then and is certainly no stranger to vintage trial.
"I am delighted to know that Bernie has spontaneously agreed to join us for this first edition," said Michaud. "His collaboration is essential and his presence and his initiatives will undoubtedly be very important. We know that initiating and setting up such an event is difficult but we are convinced that trial enthusiasts will be there – with or without their bikes!
"Beyond competition, the FIM's desire is to bring together as many people as possible around a unique event. As Bernie immediately understood, the concept of celebrating the history past and present activities of trial all together is very exciting.
"And it won't just be about trial's big names. The event will also highlight those people who over the years have worked tirelessly behind the scenes – often with little or no recognition – to shape the sport we all love.
"The prize-giving will be held together with the Trial des Nations presentation to cap off a great action-packed weekend mixing generations and trial style.
"See you on September 24 at Monza!"
For more practical information download the CTR Info letter 02 Trial Vintage available at the TrialGP Noticeboard.
For more information on the Hertz FIM Trial World Championship go to www.trialgp.com