CASALES, GELABERT & SANZ DIALLED IN AND LOOKING FOR TRIALGP SUCCESS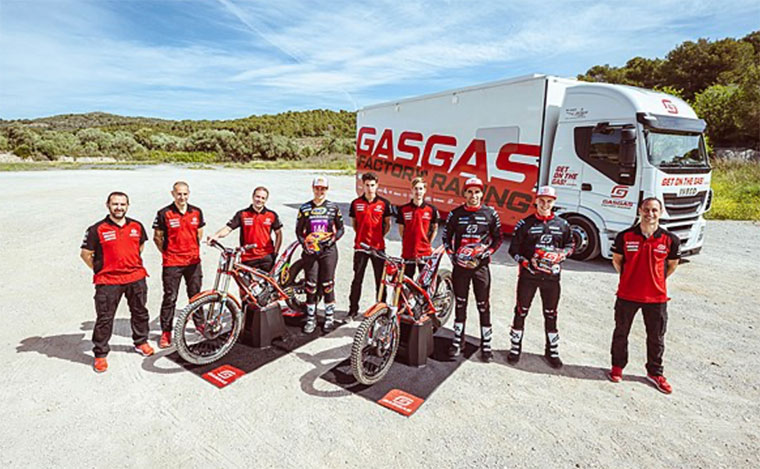 New season, new rider line-up, same motivation! With just a few days to go before the opening round of the 2021 FIM TrialGP World Championship, GASGAS Factory Racing's Jorge Casales, Miquel Gelabert and Laia Sanz are excited to get things started! With all riders enjoying a constructive off-season, and following months of preparations with a firm eye on TrialGP glory in 2021, it's finally time to get on the gas!
GASGAS Factory Racing excited for 2021 TrialGP season
Casales, Gelabert & Sanz all dialed in aboard their TXT GP bikes
TrialGP kicks off in Tolmezzo, Italy this weekend
Watch our 2021 FIM TrialGP World Championship preview on YouTube here.
Continuing our commitment to top-level trial competition, GASGAS Factory Racing are fired up for the 2021 FIM TrialGP World Championship. With our whole squad embracing numerous positive changes made over the off season, including the introduction of a new team manager – step forward trial legend Albert Cabestany! – we've also enlisted the services of Miquel Gelabert and Laia Sanz to compete alongside Jorge Casales.
Narrowly missing out on third place in the 2020 TrialGP series, Jorge Casales enters this season with one goal on his mind – to challenge for the podium at each and every round of the series. With a revised approach to his training and having focused on further developing his TXT GP 300, Casales is gunning to unlock his true potential in 2021 and establish himself as one of the series' best riders.
New to the GASGAS Factory Racing team is Miquel Gelabert. Competing on GASGAS machinery in TrialGP for many years as a privateer, and scoring some impressive results along the way, Miquel was an easy choice when we went looking for a talented rider to join our squad. With the young Spaniard fully focused on improving his riding, we're right behind our team newcomer and his high expectations for the season ahead.
Completing our talented trio is a rider that needs little introduction – Laia Sanz. Returning to TrialGP after a lengthy time away, and with no less than 13 FIM Women's World Trial Championship titles to her name already, she'll naturally be lining up as a serious title contender. Not one to shy away from a challenge, Laia is super-excited to be spending the summer chasing after TrialGP glory and, all being well, a 14th Women's title.
Led by team manager Albert Cabestany, the entire GASGAS Factory Racing Trial squad is hungry for success in the 2021 FIM TrialGP World Championship, which kicks off in Italy this coming weekend.
Download high-res images of the GASGAS Factory Racing trial riders here.
Jorge Casales: "I've prepared for this season a bit differently than in years past. My last race was in November, and with a later start this year, I have been more calm with my preparation. We don't want to wear out the body and I need to arrive fresh at the first race of the championship. We have been working on the bike recently to evolve it further to suit my style, and I'm really happy with the set-up that we have now. I was comfortable already but it's good to keep searching for improvements. Last year was really positive for me. I was regularly in the top positions in both the Spanish and the TrialGP World Championship during the whole season. Unfortunately, I had an issue in one of the world championship rounds where I struggled to finish and that meant that third place in the series slipped from my fingers. It was frustrating but I've learned from it. My main objective is to be on the podium at every round."
Miquel Gelabert: "My goal for 2021 is to be fighting for a place on the podium at every round and finish inside the top three by the end of the championship. I know it's an ambitious goal because there are a lot of good riders, but I think it's possible, especially with the feeling that I have on the bike. With the team I've been able to fine-tune the bike a little more in recent weeks, to suit what I like, and I feel like I'm in a great position to start this season with a strong result. I've been training a lot, spending lots of time on my bike. I've got the non-stop rhythm back and I've been focusing on minimizing the mistakes that held me back last year. I now feel ready to take on the world championship. Recently I've been riding with Albert Cabestany once or twice a week to train together which has been great. He has so much experience in trial, so it'll be very helpful to have him by my side this year."
Laia Sanz: "Since February I've spent a lot of time on my trial bike, I felt really good on it after only a few weeks of riding. Soon I realized I'd be capable of competing in TrialGP once again, so I've been putting in a really big effort to try and get back to my old level. I've spent many hours on the bike and I feel really good, but until I compete it's hard to say where I will fit it. I'm so happy to be back in the TrialGP paddock and I'm really thankful that GASGAS shared the same vision as me. They have built a really strong team and with Albert as the team manager I feel like I can be competitive in trial once again. It's going to be a really exciting season and I can't wait to get started."
Albert Cabestany, GASGAS Factory Racing Trial Team Manager: "I'm really looking forward to this season, to this exciting new challenge. We have great riders in Jorge Casales, Miquel Gelabert, and Laia Sanz. They're all really excited for the new season, to post good results, and to make the whole team proud. It's been a busy off-season for the team, with many, many weeks of hard training. The objective for this year is clear. Our riders are capable of being on the podium in TrialGP and with their ability, this should be achievable. Last year Jorge was really close to winning the Spanish championship so I think that we have to be ambitious and set high goals to progress further. I always say that everyone starts at zero points, and we have to start motivated. We need to be on the podium at every round and if it's possible, then we can push for wins. We have the team, the bike, and the riders to achieve this. For myself, it's my first year of being a team manager and I'm really enjoying my new position. There's a lot of work involved, but you have to do all of this work to be able to achieve the results that we want in the world championship."