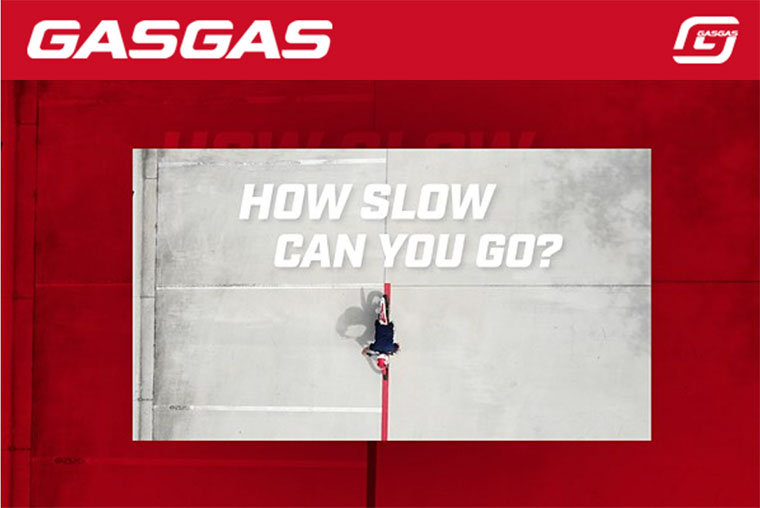 RIDE SLOW TO WIN BIG THIS APRIL WITH ANOTHER TEST OF YOUR TRIAL RIDING SKILLS
It's safe to say that our #TrialChallenge is gaining momentum with each passing month! For April we're putting your balance to the test – with an added twist! We want you to show us how you can ride in a perfectly straight line as slowly as possible. As always, creativity counts, as does the effort put in to mastering the task. To join in, simply upload your best video to your Instagram feed using the hashtag #TrialChallenge and tag two buddies you'd like to see have a go too, it's that easy! Don't forget, a cool €300 GASGAS voucher is up for grabs for the winner. How slow can you go?
Get involved in #TrialChallenge number three
A cool €300 GASGAS voucher could be yours
Watch last month's winning entry right here!
#TrialChallenge three sounds easy but we're sure it won't be! We're looking for you to ride in a perfectly straight line as slowly as you can for at least 20 feet, or six meters, with no dabs. For beginners, keep it simple, mark a line on the ground. For those a little more experienced, maybe find a fallen tree to ride along? Our challenges aren't all about how well you can ride a trial bike, they're also set to encourage you to join in and compete online in what's proving to be a truly global battle each and every month!
For some expert tips on how to ride slow like a pro, check out this video on our YouTube channel where trial legend Albert Cabestany shares his knowledge on how to perfect your balancing skills.
As always, the best entry will win a cool €300 voucher to spend on GASGAS Technical Accessories and Apparel. Not bad, hey! So, if you're keen to take part in this challenge, these are the simple rules to follow…
1. Upload a video of you completing the challenge onto Instagram
2. Add #TrialChallenge in the caption
3. Tag two friends and let the global battle begin!
Stay tuned to our Instagram account and our website as we'll be sharing some of the best entries throughout the month to highlight a few of the contenders in the running for the €300 voucher. Who knows, it could be you!
Not sure if you're ready for #TrialChallenge? Don't worry, we have a complete 'how-to' trial riding video tutorial series that's designed specifically to help riders develop and master essential trial riding skills.
Check out The GASGAS Trial Guides 'how-to' video tutorial series now, on the GASGAS website!