ITALIAN GIVES HOME FANS PLENTY TO CHEER ABOUT IN MONZA WHILE BENOIT BINCAZ FINISHES FOURTH WITH TEAM FRANCE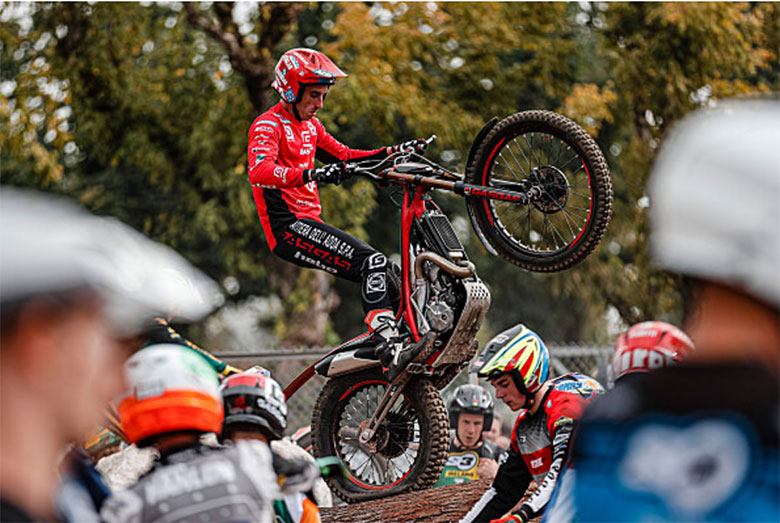 Bringing the 2022 outdoor trial season to a close at the iconic Monza road racing circuit in northern Italy, GASGAS rider Luca Petrella has secured a spot on the podium with team Italy having finished a strong second, sandwiched between winners Spain and Great Britain in third. Competing as the only GASGAS Factory Racing team member in the event, Benoit Bincaz led team France to a fourth-place result.
Luca Petrella puts GASGAS on the podium as team Italy claim second at 2022 TdN
GASGAS Factory Racing's Benoit Bincaz secures fourth with team France
Monza event wraps up 2022 outdoor trial season
Held inside the iconic Italian road race circuit, the 2022 Trial des Nations served up a host of man-made sections, with home fans out in force to support Petrella and the Italian national squad. Fired-up for a podium result from the start of the day, Italy and Petrella made a strong start to lap one, only falling behind eventual winners Spain from section five onwards.
Completing lap one with the second lowest score, Italy held their nerve to put in an impressive team performance on lap two. Dropping just eight marks, compared to Spain's one mark and Great Britain's 19, they secured second to give GASGAS mounted Petrella a well-deserved home podium result.
Riding together with Hugo Dufrese and Gael Chatagno, GASGAS Factory Racing's Benoit Bincaz competed his international outdoor season with a fourth-place result as France ended the day 18 marks behind Great Britain.
Thanks to the combined efforts of GASGAS riders Erika Melchoir and Huldenborg Barkved, Norway placed fourth in the Women's Trial des Nations while Maddie Hoover helped the USA finish seventh. Leonor Moreira and Olivia Brunsvig played their part in Portugal and Denmark finishing eighth and ninth respectively.
In the International Trophy, GASGAS riders took two places on the podium with Martin Matejicek helping the Czech Republic secure a winning result while Marco Mempor and Fabio Schollar helped team Austria to a place on the podium in third after a close-fought battle with Sweden.
Benoit Bincaz: "It's been a fun time here at the Trial of Nations. Unfortunately, despite fighting for a place on the podium, France ended up fourth, which is a little disappointing, but we all gave our best and it's still a result to be proud of. Being in Monza was pretty special, a great place to end the outdoor season. Now it's time to keep training and prepare for the final X-Trial event in October."
Albert Cabestany – GASGAS Factory Racing Trial team manager: "It's been great to welcome riders from all around the world to the Trial des Nations here in Italy. For GASGAS, and for many others, the event is the last major outdoor international competition of the season, so there is a special atmosphere. It's great to see these riders that don't get the chance to compete with the TrialGP regulars being a part of the event, enjoying themselves, and doing their best. For us, it was a pleasure to help and work with many of these riders, and also to see GASGAS on the Men's podium with Luca Petrella."
Men's Trial des Nations
1. Spain 9 marks lost
Toni Bou (Montesa), Jaime Busto (Vertigo), Adam Raga (TRRS)
2. Italy 31
Matteo Grattarola (Beta), Luca Petrella (GASGAS), Lorenzo Gandola (Beta)
3. Great Britain 52
Jack Peace (Sherco), Billy Green (Scorpa), Toby Martin (TRRS)
4. France 70
Benoit Bincaz (GASGAS), Hugo Dufrese (Vertigo), Gael Chatagno (Electric Motion)
Women's Trial des Nations
1. Spain 6 marks lost
Berta Abellan (Scorpa), Sandra Gomez (TRRS), Alba Villegas (Sherco)
2. Great Britain 6
Emma Bristow (Sherco), Alicia Robinson (Beta), Kaytlyn Adshead (TRRS)
3. Italy 24
Andrea Rabino (Beta), Martina Gallieni (TRRS), Sara Trentini (Vertigo)
4. Norway 35
Erika Melchior (GASGAS), Huldenborg Barkved (GASGAS), Ingveig Hakonsen (TRRS)
7. USA 76
Maddie Hoover (GASGAS), Kylee Swweten (TRRS), Courtney Allison (Sherco)
8. Portugal 171
Leonor Moreira (GASGAS), Rita Viera (TRRS)
9. Denmark 177
Olivia Brunsvig (GASGAS), Regitze Jensen (Vertigo)
International Trophy
1. Czech Republic 7
Martin Kroustek (TRRS), Martin Matejicek (GASGAS), David Fabian (Beta)
2. Germany 10
Franz Kadlec (TRRS), Joschka Kraft (TRRS), Paul Reumschussel (TRRS)
3. Austria 17
Marco Mempor (GASGAS), Fabio Schollar (GASGAS), Philippe Wimmer (TRRS)