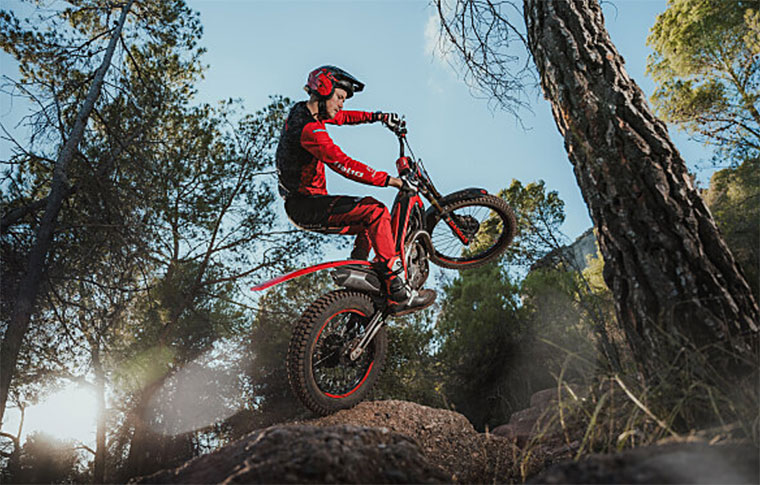 UP-AND-COMING YOUNG NORWEGIAN COMPLETES GASGAS FACTORY RACING 2023 TRIAL LINE-UP AND EYES TRIAL2 TITLE DEFENCE
Set to compete as part of the all-new 2023 GASGAS Factory Racing trial team, reigning FIM Trial2 World Champion Sondre Haga will ride GASGAS TXT GP machinery in Trial2, X-Trial, Spanish Trial Championship, and other select trial events during the next two seasons. Signing with GASGAS Factory Racing for 2023 and 2024, the young Norwegian's #1 priority will be to battle to successfully defend the Trial2 title he spectacularly won this season. Welcome to the team Sondre!
GASGAS Factory Racing signs Sondre Haga
Norwegian star set to defend Trial2 World Championship
Haga joins Jaime Busto in all-new GASGAS trial team line-up
Claiming the coveted FIM Trial2 World Championship at the final round of the 2022 TrialGP World Championship in Italy back in September, Sondre put the finishing touches to a super-successful, and hugely consistent season. Never off the podium during the first four rounds of the series, at round five he took his first win of the year to set himself up perfectly for the season finale. Doing exactly what he needed to do, and securing one more podium visit for good measure, Sondre lifted the Trial2 world title in style.
Remaining in the FIM Trial2 championship for 2023, the calm and calculated young Norwegian will also help GASGAS compete for the manufacturers title, as well as staying super busy throughout the year with participation in X-Trial events, and the Spanish Trial Championship.
Sondre Haga: "The GASGAS Factory Racing trial team is one of the biggest and most professional in TrialGP, so to be a part of it is really something very special for me. I'm really motivated and looking forward to working with new people, and to do all I can to successfully defend my Trial2 World Championship title. Of course, 2022 was a great year for me, and I know that winning again certainly won't be easy. But winning is the absolute goal and with the support of all the GASGAS team I am confident that I can do it. Being a fully supported factory rider is something very special, something very new to me, and something that really motivates me. I can't wait to make my first appearance for GASGAS and then keep working towards being ready for the 2023 Trial2 World Championship."
Albert Cabestany, GASGAS Factory Racing Trial Team Manager: "I'm thrilled to announce Sondre as our Trial2 rider for 2023. This year he really showed himself as a very talented and motivated rider, and together with Jaime Busto, we not only have a completely new-look GASGAS Factory Racing team for 2022, but also two exciting young riders that I know are completely focused on success. For me it's a kind of dream team, and I'm really looking forward to working with them both. Sondre will have a very busy schedule for 2023, competing in the FIM Trial2 World Championship, X-Trial, the Spanish Trial Championship, as well as the Trial des Nations, and other one-off events. As well as being super-busy year with many competitions, Sondre will also help GASGAS with one of our goals of linking competition with the ongoing development of our production bikes. I'm sure that with Sondre and Jaime, we will have a very productive season next year."