The TrialGP of Andorra takes place this coming weekend and now we've got the first round under our belts we have a much better idea of who's hot in the 2022 Hertz FIM Trial World Championship.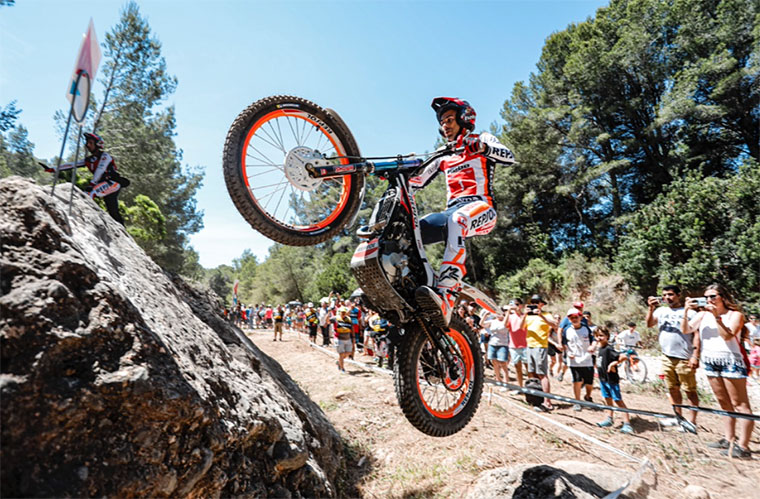 It's always a tough task to gauge the form of the best trial riders on the planet heading into the opening round and we never truly know who's been putting in the hard yards during the off-season but following last weekend's TrialGP of Spain we've had a heads-up.
The venue – Sant Julià, high in the Pyrenees – is always challenging. For starters, the event takes place at altitude which puts an extra strain on bodies and bikes and when you throw in the likelihood of blazingly-hot temperatures it's going to be tough even before the riders tackle the sections which mostly comprise massive boulders set into the side of a super-steep valley on loose ground.
Andorra has been a regular fixture on the calendar since 1992 – in all that time it's only missed out on seven occasions – and has seen former world champions including Dougie Lampkin, Jordi Tarres and Tommi Ahvala on the top step.
However, the most successful rider here is Toni Bou (Montesa). The superstar Spaniard loves Andorra so much he now calls it home and his nine victories here have helped propel him to 15 TrialGP titles so he starts as favourite. The defending champion has set his sights on a 16th consecutive TrialGP title this year but, as we saw in Spain, he's not invincible.
Unbeaten at the opening round since 2016, Bou was pushed onto the back foot on day one at L'Hospitalet de L'Infant by his former team-mate Jaime Busto (Vertigo) who took the second victory of his career. Bou fought back to win on day two but 24-year-old Busto pressed him all the way and showed his maturity by the way he dealt with the pressure of going toe-to-toe with the GOAT!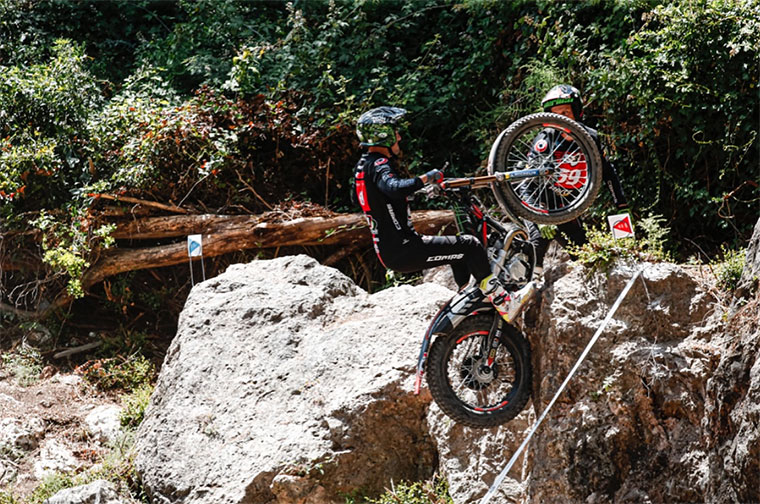 Of course, it's not just Busto in the queue to beat Bou. A two-time world champion and second to Bou ever since his last crown in 2007, Adam Raga (TRRS) has been forced to wait far too long to complete his hat-trick of titles. The 40-year-old Catalan rider is – dare we say it – the senior citizen of the series and faltered on the opening day in Spain with a fifth-placed finish but he was back on the podium on day two.
Raga has won eight times in Andorra and if he can replicate his double win there in 2015 it could be the springboard to that illusive third world title.
As expected, Spanish riders dominated the leading points positions in TrialGP and Miquel Gelabert (GASGAS), his younger brother Aniol (Beta) – who impressed after graduating from Trial2 last year – and Jorge Casales (Scorpa) and Gabriel Marcelli (Montesa) will all be shooting for a podium.
Last year's Trial2 champion, Toby Martyn (TRRS) didn't have the best weekend in Spain on his debut in the big league but the young British rider is resilient and should improve.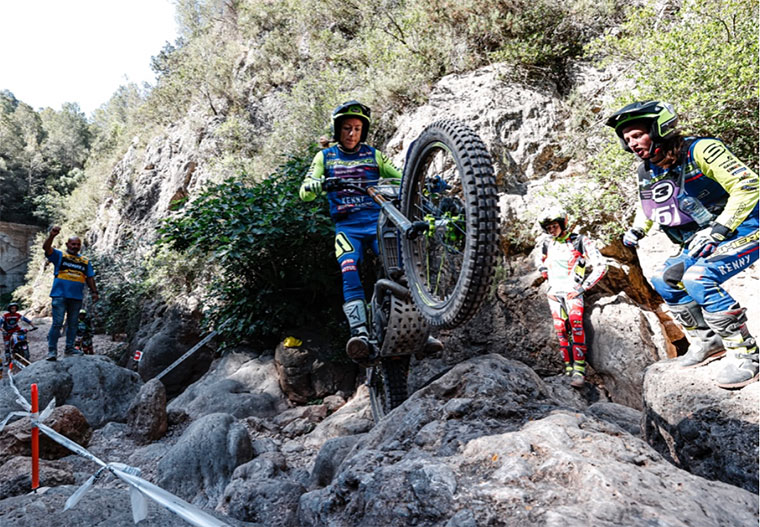 After failing in her bid to make it eight TrialGP Women titles in a row last season, British rider Emma Bristow (Sherco) was back on top in Spain and her double win sets her up nicely for Andorra.
Her main opposition should come from Berta Abellan (Scorpa) – as it has since 2018 – but you can't rule out the challenge from Italy's Andrea Sofia Rabino (Beta), Naomi Monnier (GASGAS) from France as well as German rider Vivian Wachs (TRRS) and Norwegian Huldeborg Barkved (GASGAS).
Trial3 is incredibly competitive with Britain's Harry Hemingway (Beta) and the Czech Republic's David Fabien (Beta) slugging it out in Spain.
Hemingway's 1-2 gives him a slight advantage over Fabien's 3-1 and we'd be foolish to discount the challenge of British riders Jamie Galloway (TRRS) and George Hemingway (Beta) – Harry's younger brother – plus Spain's Adria Mercade (Scorpa) who was second on the opening day's competition.
The action kicks off at noon tomorrow with official practice before the first of two scoring days gets under way on Saturday.
For regular updates check out our social media platforms on Facebook, Twitter and Instagram – just search for TrialGP.
For more information go to www.trialgp.com