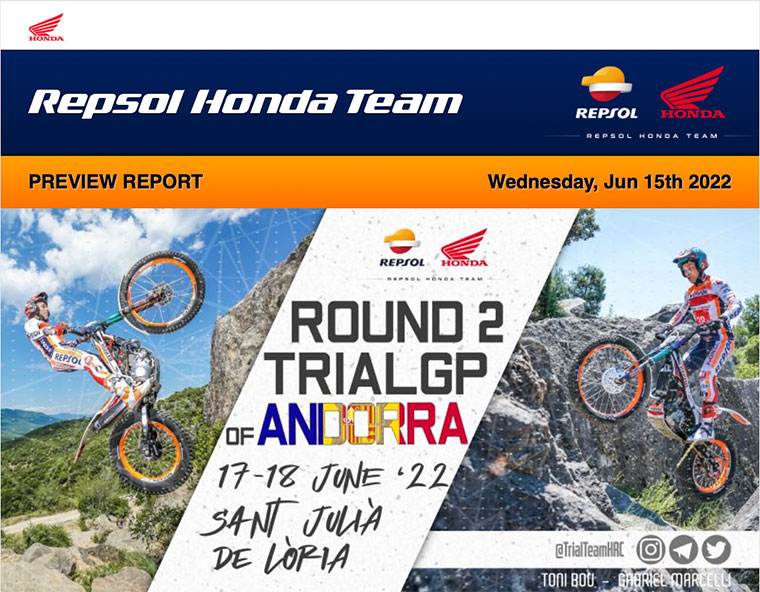 Repsol Honda Team arrive in the Pyrenees to consolidate the world championship lead
Trials 3 and 4 of the TrialGP World Championship are scheduled to be held this coming weekend in the Andorran town of Sant Julià de Lòria. Repsol Honda Trial Team riders Toni Bou and Gabriel Marcelli will be battling to consolidate and improve their positions in the overall standings.
Another double-date event is set to take place in Andorra after last weekend's TrialGP World Championship season opener. The tiny Pyrenean country will stage the elite trial event for a 24th year. The centre of Sant Julià de Lòria will host the race's paddock, start, finish and podium, where Toni Bou has triumphed on nine previous occasions. In the most recent edition, Toni Bou claimed Saturday's win and a third place on Sunday. Gabriel Marcelli finished sixth on both days.
Repsol Honda Team came away from L'Hospitalet de L'Infant with a notable overall result, but both Toni Bou and Gabriel Marcelli will nonetheless be looking to improve on the Spanish results this weekend in Andorra.
Friday 17 June will be dedicated to administrative and technical checks, practice sessions and the inspection of the course's twelve sections which will take place in the Nagol area and Aubinyà river. The trial gets underway on Saturday from 09:00 with the prize-giving podium expected to take place at around 15:30. Sunday's timetable remains the same as the previous day.
Toni Bou 1
STANDINGS
1ST
We've started the year well, but we know it's going to be a very tight season. I hope that the sections in the Andorra trial will be high level and fairly complicated. It's a place where it's always difficult to make any kind of difference, but we'll see what we come up against. We are highly motivated for this trial on home soil and hope to get a good result, just like last weekend.
Gabriel Marcelli 38
STANDINGS
7TH
There won't be any rest and we have another world championship trial this coming weekend. We will try to recharge our batteries over these days to try to achieve our goal, which remains the same: to get into podium positions and pick up some points in the overall standings. Competing at altitude is not easy, but we hope to make the right adjustments to be ahead of the rest