HISTORIC X-TRIAL OF CHALON-SUR-SAÔNE WITH TWO TRRS ON THE PODIUM

The X-Trial World Championship 2022 came to the French city of Chalon-Sur-Saône to dispute the second qualifying round of the season. In the context of a demanding and technical race, the TRRS riders, Adam Raga and Toby Martyn, occupied the second and third positions on the podium.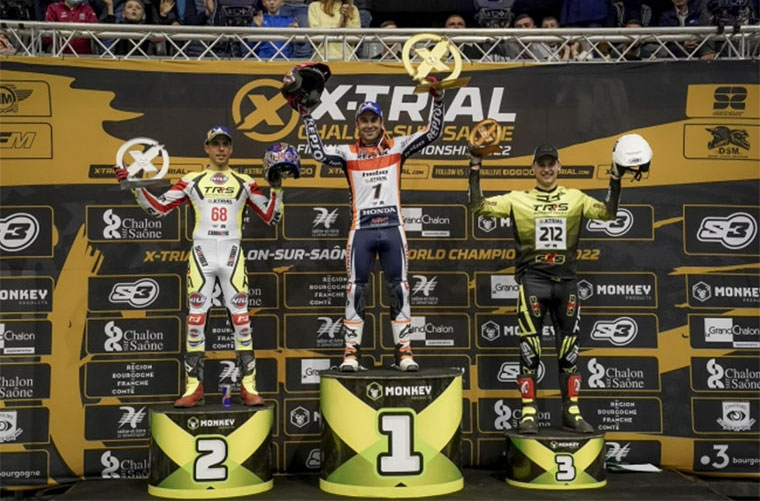 Toby Martyn, British TRRS rider, was the sensation of the night. He surprised the public after being the only rider to pass section two of the first round, which together with a good consistency, allowed him to lead this initial phase, where Adam Raga finished third.
This record was key for Martyn, as he took advantage of this advantage to qualify for the final, where he would face Bou and Raga. Here he could not keep pace with his experienced rivals, but signed a brilliant third place. Raga, for his part, kept the tension for the victory until the penultimate section. Finally, he completed his participation in second place, one point behind the winner.
This week the X-Trial continues its activity with the X-Trial of Madrid, which will take place at the Madrid Arena on April 2 at 20:00.
Adam Raga: P2 race – P2 standings

"I am very satisfied with my riding tonight because I was able to remain competitive, which being just a point in the end underlines. I made a few mistakes in the first Round but in general terms I have put in a strong performance".

Toby Martyn: P3 race – P4 standings

"I really don't know what to say, I'm emotional now after managing my first podium in the X-Trial World Championship. I had a really great first lap which was the root of this success. I'd like to dedicate this result to everyone who helps me from day to day. I really feel like I'm on the ascendency and that I am making steps forward every time I ride".