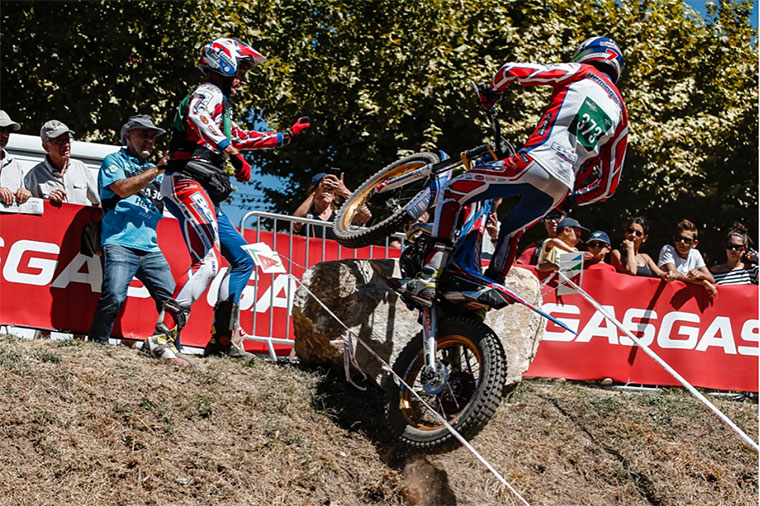 Toni Bou (Montesa) moved to within touching distance of the TrialGP title, Sondre Haga (Beta) strengthened his hold on the Trial2 crown and Harry Hemingway (Beta) shone in Trial3 at the TrialGP of France – the fifth and penultimate round of the 2022 Hertz FIM Trial World Championship.
Staged at Cahors on a sweltering day, the opening five sections were plotted in a quarry where competitors went head-to-head on steep, loose bankings studded with daunting rock steps. From here it was down to the banks of a nearby river and a series of massive, man-made sections comprising enormous rock steps and yet more heart-stoppingly steep bankings.
Bou set a furious pace from the start and established an early lead with just a single mark lost on section three where the rest of the TrialGP field all picked up maximums. This feat was repeated on section 11 which featured a monster triple step on the exit that looked impossible on first inspection and claimed first-lap fives from everyone apart from Bou who skipped through for a dab at his first attempt.
The Spaniard, who's aiming for a record-breaking 16th-straight title this season, was on six marks lost at the halfway stage which handed him an eight-mark advantage over compatriot Jaime Busto (Vertigo) with Miquel Gelabert (GASGAS) a further three adrift in third.
On lap two Bou picked up his first maximum of the trial on section three but added just one more mark to his total to end the day on 12.
Following an expensive opening lap, Adam Raga (TRRS) pulled things together on lap two with his score of seven lifting him up to second on 25, two ahead of Italy's Matteo Grattarola (Beta) who produced a brilliant nine-mark performance on lap two.
With just eight marks separating the leading riders it was tight at the top with Gabriel Marcelli (Montesa) and Gelabert completing the top five as Busto slipped to sixth after going off the boil on lap two.
"I'm very happy to win today," said Bou. "It was important for the championship and with Jaime [Busto] finishing sixth I'm in a very good position."
There are now just two scoring days to go at the TrialGP of Italy in the middle of September and Bou's advantage over Busto – who's the only man still in with a mathematical chance of dethroning him – is now 36 points with just 40 left up for grabs.
Haga has been the 'nearly man' of Trial2 all season and heading to France he hadn't finished off the podium – but he hadn't won either. This all changed today.
The Norwegian's incredible consistency had given him a six-point championship lead and in Cahors he finally claimed a win which, coupled with his closest rival Pablo Suarez (Montesa) struggling back in 11th, has opened up a 21-point advantage with just two points-paying days to go.
"Obviously, it's a great day to get my first victory in the world championship," said Haga. "I'm now leading the championship with so many points – it's been a great day in the office.
"The sections were not super-difficult but at the same time it was easy to make mistakes and I had a five in the first section on the opening lap but other than that it's been a brilliant day for me."
Despite that immediate five, Haga was holding joint third with Britain's Jack Peace (Sherco) after the opening lap with a score of seven putting him two behind Arnau Farre (Sherco) from Spain and three off the pace set by early leader Lorenzo Gandola (Beta) from Italy.
As the trial moved into the second half Haga shifted up a gear and his second lap total of just three saw him run out four clear of Gandola and six ahead of Farre with Jack Peace – who ended the day two in front of his elder brother and team-mate Dan – losing third on a tie-break.
It was only fitting that Hemingway would sign off on top in Trial3 – and he did it in some style! The 16-year-old British rider has dominated the series for the sport's youngest generation of future stars since the get-go in Spain back in June and has 'slipped' to the runner-up position just twice.
In Cahors he came out firing on all cylinders and his opening lap of six put him 12 marks clear of his nearest challenger David Fabian (Beta) at the halfway stage.
The Czech prospect fought back on lap two with a score of eight but Hemingway matched his own first lap total which gave him a commanding 14-mark victory – his fourth win from six points-paying days – and secured the Trial3 title by 21 points ahead of Fabian.
"The day couldn't have gone any better for me," said Hemingway. "First place in the trial and also the champion! I'm very happy with the way I've ridden and also happy to share the podium with my brother."
A fighting third on the day, 23 marks off the winning pace, Hemingway's younger brother and team-mate George extended his run of podium finishes to three but his compatriot Jamie Galloway (TRRS), despite recording his worst finish of the year in sixth, did enough to secure third in the championship.
For more information on the Hertz FIM Trial World Championship go to www.trialgp.com