MIQUEL GELABERT SIGNS-OFF FROM 2022 TRIALGP SEASON WITH A SIXTH PLACE FINISH IN ITALY

SUPER SPANIARD DELIVERS STRONG SHOWING AT FINAL ROUND OF 2022 TRIALGP WORLD CHAMPIONSHIP TO END THE YEAR A FIGHTING SEVENTH IN THE SERIES STANDINGS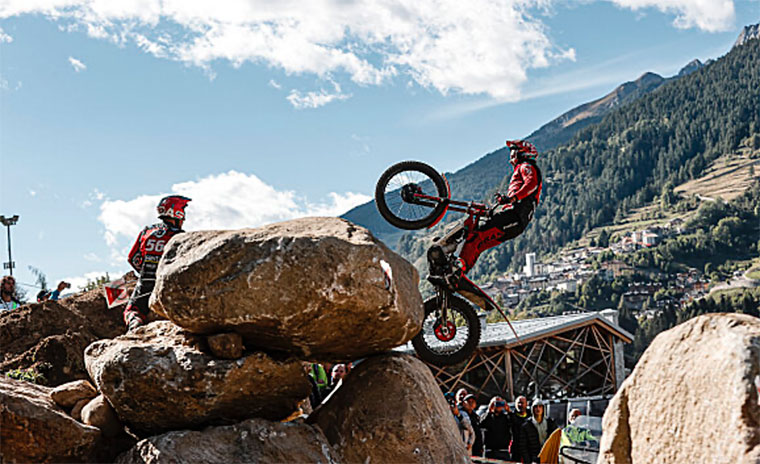 That's that! The 2022 FIM TrialGP World Championship is done and dusted with GASGAS Factory Racing's Miquel Gelabert digging deep to end the year with two solid rides at the TrialGP of Italy. Sixth on day one after ending the first of two laps in third, in the chilly, tree covered mountains surrounding Ponte di Legno, Miquel finished seventh on day two to end the year seventh in the final TrialGP series standings.
GASGAS Factory Racing wrap-up 2022 TrialGP series in Italy
Miquel Gelabert in the mix for top three result on day one
Gelabert & Bincaz finish the season seventh and 10th in TrialGP standings
Returning to a two-day format for the final event of the championship, the TrialGP of Italy served up some cold conditions and spectacular action high up in the mountains of Northern Italy. Offering one last chance for the class of 2022 to battle it out for podium places, for GASGAS Factory Racing's Miquel Gelabert, it was a case of close but no cigar as the skillful Spaniard wasn't quite able to turn a third-place result at the end of the opening day's first lap into an end-of-day podium result.
Eventually placing a strong sixth on day one, try as he did, day two just didn't go as Gelabert wanted it to. Riding well, but just not quite able to reproduce the form he'd served up on day one, he finished the day seventh – a positive end to his 2022 TrialGP championship.
Hindered by a crash in the opening section on day one, Benoit Bincaz rounded out the 2022 TrialGP World Championship with 8/12 results in Italy, placing 10th in the final TrialGP championship standings.
In the Trial2 class Gianluca Tournour gave his home fans plenty to cheer about as he came out on top of a three-rider fight for victory. Winning by just one mark, the young Italian backed it up with second on day two to wrap-up the year sixth in the Trial2 World Championship standings.
Miquel Gelabert: "I was riding super good on day one and felt so good on my GASGAS. It was a great trial, a very nice way to end the championship. As is often the way, one mistake can have a big impact on the result, and that's what happened to me. In the end I finished sixth, but I was fighting for third, which I was very pleased with. Only one five score and then some time penalties prevented me from finishing third. It's frustrating not to get that podium result, but my riding was really good, which I'm pleased with. Day two also started well but I made a mistake on section four and then I had a small issue on section nine. I gave everything on the second lap and eventually finished seventh. Not the result we wanted to end the season, but my riding was good so it's a positive way to end the year."
Benoit Bincaz: "It's been a mixed trial for me. Day one was good, but I had a crash in the first section, which meant I was riding in some pain for the first lap. Thankfully, my second lap was much better, so I was able to finish eighth overall for the day. Today things just didn't work out, there's really not too much more to say. But being in the GASGAS Factory Racing team this year has been awesome, I've learned so much. The mid-season races were good for me, and now I hope to end the year well next weekend at the Trial of Nations, here in Italy."
Albert Cabestany: "We finish the 2022 TrialGP season with a lot to be pleased about, but also with some areas we need to improve on with our riders. Gianluca Tournour was racing very strong in Trial2. The season ended in a very good way for him with victory in Belgium and then the win on day one here in Italy, which he followed up with a strong second place finish today. So, it's been a superb job from him. We are also very happy with Jack Dance's first season in Trial2. We know it is a very tough class with 25 riders all challenging to score points, and Jack has made a very good season. The important thing is that he knows what he needs to improve on during the winter. In TrialGP we came very, very close to a podium result on day one with Miquel. That would have been a fantastic way to end the season, but unfortunately that top three result just escaped from our hands. But nevertheless, he put in a great ride and has given his all throughout the championship. Also, I have to mention Luca Petrella, the young Italian, who claimed his first ever top-six TrialGP result. I am sure we will see more and more from him next season. Unfortunately, it wasn't the weekend Benoit wanted. But overall, as a team, it has been a strong year and as always, we will keep pushing to improve."
Results: TrialGP of Italy – day 1
1. Matteo Grattarola (Beta) 33
2. Toni Bou (Montesa) 41
3. Adam Raga (TRRS) 45
6. Miquel Gelabert (GASGAS) 54
8. Benoit Bincaz (GASGAS) 68
TrialGP – day 2
1. Toni Bou (Montesa) 8
2. Matteo Grattarola (Beta) 15
3. Adam Raga (TRRS) 24
7. Miquel Gelabert (GASGAS) 46
12. Benoit Bincaz (GASGAS) 69
TrialGP championship standings (after round 6)
TrialGP
1. Toni Bou (Montesa) 191 points
2. Jaime Busto (Vertigo) 140
3. Adam Raga (TRRS) 131
7. Miquel Gelabert (GASGAS) 102
10. Benoit Bincaz (GASGAS) 69