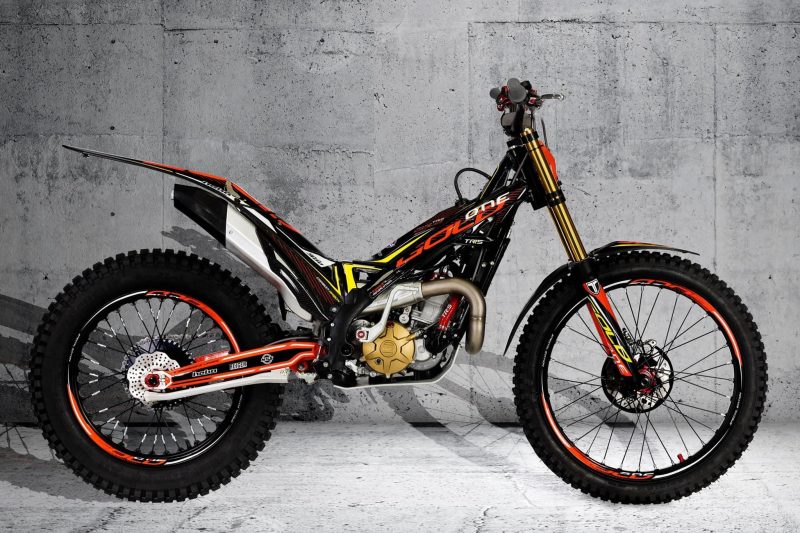 TRS Motorcycles | TRRS Gold 2021
NEW TRRS GOLD, BORN TO IMPRESS
We are proud to present our greatest masterpiece in terms of engineering, technology and design.
Our model with the most Racing DNA, exudes quality and performance, wherever you look at it, fulfilling our dreams as passionate engineers, manufacturers and riders.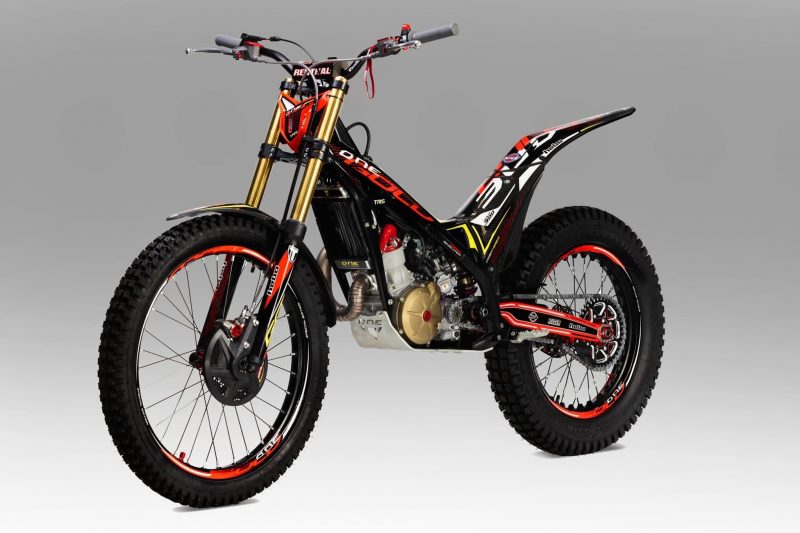 The new version of the GOLD EDITION with a high impact graphic design emphasizes lightness and aggressivity without losing its exclusive limited series character (150 units).
The range of colors has been renewed completely, black and red provide to the bike higher sportiness, dynamism and elegance.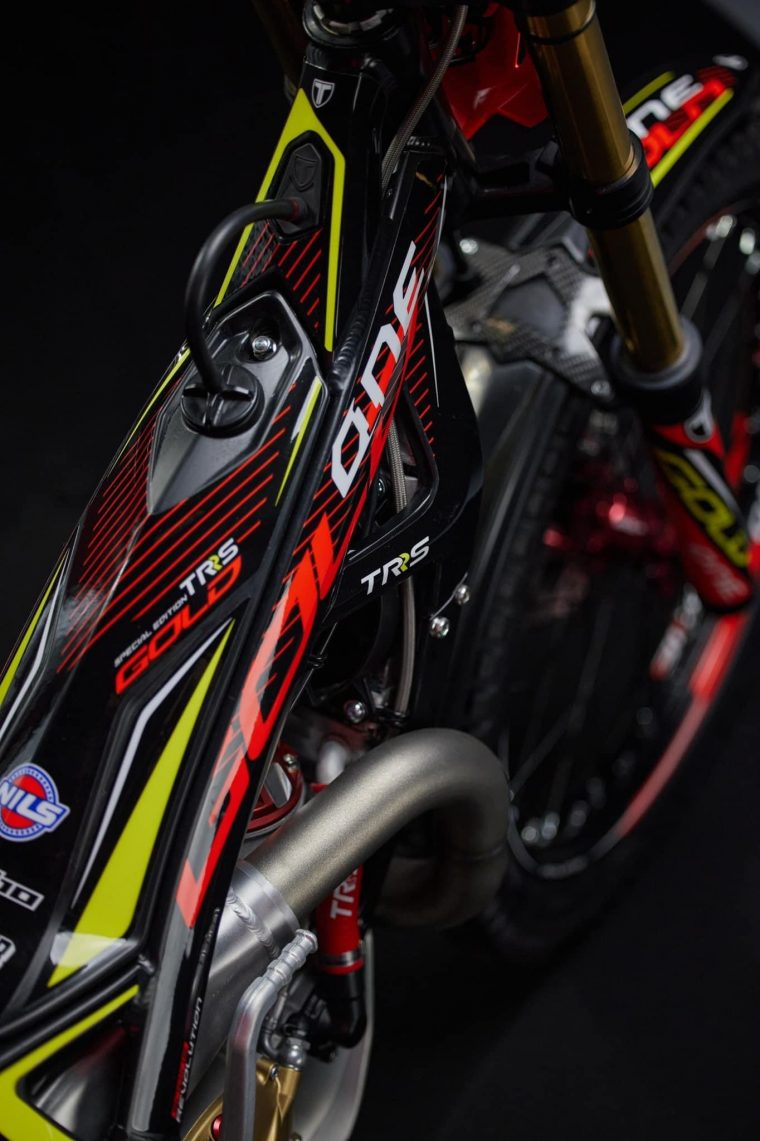 In terms of technical specs, we continue with the ambition to improve, using high-tech materials, with the highest quality and exclusivity in each one of its details.
The air filter box, exhaust protector and the fender bracket made on carbon fiber, cylinder head, wheel hubs, footrest, rocker link, front brake caliper and triple clamps CNC, are the differential of the model, along with a Reiger 3-way shock inherited from the excellent set-up from our experienced rider Adam Raga.
The new GOLD EDITION is synonymous of racing success especially for the most demanding riders.
Standard: 300 – 280 – 250 – 125 cc.
Electric start: 300 – 280 – 250 cc.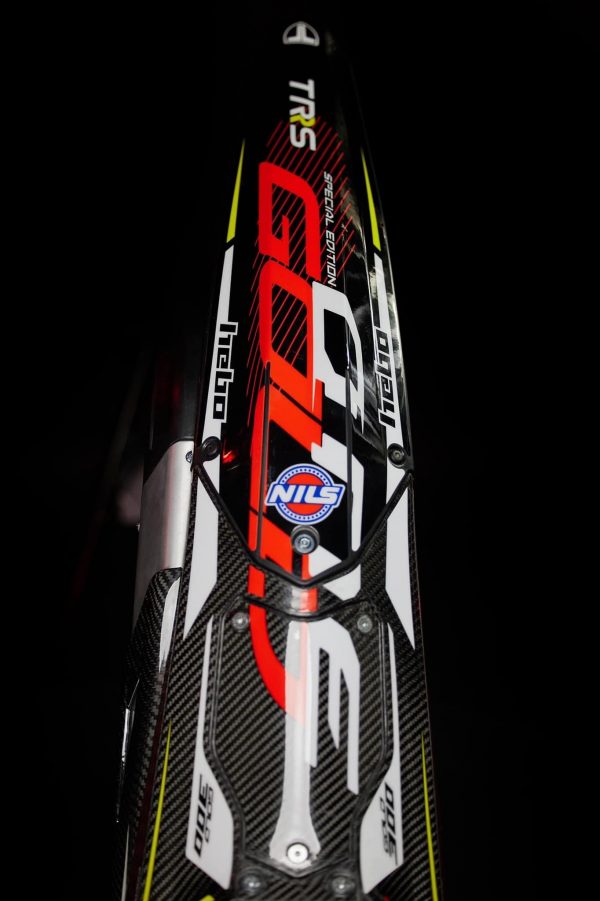 INTEGRAL PART
New: 250-280-300-125cc.
1. Frame, dimensional improvements.
2. Black painted frame.
3. New crankcase rubber protector.
4. New drain tab
5. Improved fixation on the chain guide.
6. Red swing-arm.
7. Throttle cover with TRRS logo.
8. Magnetic lanyard for kill button with TRRS logo.
9. Racing headlight mask, red colour.
10. Front fork, gold stanchion tube, black lower leg.
11. Steering triple clamp CNC black anodized.
12. Changed front brake pads, semi-metallic
13. Electrical installation with cover sheath on the regulator connector.
14. Forging front exhaust support.
15. Improved fixing and robustness of the exhaust pipe.
16. New hub, red anodized.
17. Red anodized aluminum rim lock nut.
18. Black painted rims.
19. (On the 125cc) New secondary transmission. 8z pinion and 45z crown.
20. New graphics Gold Edition 2021.
ENGINE
New: 250-280-300 cc.
1. Aluminum injection engine crankcases:
a. Precompression is increased in the crankcases.
b. Relocation of the motor breather
c. Carburetor evaporator with guided hose.
d. New outer crankcase treatment.
2. Red anodized kickstart bush.
3. Clutch cover with oil sight glass and red anodized oil filler cap.
4. Updated TRRS ignition cap.
ELECTRIC START:
5. New routing for electric start battery wire.
6. "Replaceable Battery wires".
7. "Starter motor with new fixation.
New: 125 cc.
1. New crankshaft assembly.
2. Clutch cover with oil sight glass and red anodized oil filler cap.
3. Piston, flat head.
4. Reinforced and more compressed inner cylinder head.
5. Long thread spark plug.
6. Updated TRRS ignition cover.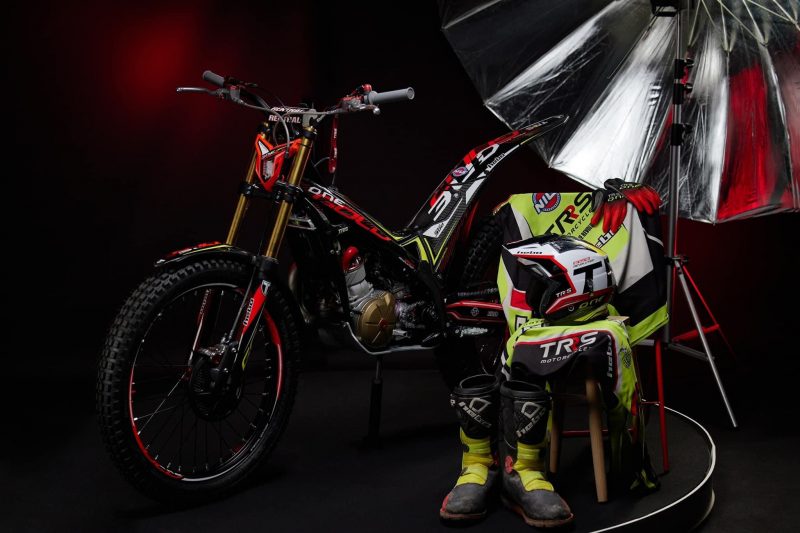 WATCH VIDEO GOLD 360