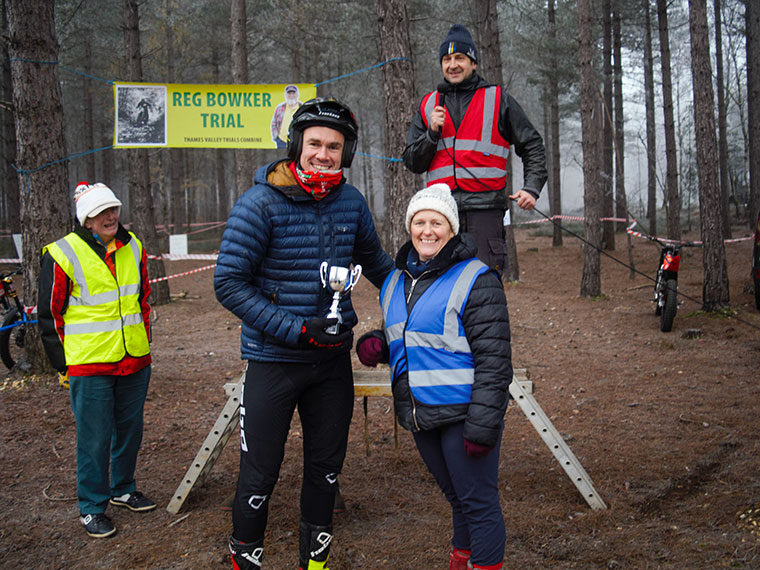 125 hardy riders braved the sub-zero conditions at Warren Heath this Sunday for the annual, Reg Bowker trial, 2 laps of 18 sections around a 6-mile forest was the order of the day, but frozen conditions made for a very difficult trial.
Previous winners Sam Connor, Tom Moss & Phil Wiffen were joined by Jonny Starmer in a 4-way battle for top honours. Phil had the advantage of his local knowledge & always rides well at sandy venues, however Jonny had the extra challenge of coaxing his two young sons around the testing course whilst trying to concentrate on his own riding.
Sam put on a masterclass, cleaning nearly every section apart from an uncharacteristic 5 on the slippery section 17. Sam took the Reg Bowker Trial win whist his rivals shed odd marks throughout the day.
Daniel Dabreo had a fantastic ride to take Expert youth win with a score good enough for 5th place in the Adults. Wayne Holdsworth & Martin Carter were in a league of their own in Over 40 & Intermediates respectively.
Reece Talbot headed the large Novice class, closely followed by local ace Dave Dale & Peter Bowker enjoying a return to Trials after a decade away.
Howard Mumford, Luke Batten, Oscar Sacre & Max Amis had a fantastic battle with Howard coming out on top.
Tim Bird used his local knowledge to easily win the large Over 50's class, however things were close in the Twinshocks with the vastly experienced Paul Ray & Geoff Muston only separated by the special test on their immaculately prepared machines.
Ride of the day must go to Geoff Herbert who only lost a total of 3 on his trusty 500cc Ariel & Arthur Frearson topped the yellow route enjoying his day despite the frozen conditions.
Many thanks must go to all the observers who braved such harsh winter conditions to provide riders with a great day's sport, we look forward to seeing you all again next year.
Reg Bowker Trial 2022 Provisional results