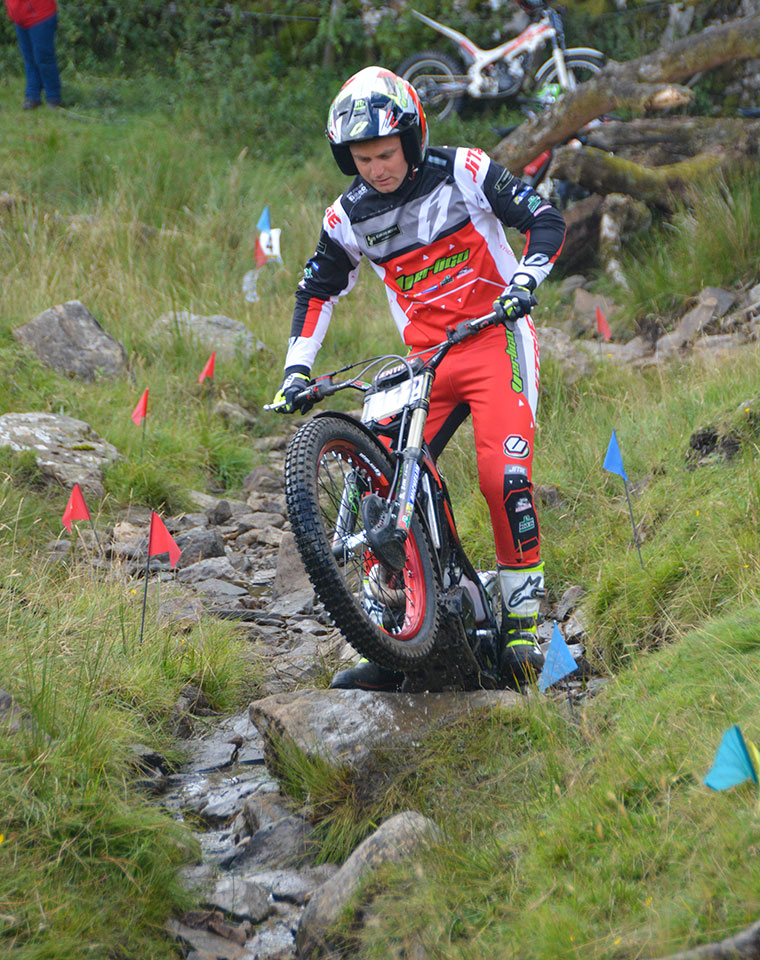 Richmond Motor Club held the GE Brown & Son Yorkshire Centre Championship Trial on Sunday 21st August. The trial started at Park Rash, just above Kettlewell, where riders enjoyed 3 laps of 14 tricky sections in rocky becks.
The sun was shining throughout the day, which made for pleasant riding conditions.
On the Clubman B Route, Adrian Harrison (TRRS) took the lead again after his Clubman Course win at the Reeth 3 Day Trial, dropping 21 marks. Trevor Willans (Montesa) came in second, dropping 39 marks, with Ian Haigh (Beta) completing the top three on 43 marks lost.
For the Clubman A (Green) Course, Anthony Ayrton (TRRS) led the adults on 29 marks lost, closely followed by Richard Fawcett (GASGAS) with 34 marks and Graham Tales (TRRS) with 36 marks.
Charlie Astwood (Sherco) took the win in the Youth Clubman A Course on 67 marks lost, with Jack Vasey (Beta) dropping 88 marks and coming in second place. Connor Watson (Scorpa) rounded off the Youth top three with 92 marks.
In the Championship Class (Hard Course), Expert rider and this year's Reeth 3 Day Trial winner Richard Sadler (Vertigo) stormed ahead to take yet another overall win on 24 marks, giving him 20 Championship Points. Rob Waite (Beta) landed in second place after a few more dabs left him with 38 marks lost. To round off the top three, Guy Kendrew (Beta) dropped 48 marks after fiving Section 10 each lap and losing a few too many dabs in between.
For the Intermediates, Jack Stones (Vertigo) came out on top, despite a few fives throughout the day, taking his score to 56. Charlie Smith (Vertigo) and Tom Hick (Beta) were a bit further behind, on 71 and 72 marks respectively.
The Novice Class saw Tom Middleton (Vertigo) and Bevan Blacker (GASGAS) battle it out for the top spot, with both finishing on 66 marks lost. It was Middleton who clinched the win though, on the furthest clean. Ryan Brown (Beta) came in closely behind with 70 marks lost.
In the Youth Championship Class, Josh McParland (Beta) led the group on 87 marks lost after doing well in the European Championship round the previous weekend in Scotland. Callum Fowler (Beta) was second on 107 marks lost with Jacob Reeday (Beta) closely behind on 109 marks.
Richmond Motor Club would like to thank the landowners, observers, Clerk of Course and helpers, Secretary and everybody else involved in the running of the trial. Well done to all riders, particularly the youth riders who did really well to ride a tricky trial.
Championship Course (Hard Course):
Experts: 1. Richard Sadler, (Vertigo) 24, 2. Rob Waite (Beta) 38, 3. Guy Kendrew (Beta) 48
Intermediates: 1. Jack Stones (Vertigo) 56, 2. Charlie Smith (Vertigo) 71, 3. Tom Hick (Beta) 72
Novices: 1. Tom Middleton (Vertigo) 66, 2. Bevan Blacker (GASGAS) 66, 3. Ryan Brown (Beta) 70
Youths: 1. Josh McParland (Beta) 87, 2. Callum Fowler (Beta) 107, 3. Jacon Reeday (Beta) 109
Clubman A (Green):
Anthony Ayrton (TRRS) 29, 2. Richard Fawcett (GASGAS) 34, 3. Graham Tales (TRRS) 36
Clubman A (Green) Youths:
Charlie Astwood (Sherco) 67, 2. Jack Vasey (Beta) 88, 3. Connor Watson (Scorpa) 92
Clubman B:
Adrian Harrison (TRRS) 21, 2. Trevor Willans (Montesa) 39, 3. Ian Haigh (Beta) 43
Report & Photos: Charlotte Brown