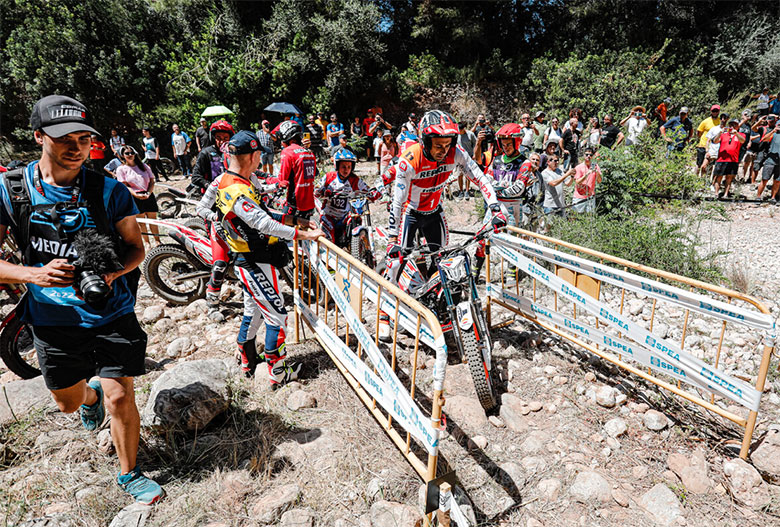 The riders are ready, their machines are prepped and global focus this coming weekend is centred around the municipality of Arteixo in north-west Spain and the opening round of the 2023 Hertz FIM Trial World Championship.
New venue at Arteixo in Spain gets championship under way
TrialGP, TrialGP Women, Trial2 and Trial3 classes in action from 14-16 April
Best riders on the planet prepare to fight for Trial's biggest prizes
The first round inevitably throws up a lot of questions. Who is on form? Who has put in the hard work during the off-season? Can anyone dethrone Toni Bou?

Well, we know from the four rounds of the 2023 FIM X-Trial World Championship staged so far that all the major players in the premier TrialGP class are riding well with Bou (Montesa) leading from his fellow Spaniards Jaime Busto (GASGAS), Gabriel Marcelli (Montesa) and Adam Raga (TRRS).

There is also no doubt that all the top riders have followed a tough winter training schedule because at this level any shortcuts will quickly be exposed.

As for the answer to the final question, only time will tell…

The champion every year since 2007, Bou is aiming for an unparalleled seventeenth straight TrialGP crown and must surely start as favourite in Arteixo. However, the thirty-six-year-old will have to deal with a number of strong challengers if he is going to rewrite the record books again this season.

A career-best second last season, Busto turned twenty-six on Wednesday of this week and has inflicted Bou's sole X-Trial defeat so far this year.

Featuring huge rocks studded into the side of a wide wooded valley, Arteixo will provide a strong early test and after claiming a second career win at the first round of 2022 Busto will be looking for a repeat performance on his TrialGP debut for his new GASGAS team.

A two-time TrialGP champion, at forty-one Raga is the most experienced rider in the paddock. Runner-up every year from 2007 to 2021, last season he slipped to third in the rankings despite being one of only three riders to beat Bou in 2022 so expect him to come out fighting as he bids to finally complete his hat-trick of titles.

The only other rider to beat Bou last year, thirty-five-year-old Matteo Grattarola (Vertigo) from Italy has also changed teams for 2023 and the two-time Trial2 champion will be hoping to add to his total of five podium finishes in 2022.

At just twenty-two years old, rising Spanish star Gabriel Marcelli begins his second season with the factory Honda team determined to improve on his fifth-placed finish in 2022.

A podium finisher on day two in Spain in his first year in TrialGP following his 2019 Trial2 triumph, Marcelli is a physical rider who will be keen to capitalise on his Galician home advantage.

The TrialGP Women field is headed by Britain's defending champion Emma Bristow (Sherco) who has an amazing ninth title in her sights.

The thirty-two-year-old won six of 2022's eight points-paying days and finished second twice to underline her dominance but Berta Abellan (Scorpa) from Spain kept the pressure on last season with two wins and should again start as Bristow's main opposition.

Last year's top three was completed by Italy's Andrea Sofia Rabino (Beta) as the leading trio pulled clear of the chasing pack led by Naomi Monnier (GASGAS) from France and Norway's Huldeborg Barkved (TRRS).

Last season's Trial2 champion Sondre Haga (GASGAS) will attempt to retain his title this season and following his team change for 2023 the young Norwegian has put in some impressive X-Trial performances.

With only one day win last season, consistency proved to be key for Haga in an incredibly competitive class that saw six different winners out of ten scoring days of competition.

It is too early to confidently identify possible challengers to Haga's crown but expect the Spanish duo of Pablo Suarez (Montesa) and Arnau Farre (Sherco) along with Britain's Billy Green (Scorpa) and Lorenzo Gandola (Beta) from Italy – who all claimed wins last year – to figure at the front.

With 2022 Trial3 champion Harry Hemingway (Beta) and second-placed David Fabian (Beta) moving up to Trial2 this season there will be a new king in 2023 in the class for the series' youngest riders.

A fighting third and fourth last year separated by just two points, on paper at least Britain's Jamie Galloway (TRRS) and George Hemingway (Beta) should start the weekend as favourites but there is no shortage of rivals looking to make their mark.

The action gets under way at 8.30am CET on Saturday 15 April and will be streamed live on fim-moto.tv.