BENOIT BINCAZ DIGS DEEP TO DELIVER A HARD-FOUGHT EIGHTH-PLACE FINISH AT TRIALGP'S ONLY ONE-DAY EVENT OF 2022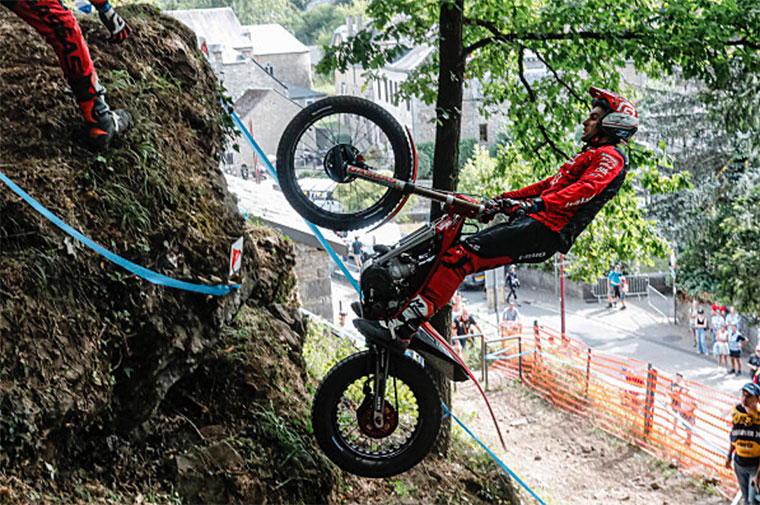 Just one week out from his home round of the TrialGP World Championship, Frenchman Benoit Bincaz has produced some of his best riding of the 2022 series, pushing for a place inside the top three during the early stages of the TrialGP of Belgium! Ultimately placing eighth at the end of the one-day event, Benoit is fired up for his home race next weekend.
Benoit Bincaz' solid riding earns eighth-place result
Tough day for Miquel Gelabert sees the Spaniard finish ninth
TrialGP heads to France next weekend for penultimate round
GASGAS Factory Racing riders Benoit Bincaz and Miquel Gelabert both faced the unusual one-day event – two laps of 12 sections – in Belgium looking to better both their previous round performances and bolster their positions in the TrialGP championship standings.
For Bincaz the event went well, the opening lap going super well. Cleaning the opening section, the two five-mark scores he picked up in sections two and three were soon forgotten about as he cleaned the following four sections and rounded out the lap with just 21 marks dropped, the day's third best score. On lap two, Benoit fived just three sections, but with a few less cleans completed the second and final lap with a score of 25. Ending the day eighth, he was just six points form sixth, and well within reaching distance of the top three.
Frustratingly, the TrialGP of Belgium was a rough one for Miquel Gelabert. Right from the start of the first lap he had some 'bad rides' and never really got back into the game like he's capable of. Completing the first lap with a score of 35, on lap two he improved to end the event with a score of 24, but his combined score of 59 put him ninth, one place behind teammate Benoit.
Benoit Bincaz: "I can say it's been a good event for me, helped by a really good opening lap. I was fighting for the podium but unfortunately, I made a mistake on lap two, in section seven, and that dropped my down the results a little. It's a shame, but I was not too far away from the top five so I'm pretty happy. I'm really looking forward to competing in France next weekend, my home race."
Miquel Gelabert: "It's certainly not I was hoping for this weekend here in Belgium. I had some bad rides during the opening lap, including a frustrating five in the first section. After that it was difficult to clear my mind and ride like I know I can. I was far, far away from where I wanted to be and where I know I can be, so I will make sure next weekend in France things are better."
Results: TrialGP of Belgium
TrialGP
1. Toni Bou (Montesa) 27 marks
2. Jaime Busto (Vertigo) 35
3. Jeroni Fajardo (Sherco) 36
8. Benoit Bincaz (GASGAS) 56
9. Miquel Gelabert (GASGAS) 59
TrialGP championship standings (after round 4)
TrialGP
1. Toni Bou (Montesa) 134 points
2. Jaime Busto (Vertigo) 108
3. Jeroni Fajardo (Sherco) 86
6. Miquel Gelabert (GASGAS) 72
10. Benoit Bincaz (GASGAS) 48