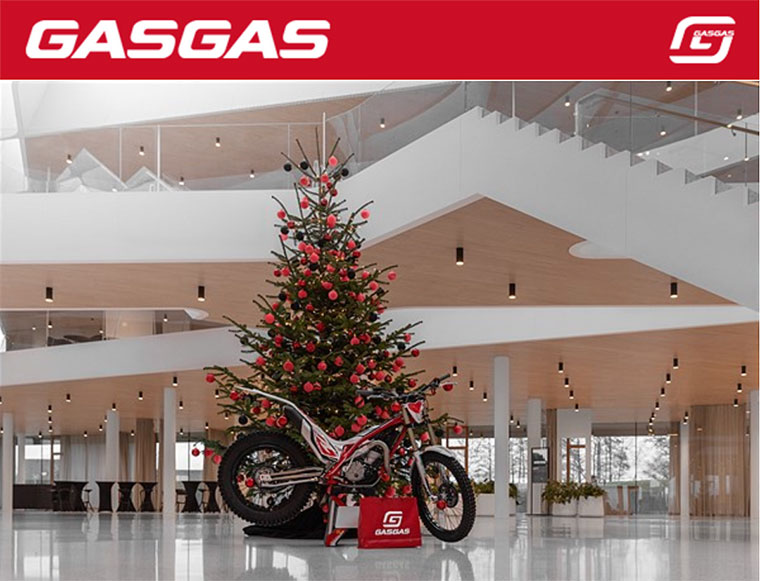 JOIN THE GASGAS SOCIAL MEDIA GIVEAWAY AND START 2022 WITH A BRAND NEW TRIAL BIKE
Hands up who'd like to win a brand new GASGAS trial bike? To celebrate what's been a memorable and exciting year, and to do our bit to continue encouraging riders to join in the action, GASGAS is offering one lucky winner the chance to own a 2022 GASGAS TXT RACING 300! All you have to do is enter our super-simple and completely free giveaway.
Win a 2022 GASGAS TXT RACING 300 trial bike!
Take part in our free to enter social media competition
Yes, we really are giving away a brand new bike!
Entering couldn't be easier. All you need to do is like this giveaway post on @GASGAS.Official, make sure you're following us, then tag three friends in the comments before entries close on December 25. GASGAS will then wrap up a shiny new 2022 GASGAS TXT RACING 300 and arrange for it to be delivered early in the New Year, with the lucky winner announced on December 27.
GASGAS is thrilled to be giving away a 2022 TXT RACING 300 this holiday season as we know it'll inspire the lucky winner to get out and ride and join in the fun. The reason we're giving away a trial bike (and not one of our enduro or motocross bikes) is simple – because trial bikes are great for learning life-long motorcycle riding skills, that can be transferred to any discipline.
With class-leading power, a serious amount of torque, and top-level handling, the 2022 GASGAS TXT RACING 300 is a trial workhorse that delivers a plentiful supply of strong, clean power, ensuring riders can push their limits. Built to scale the hardest climbs, the super-compact 300cc 2-stroke motor is always ready to meet the toughest challenges head-on. And with impressive maneuverability, low running costs, leading suspension, a strong and reliable transmission for precise shifting, as well as a hydraulic clutch and brakes from Braktec, the TXT RACING 300 truly does deliver serious offroad performance.
Check out the full spec of the 2022 TXT RACING 300 here to see exactly what you could win!