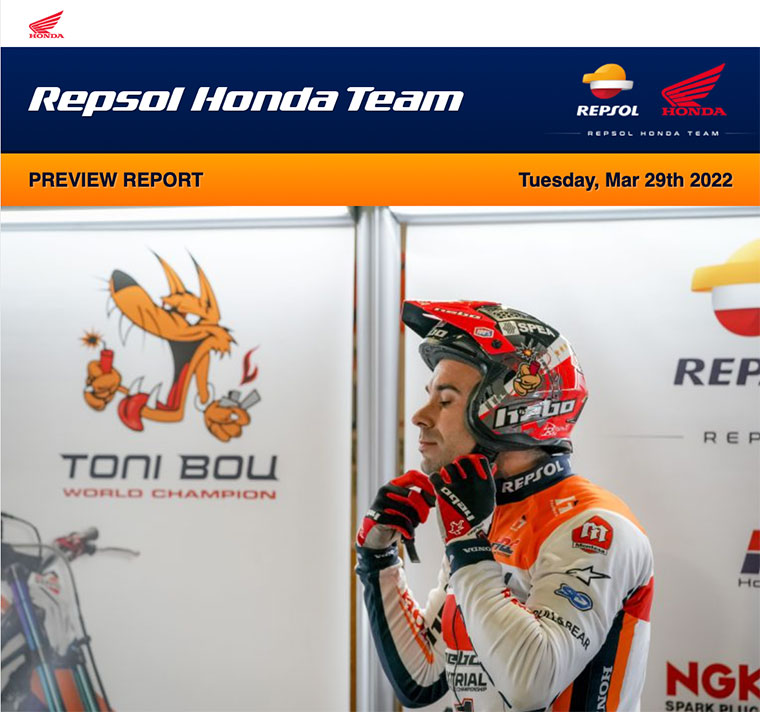 The third event of the FIM X-Trial World Championship is set to take place in Madrid this coming Saturday, 2 April. The Spanish capital will once again host a world championship trial after a ten-year absence and will feature the presence of both Repsol Honda Trial Team riders, Toni Bou and Gabriel Marcelli.
After a ten-year hiatus the FIM X-Trial World Championship makes its return to Madrid with an unbeaten Toni Bou having clinched the top honours at the two opening trials in Nice and Chalon-sur-Saône. Bou currently sits at the head of the world championship table with a 13-point advantage over the nearest second-placed rider.
Repsol Honda team will once again be represented in full, with Gabriel Marcelli lining up alongside the incumbent champion for the Madrid Arena event, as he aims to find the right feelings after his nervy world championship debut last weekend.
Since 2008, Toni Bou has claimed consecutive wins at the last five editions of X-Trial Madrid. Gabriel Marcelli, meanwhile, will be debuting in front of the fans in the Spanish capital after having competed earlier in Bilbao, Granada and Barcelona in 2019 and 2020.
The Madrid Arena will also make its debut as a host venue for an X-Trial event with previous events having been held at the Palacio de Deportes. The competition gets underway at 20:00.
Toni Bou 1
We are arriving in Madrid this weekend after a great win in France where we saw that it's important to always be alert as the slightest mistake can make the difference as there is so little dividing the competitors and anyone can pull a surprise. I am sure that the crowd in Madrid will be behind us as they have always done, and even more so after such a long time without hosting an X-Trial event. We hope to put on a great show for them.
Gabriel Marcelli 38
In my debut in France last weekend I think I made some mistakes that, obviously, I can't repeat in the trial in Madrid. I am very happy to be able to compete in Spain once again, and for the first time in Madrid, and I am confident that I can do well in spite of my lack of experience in this type of competition. We are going to give it everything we've got and we hope that it will be a great trial and hope that the spectators enjoy it.